Shanghai Qingpu World Foreign Language Primary School implements the IB PYP international education concept and integrates Chinese and Western cultures to foster personalized development in students, guided by the philosophy of "sending students to the world and bringing the world into the school."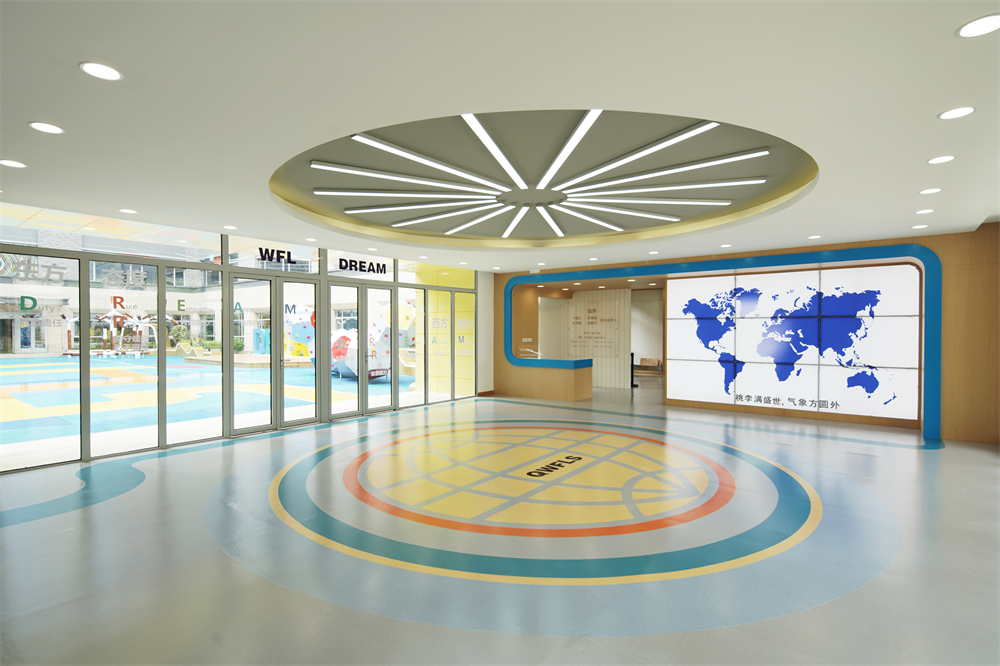 To establish a unique entrance for the primary school, we have created a hall that doubles as a display area and a communication space. With bright colors and bold lines, complemented by a green plant wall, the hall exudes a dynamic and energetic ambiance.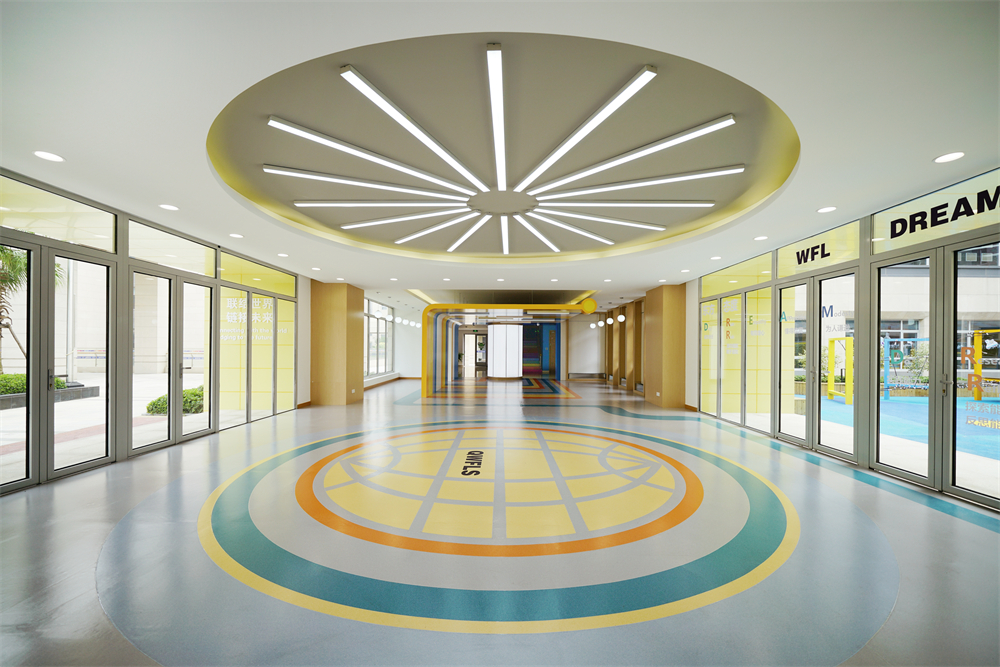 At the request of the school, the existing ceilings, floors, and walls in the corridors and classrooms were kept unchanged. Instead, we introduced vibrant colors and bright door frames to functional elements like backpack cabinets and chairs. These additions instantly infused a playful and intriguing atmosphere throughout the public space.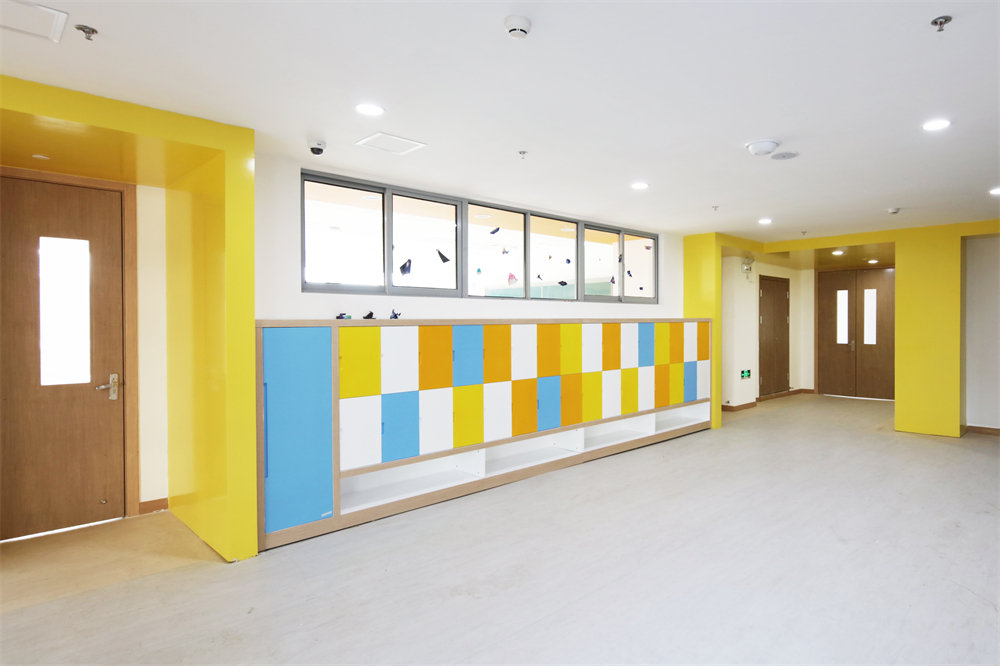 The school's curriculum design features a wide variety of specialized classrooms, including art, music, and science, as well as a robot classroom with 3D printing, a mini kitchen, and a children's reading room, all designed to cultivate children's diverse interests. Creating multiple specialized rooms with different themes was a challenge, but we defined each classroom's theme based on its function. The art room features a museum-like arched ceiling, the pink music room has a dreamy and rhythmic atmosphere, the science room has a mechanical feel with gears and timber, the cozy mini kitchen is Mediterranean-inspired, the robot classroom has a Lego theme, the mini theater has stackable block-like chairs, and the reading room has a fairytale-like atmosphere. Our goal was to design every classroom to promote children's joyful growth and help them achieve a better life in the future.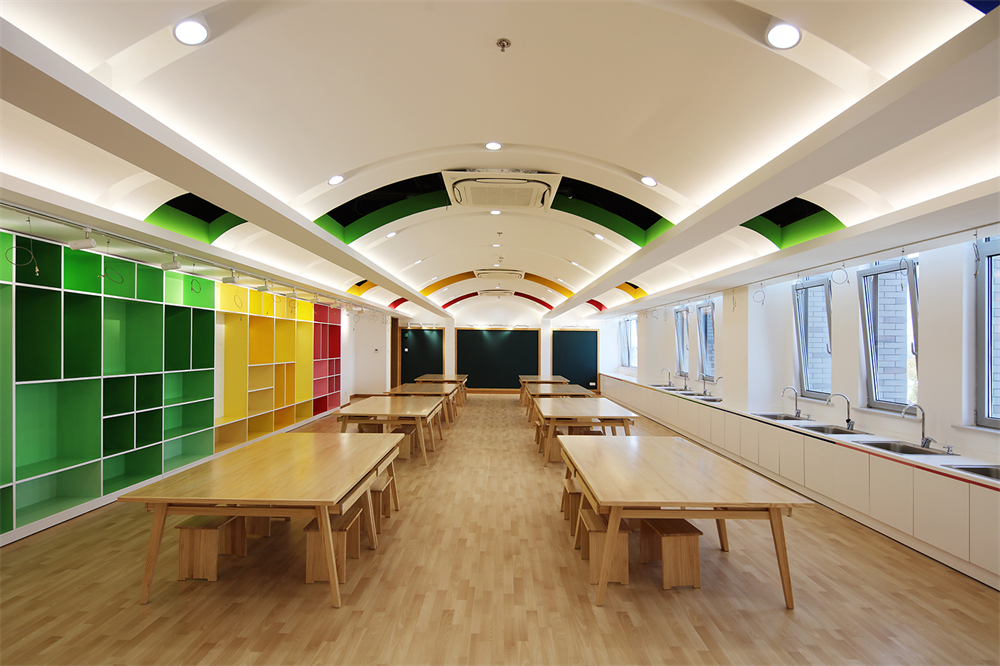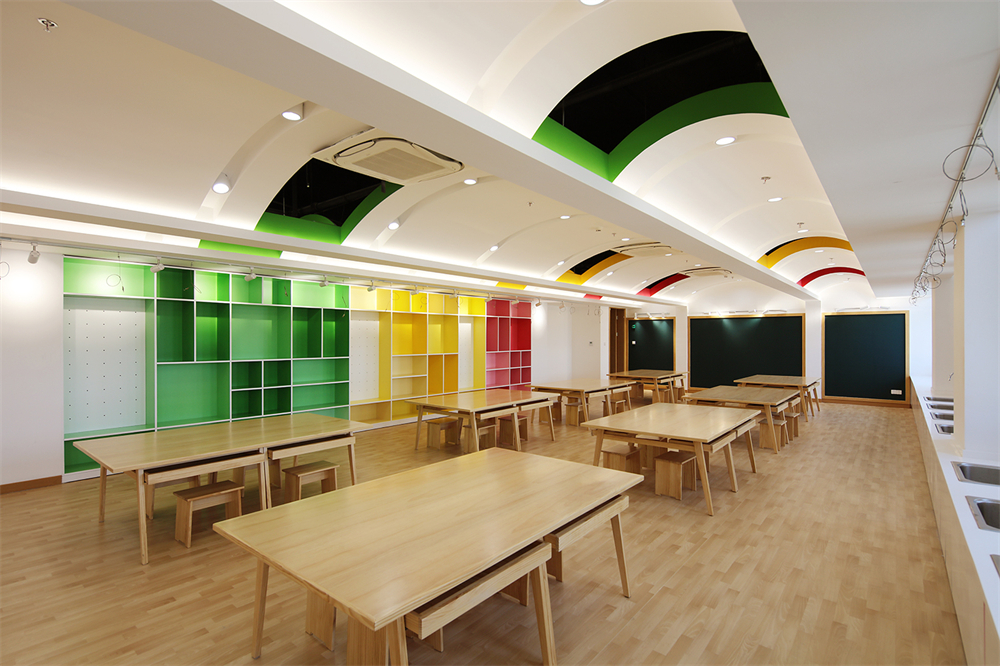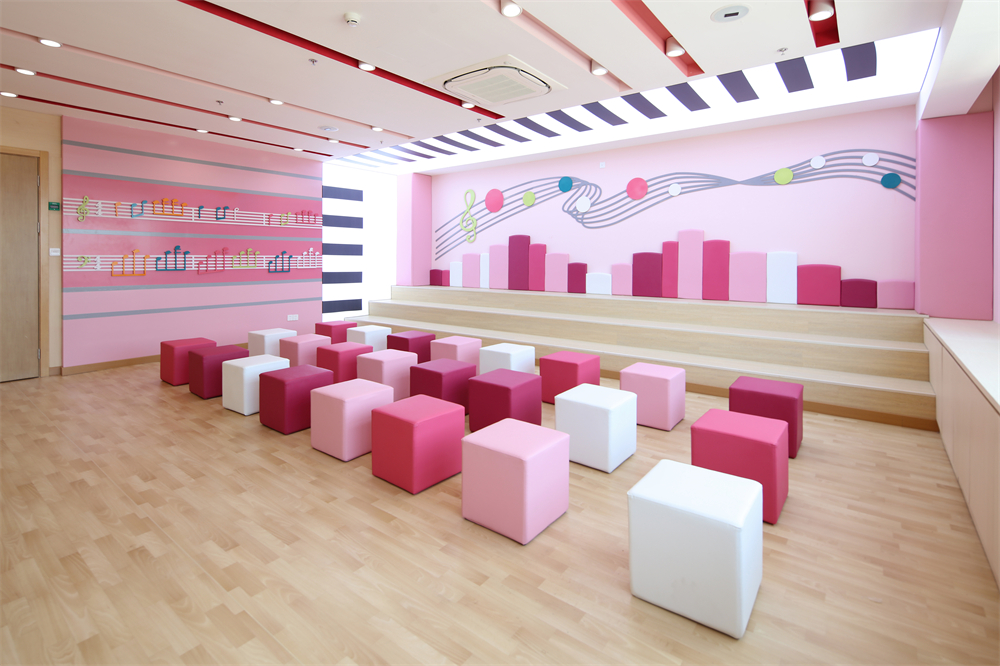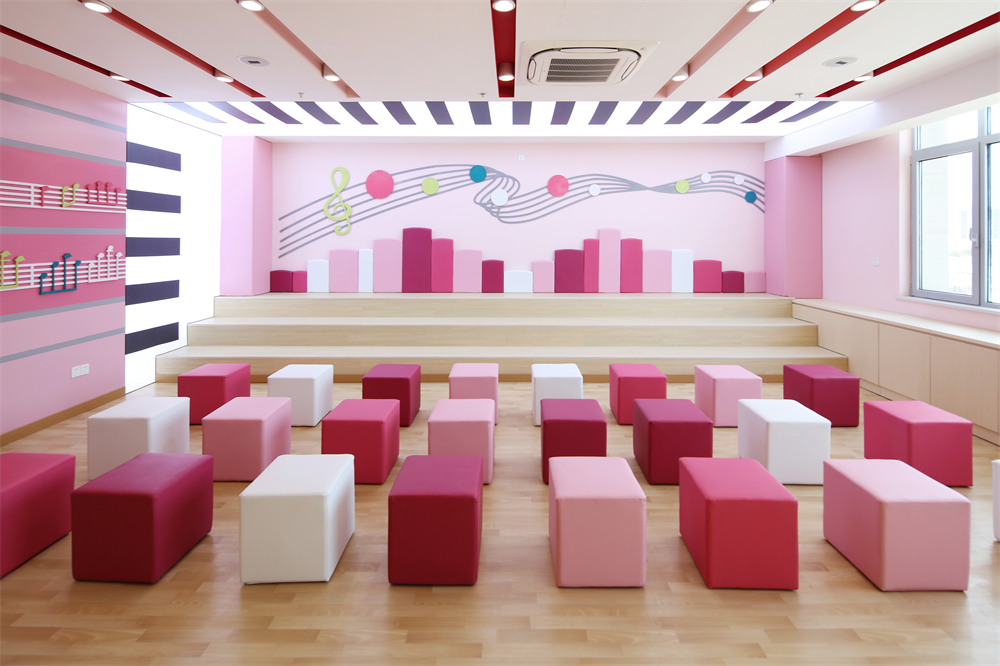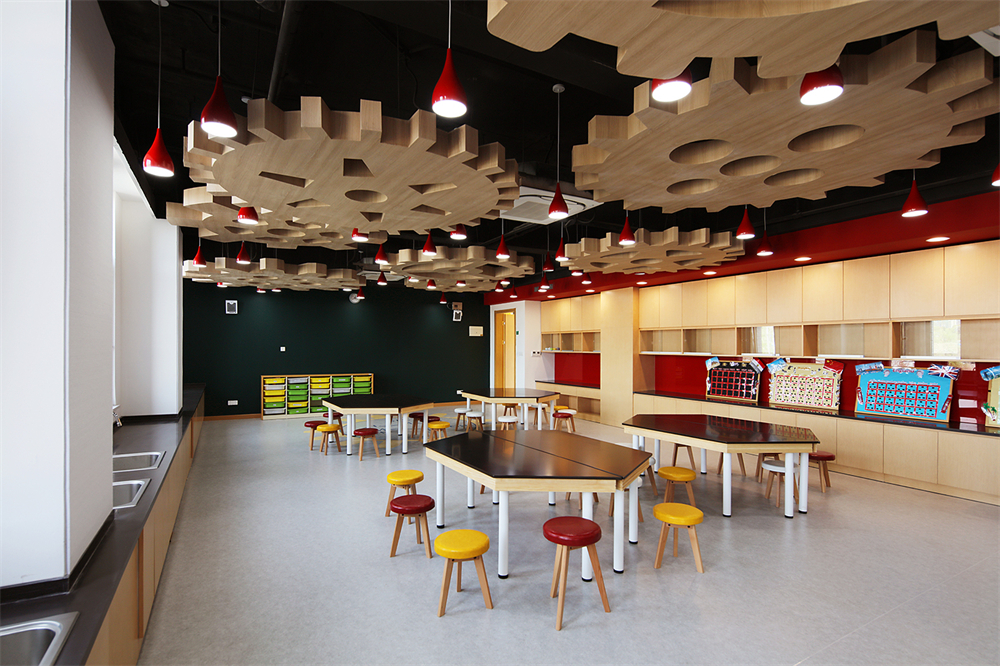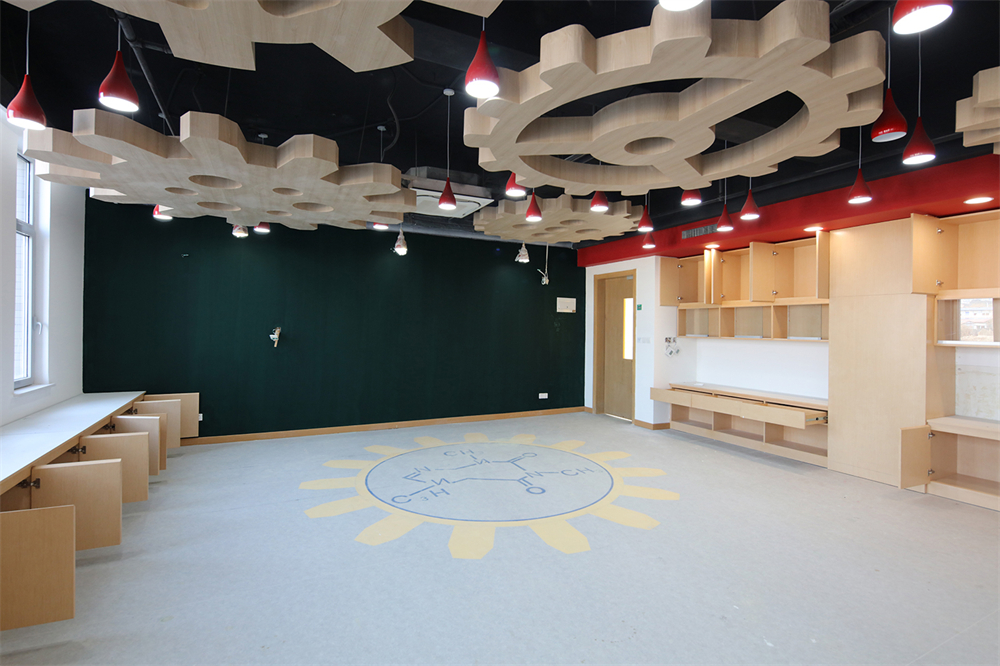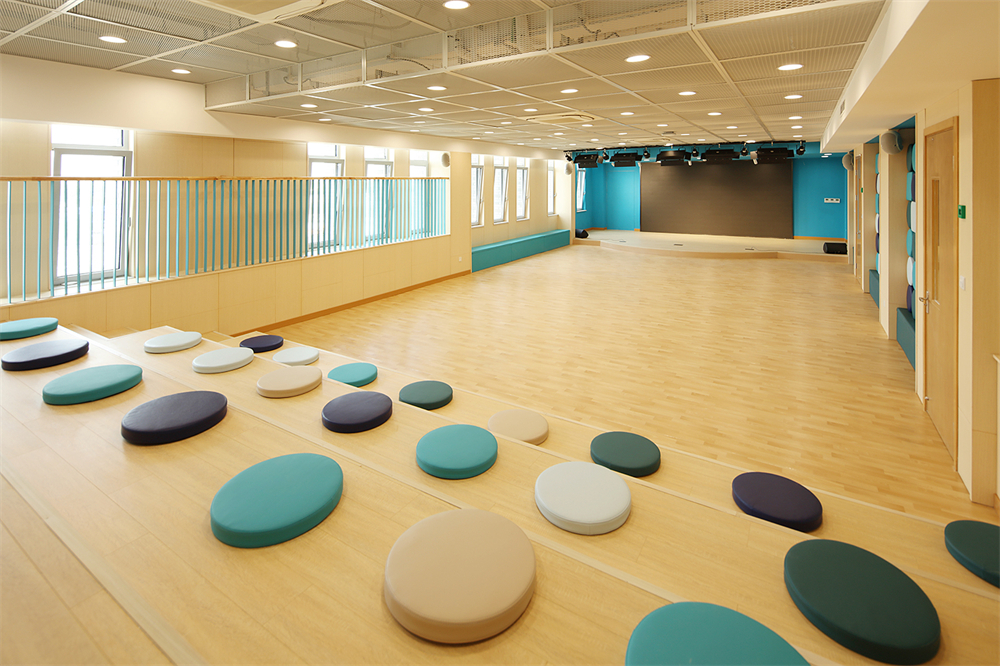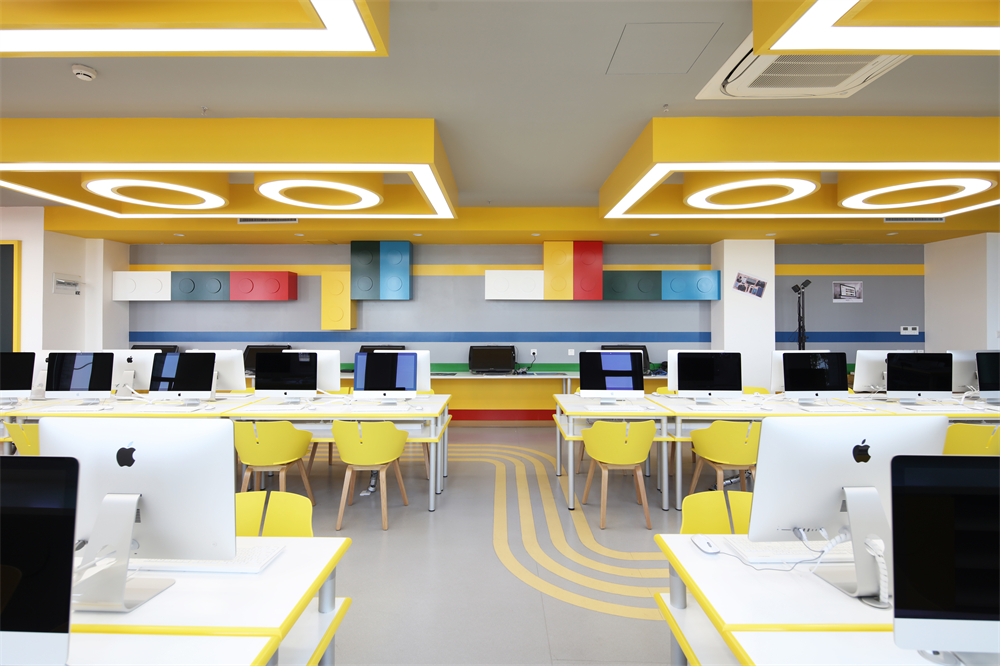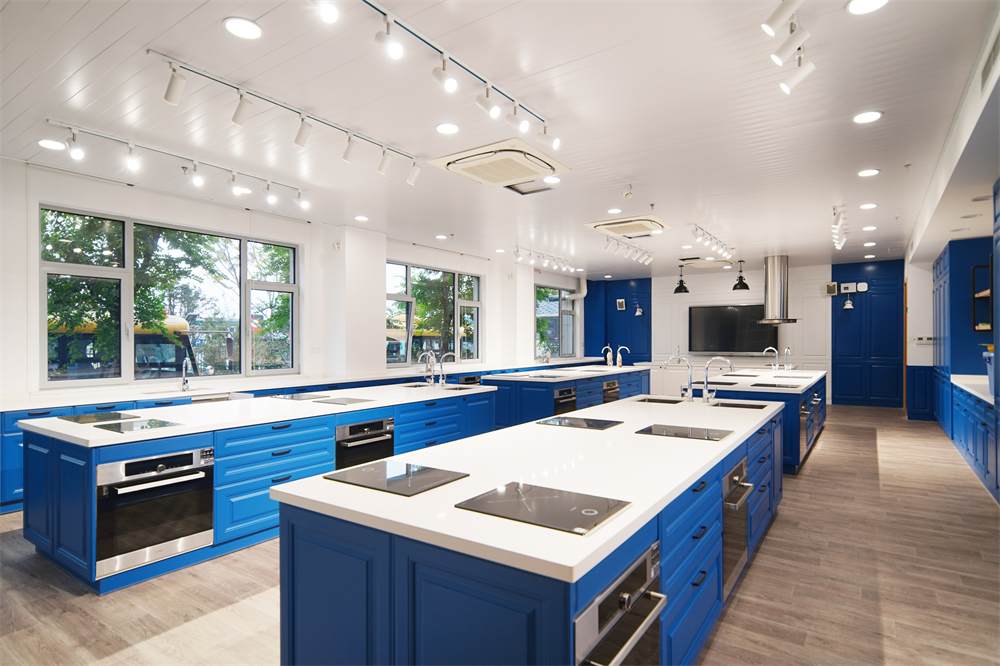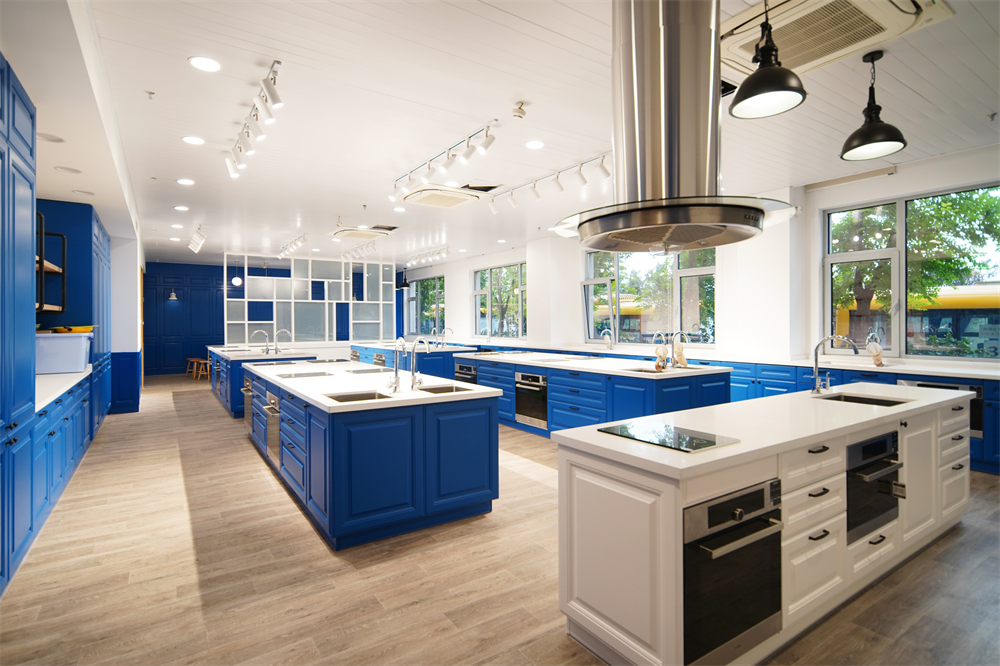 The library is situated in a peaceful corner on the fifth floor of the primary school building. With the goal of fostering children's independent reading habits, we aimed to design an open library without a door. The forest-like library space is visible through the open entrance and windows of various sizes, drawing children in with its relaxing, comfortable, and engaging atmosphere. The unobstructed sightlines encourage children to share their love of reading with one another.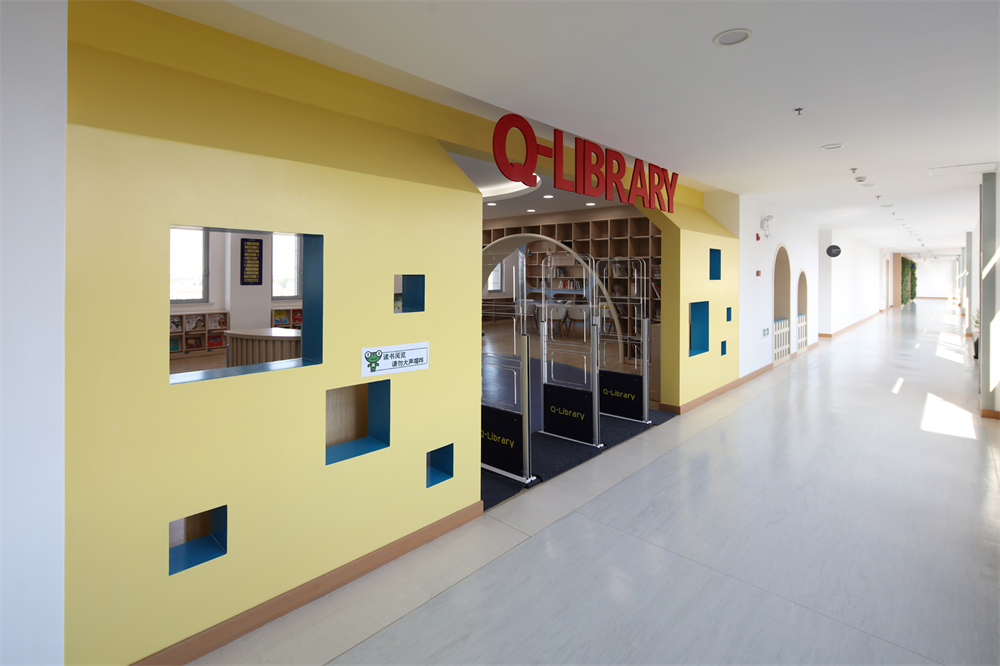 The book reading area, which serves as the primary reading space, is located on the left side of the entrance. In its center, we have included two tree-shaped bookshelves, surrounded by tables and chairs that can be arranged freely, creating a reading environment with a "tree under" theme. This provides a relaxed and comfortable space for children to read among the books under the imaginary canopy of trees.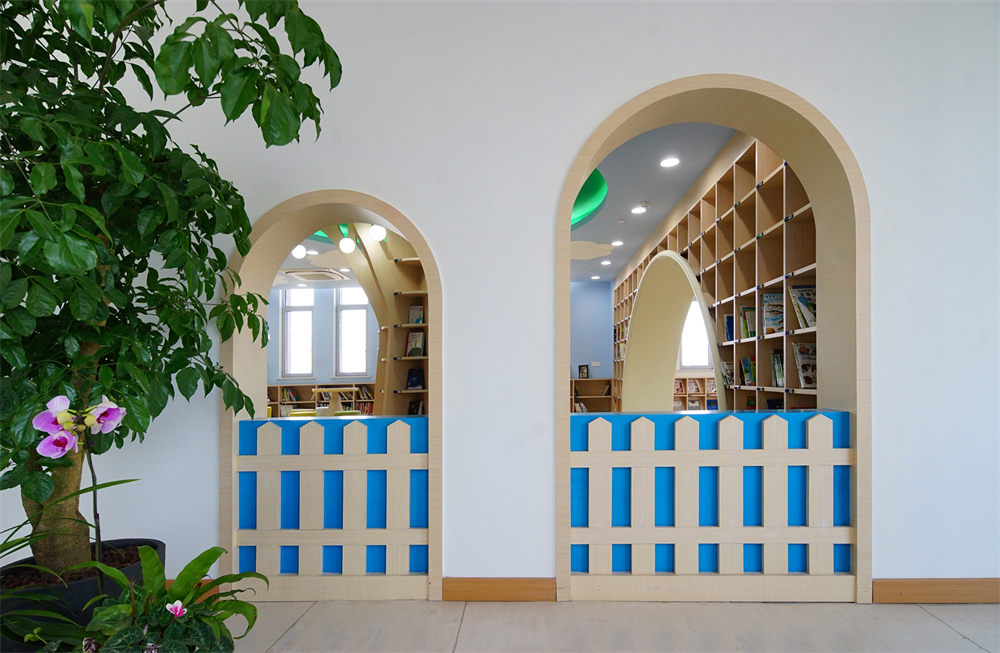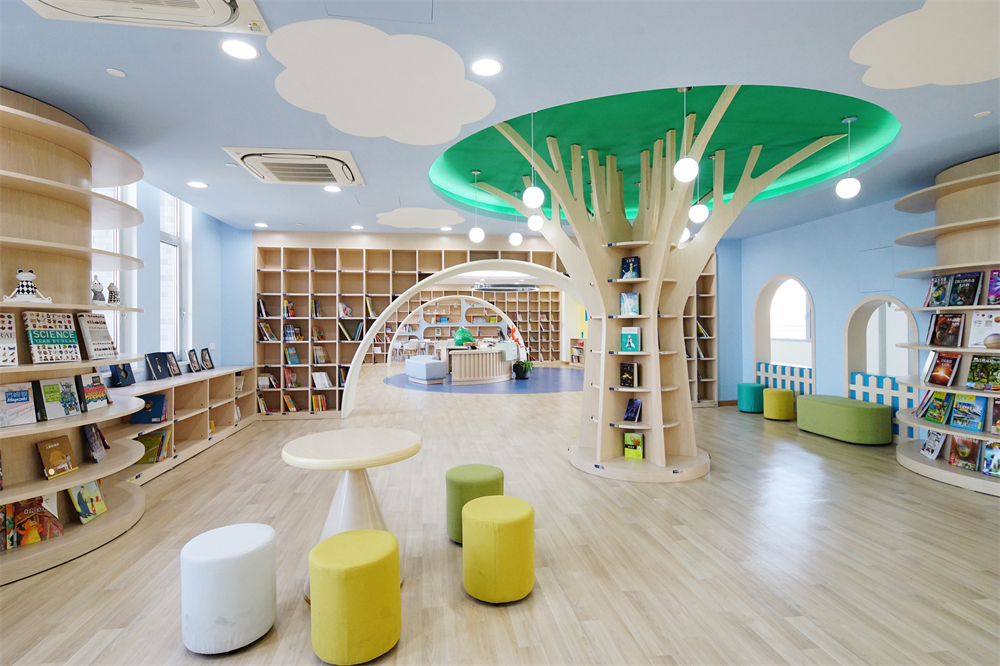 We've designed a cozy staircase-shaped corner specifically for younger children, where they can sit or lie on platforms, gather on the steps, and listen to stories told by the teacher. The dynamic and fluid space, with a curved and layered ceiling and stairs, is approachable for younger children due to its compressed scale.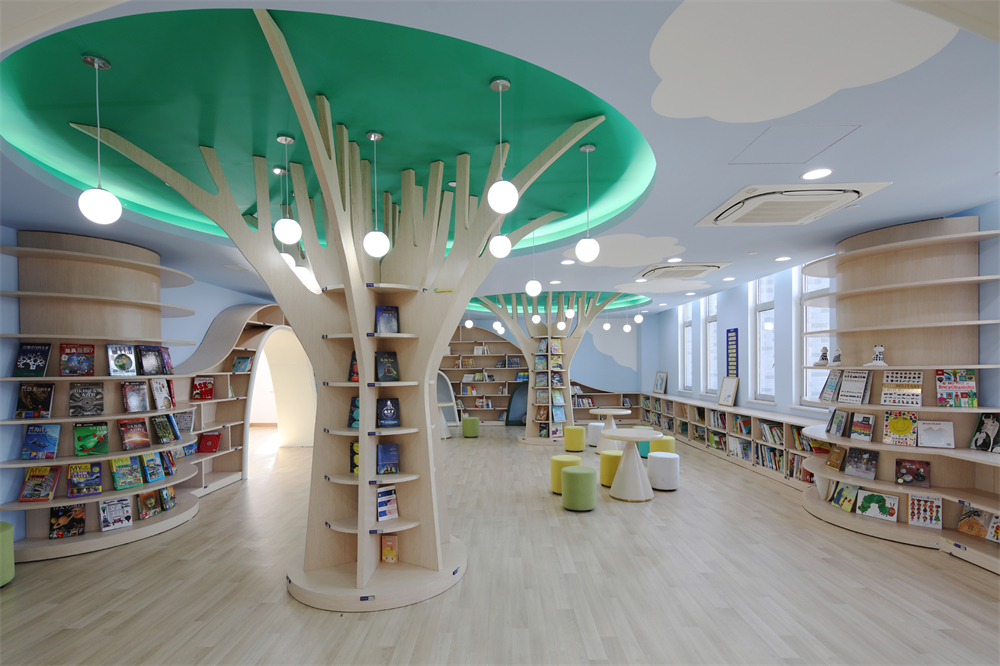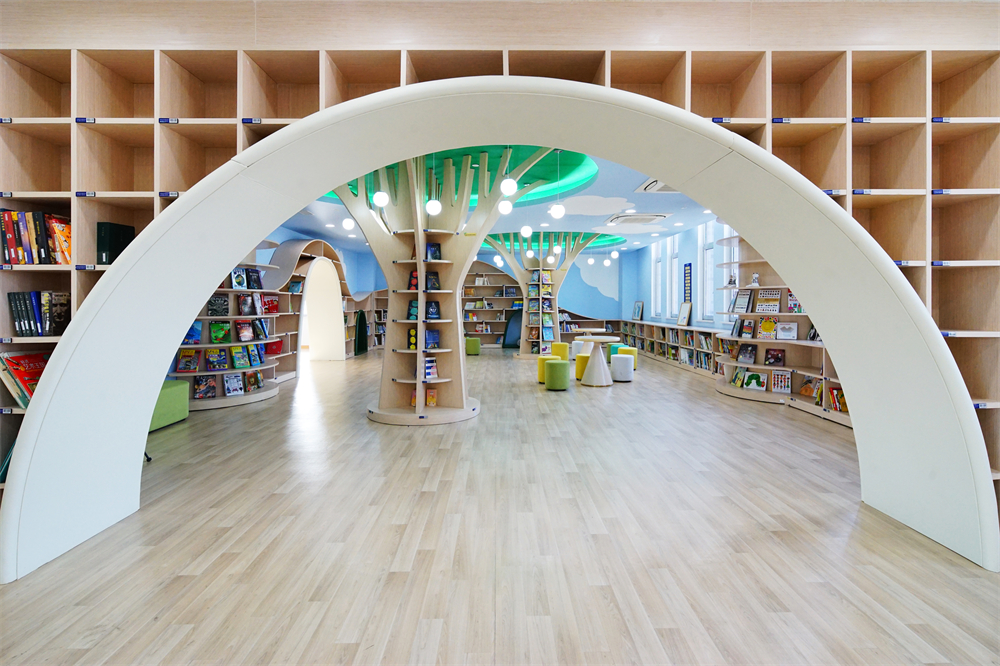 Location: Qingpu District, Shanghai, China
Area:6,500㎡
Status: Construction Complete
Design Finish Year: 2019
Completion Year: 2019