Spatial Imagery Conveys the Spirit of the Campus
The buildings of Shanghai World Foreign Language Primary School were constructed in the 1990s, and after 30 years, the architecture has become dated and the exterior cluttered due to the placement of air conditioning units and rainwater pipes. Through this renovation, we aim to redefine the school's iconic architecture, creating a new symphony of childhood memories for the students, and making their recollections of the campus even more vivid.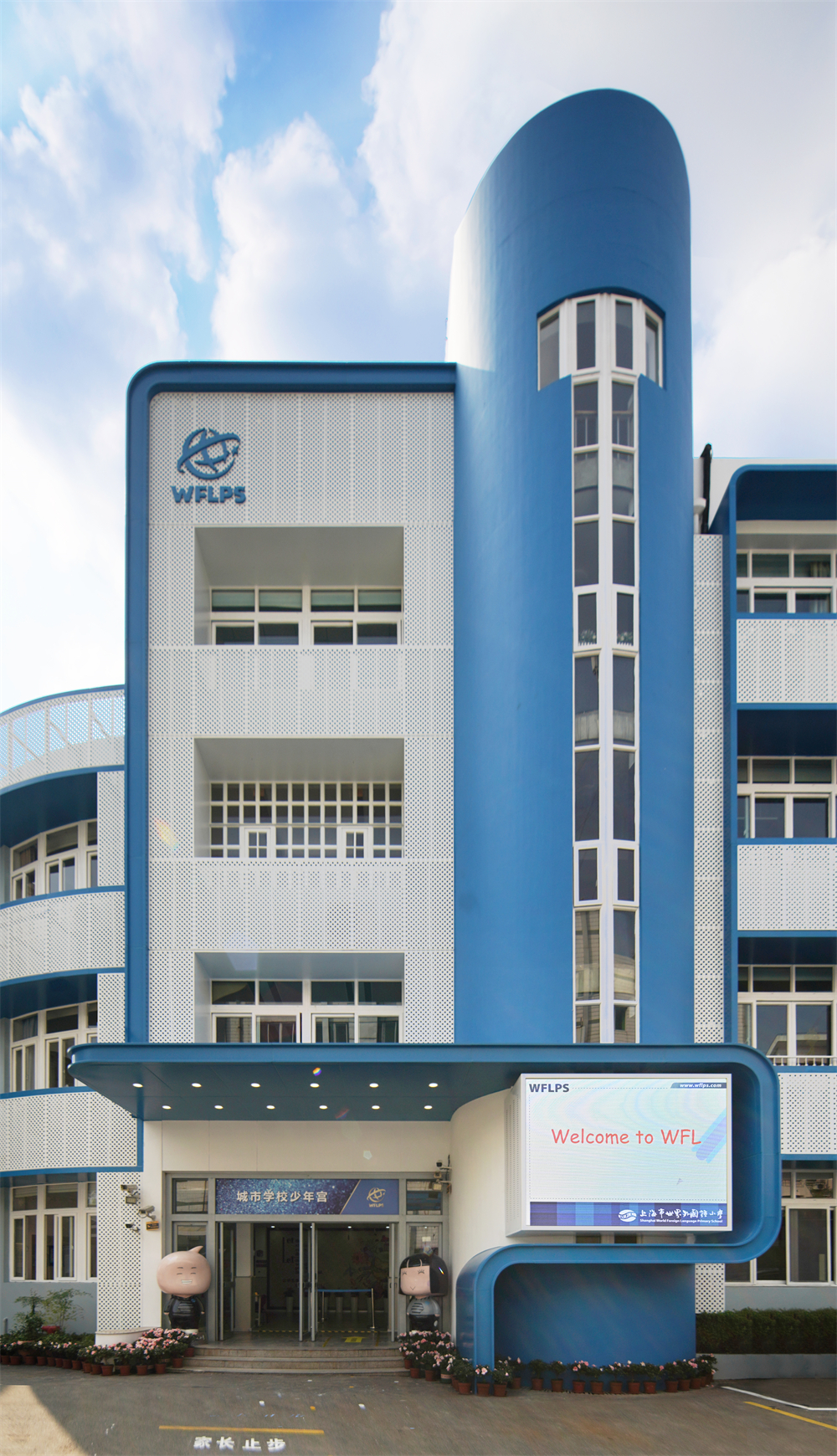 Exterior: Melodious Main Theme
In the exterior renovation, we aimed to create a lively and pleasant atmosphere by using a rhythmic blue ribbon to create the iconic entrance. The inverted rounded blue aluminum frame and white punched aluminum plate hide the air conditioning units and rainwater pipes, making the facade more vivid, lively, and rhythmic.
Entrance Gate: Prelude to the Campus Song
To maintain consistency with the design of the teaching building's exterior, we used a blue ribbon to integrate and connect the entrance gate and the gatehouse, while keeping their original functions intact. This creates an entrance image that is full of musical rhythm, making the campus more lively and coherent along the street.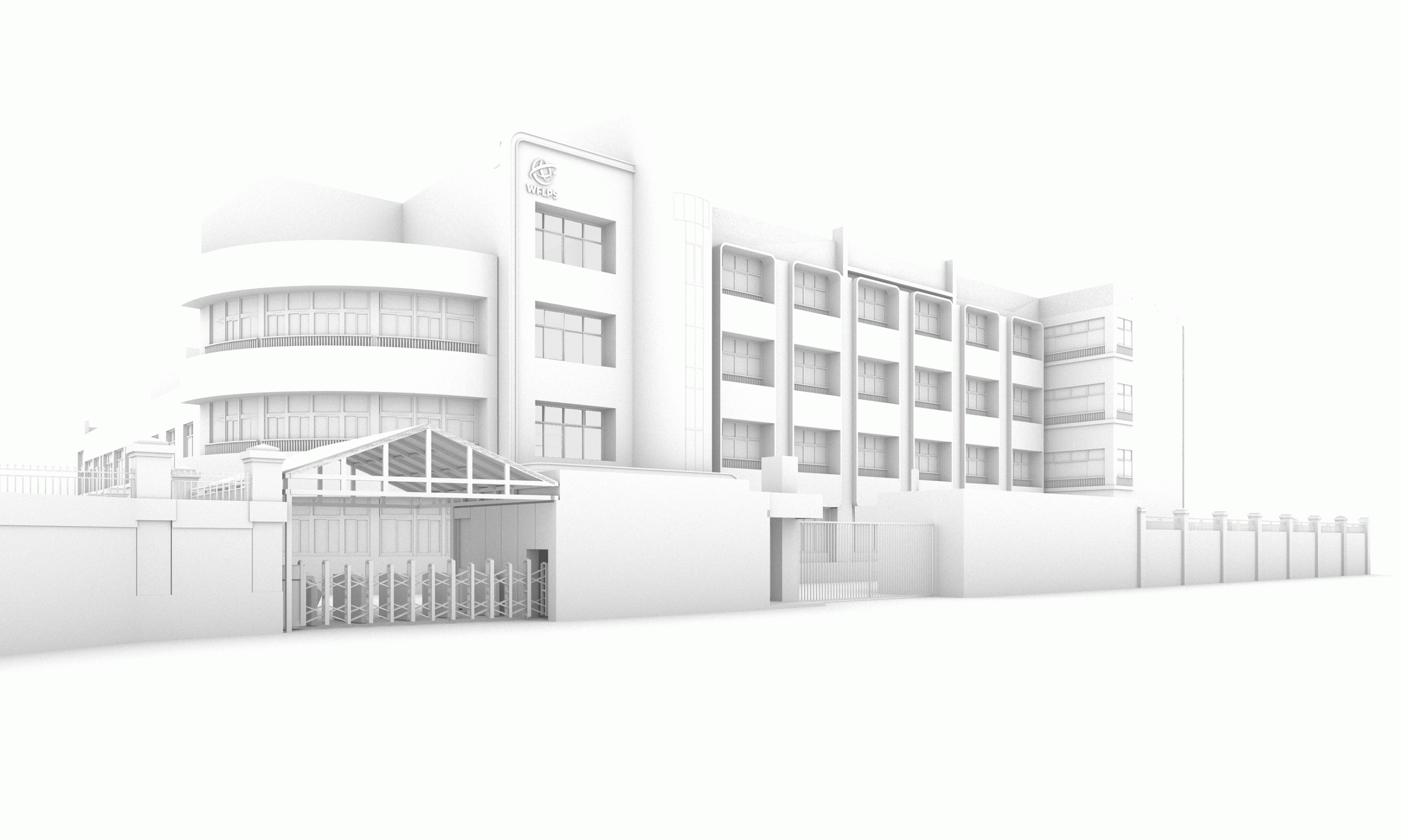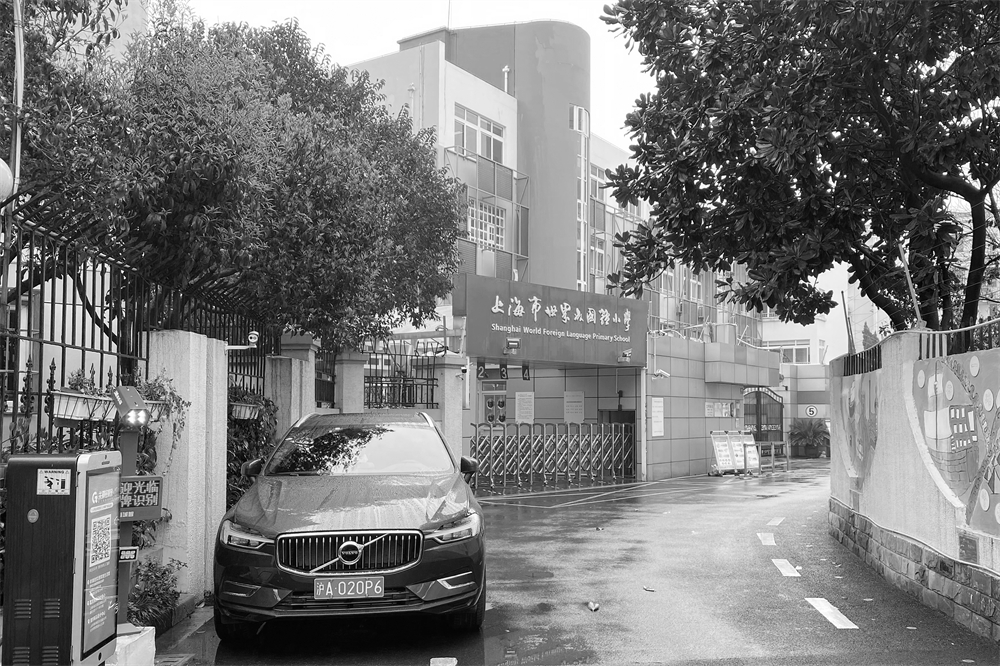 To enhance the sense of ceremony when entering the school, we added a rounded skylight to the roof of the entrance canopy. Sunlight streams through, bringing vitality to the space and signaling the start of each day's learning.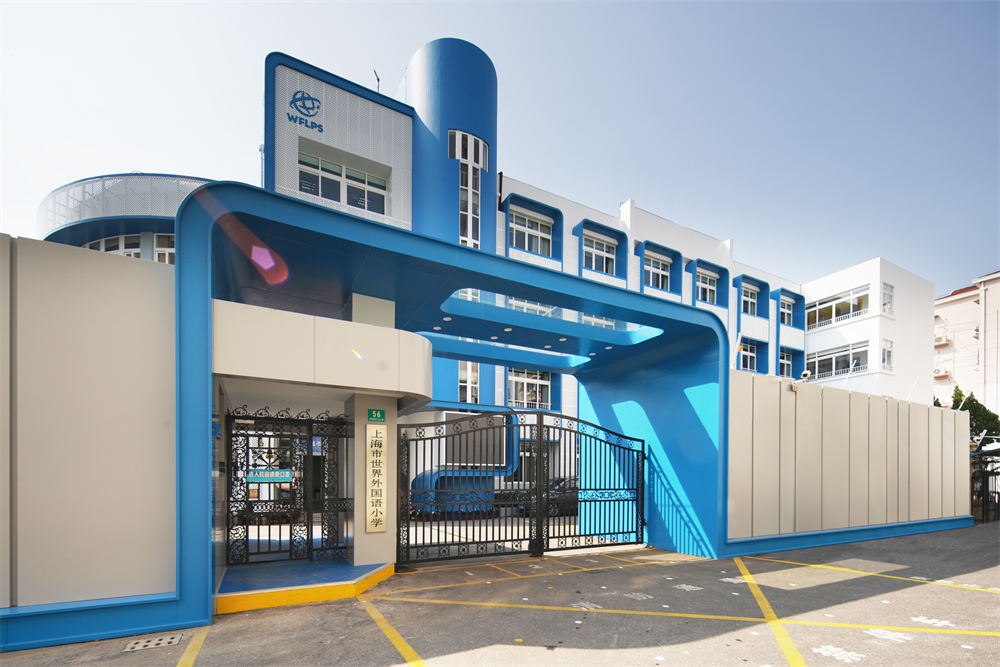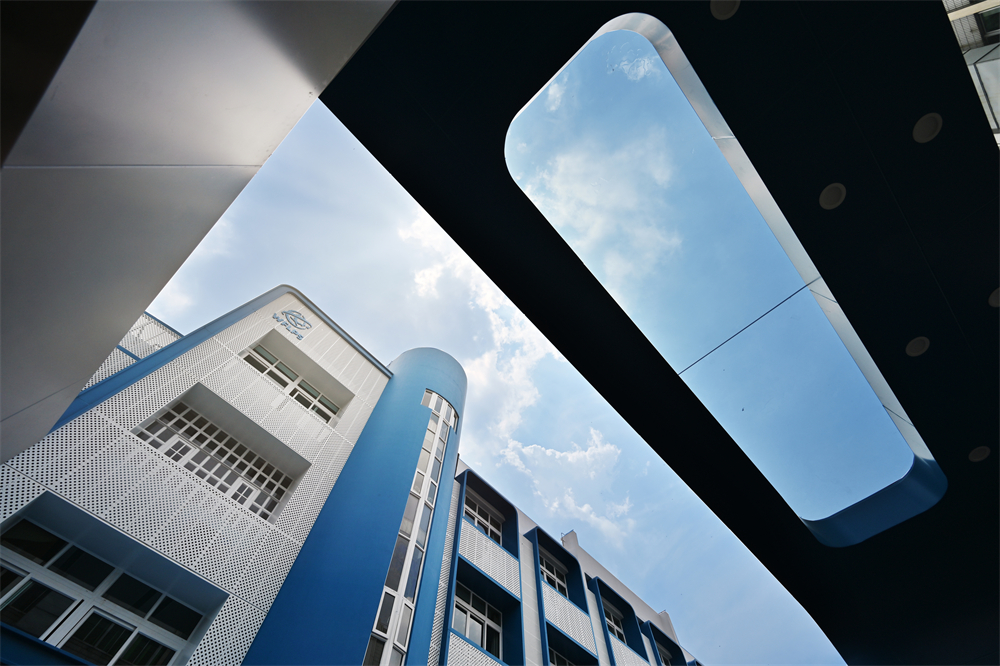 Main Entrance: A Welcoming Hymn
While maintaining a consistent design language for the façade, we focused on creating the main entrance of the teaching building. A blue metal canopy with a ribbon-like curved line at the entrance interweaves softly with the cylindrical staircase to form a distinct entrance. The campus information screen, surrounded by the blue ribbon, serves as the visual focus of the main entrance, and facilitates the dissemination of campus information.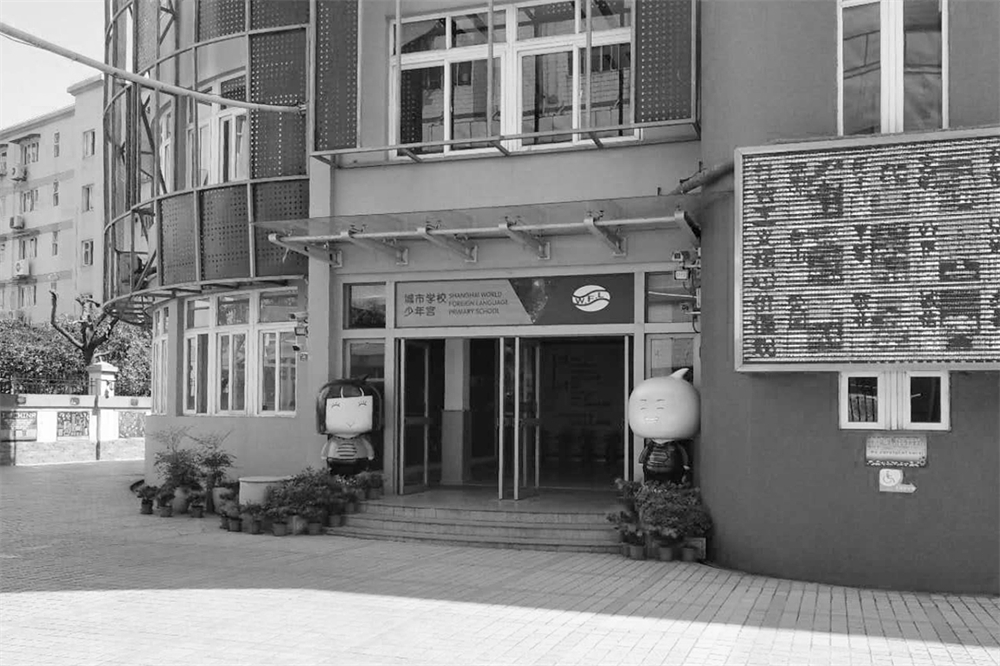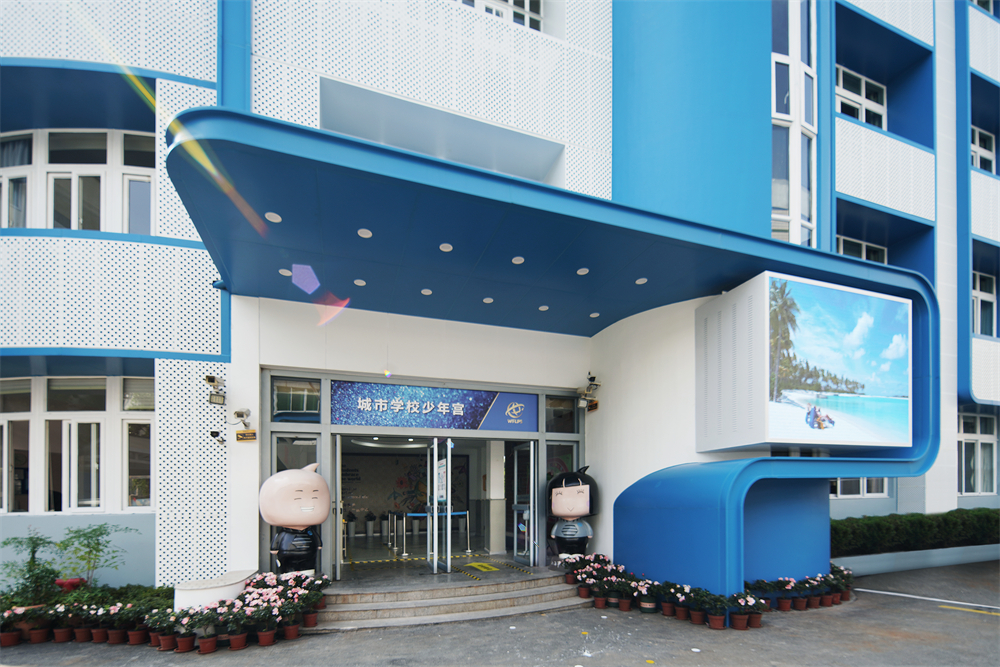 Integration in Façade Design
Integrating the air conditioning units and pipes hanging on the exterior facade in an orderly way was an essential task in our design. To achieve this, we utilized blue rounded frames and white punched plates as the primary building blocks of the facade. Within each unit, the aluminum plates have a high density of punch holes, which provide ventilation for the air conditioning units located in each classroom. The density of punch holes between units is lower to accommodate the air conditioning refrigerant and rainwater pipes. These subtle differences in material create a simple, yet varied composition.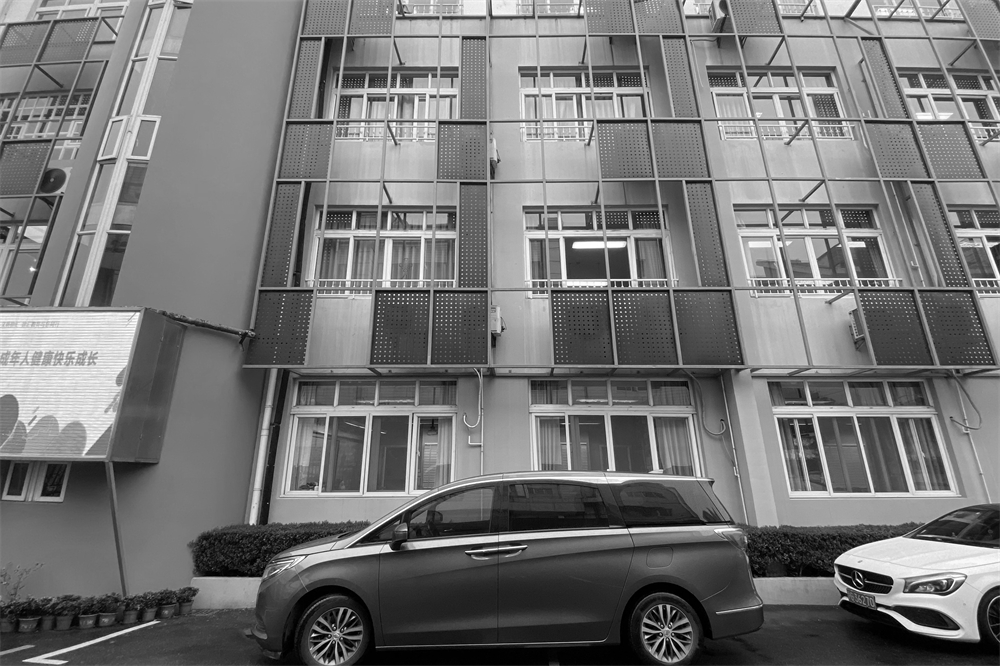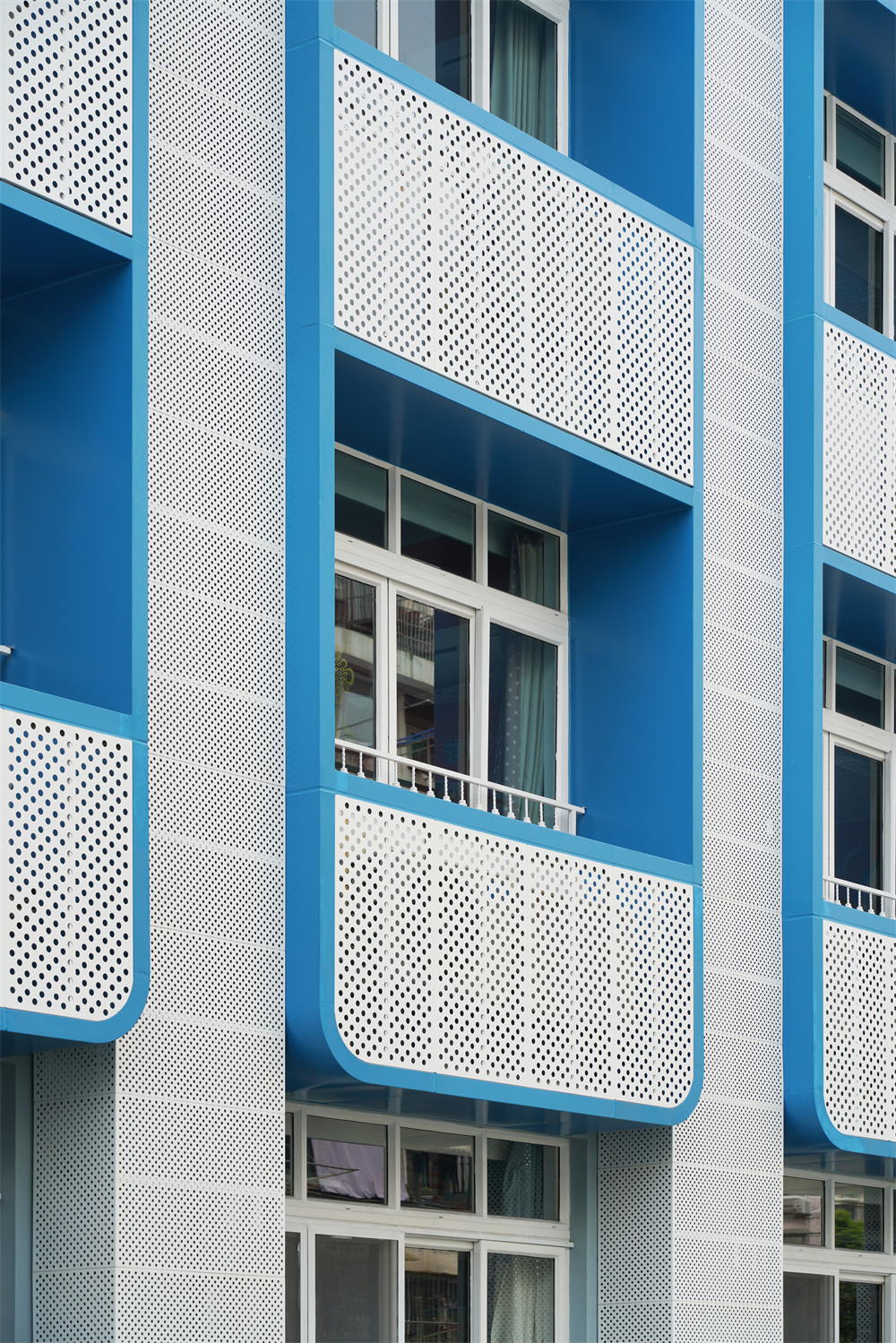 Location: Xuhui District, Shanghai, China
Area: 2000㎡
Status: Construction Complete
Design Finish Year: 2021
Completion Year: 2021