Play is the Essence of Early Childhood Education
Between the ages of 2 and 3, children start developing self-awareness and rapidly advancing their language and motor skills. They become more aware of the world around them and are curious to explore and touch everything they can. During this stage, children learn mainly through play and environmental perception. As play is natural to children, incorporating games into the design of early childhood education curriculum is an effective way to maintain their curiosity and interest. By liberating their nature, games can help stimulate children's learning ability.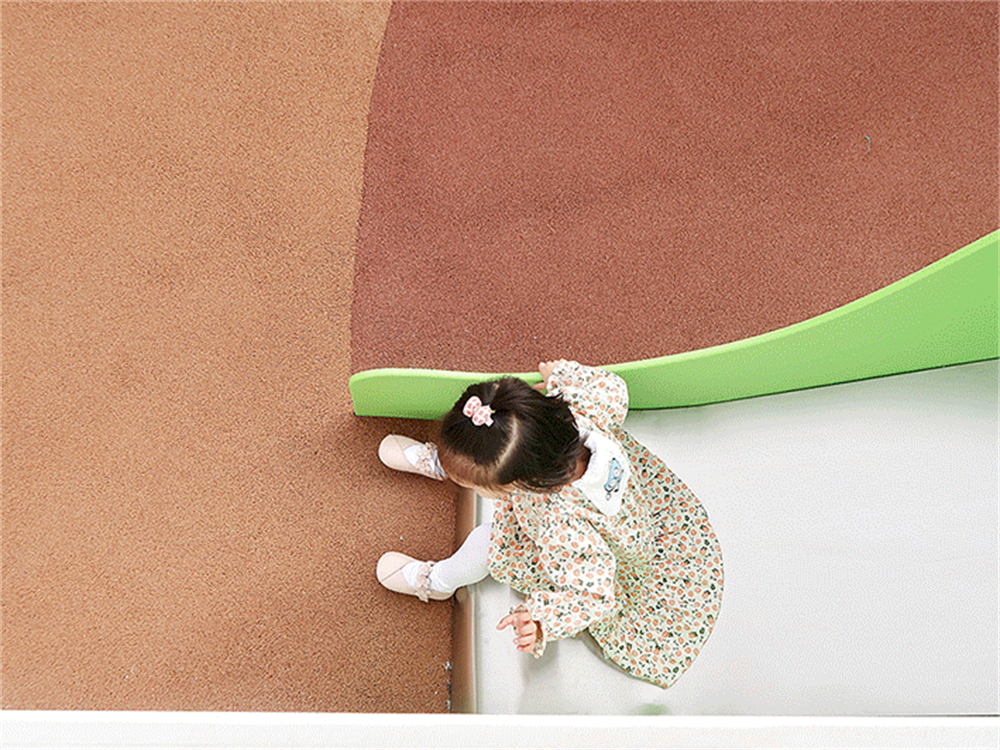 Design Concept : Exploring a Field of Freedom
Kindergarten serves as a space for children to grow and learn. For them, everything is novel and unfamiliar, and the environment is a medium to understand the world. Therefore, we aim to create a "free" environment that fosters exploration, joyful play, and unexpected discoveries. The design concept centers on a "field of freedom," where freeform curves and rounded corners replace geometric elements to create a free spatial layout. The concept extends to the spatial form, wall arrangement, facade, and furniture design, as well as the outdoor landscape's flower ponds and ground paving.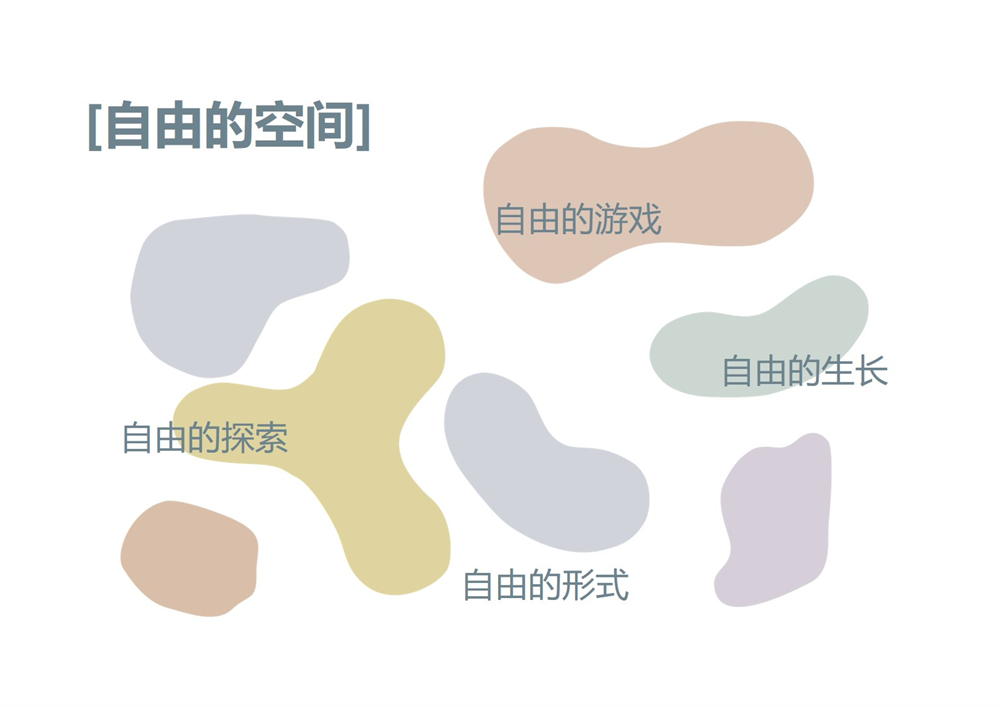 Spatial Planning : Interconnected Indoor and Outdoor Spaces
To create a free and playful playground for children, we have arranged six units for children's daily activities on one side of the activity area, creating a direct connection between the indoor and outdoor playgrounds. The entire courtyard is a lively and joyful paradise for children to play and have fun in.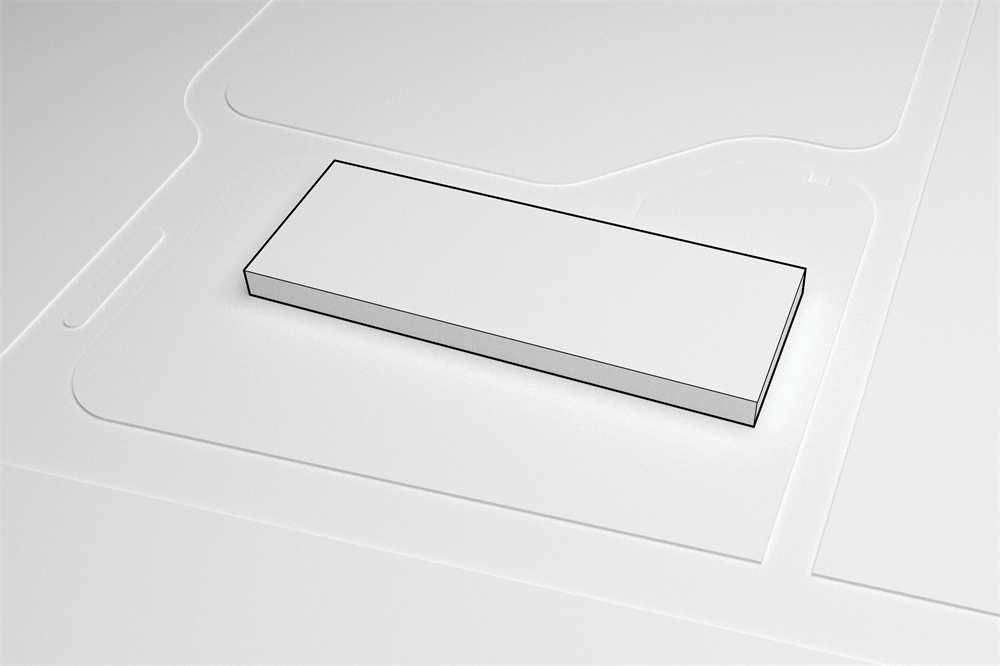 Plan layout : Free-flowing Spatial Form
Due to the building's intended use as an office building, the first floor plan had to retain two vertical traffic cores, which made the space for childcare quite irregular once these cores were removed. To address this, we used streamlined walls in the layout to eliminate space corners and create a free-flowing space between the lobby, sensory classroom, corridors, and various living units.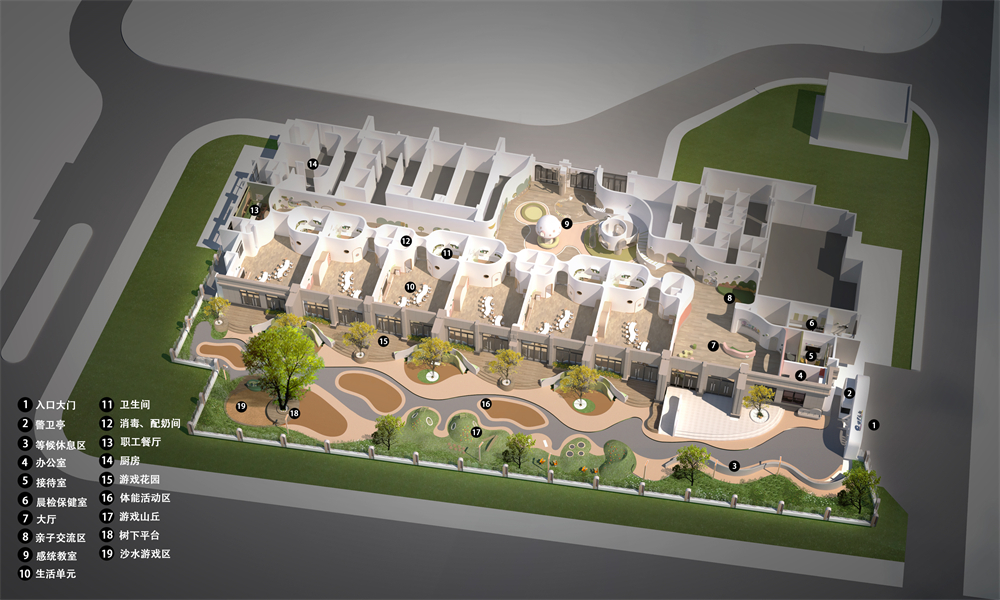 Entrance Image : An Exclusive Children's Dreamland
To convey the image of a kindergarten full of childlike fun, we used free curves to create the entrance gate of the kindergarten. Using a combination of curves and rounded arches, we integrated the turnstile and guard room into this interesting gate design. The abbreviation for Qingpu World Foreign Language Kindergarten is "Q-WFLK," and we personified it in the logo design to emphasize the school's playful "Q" image.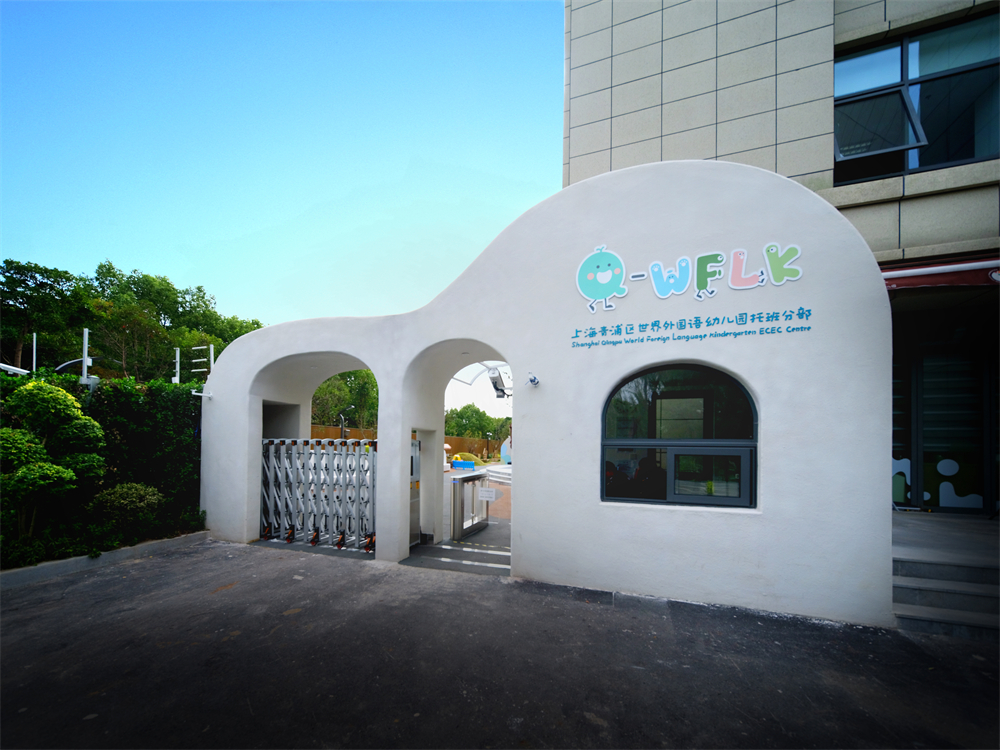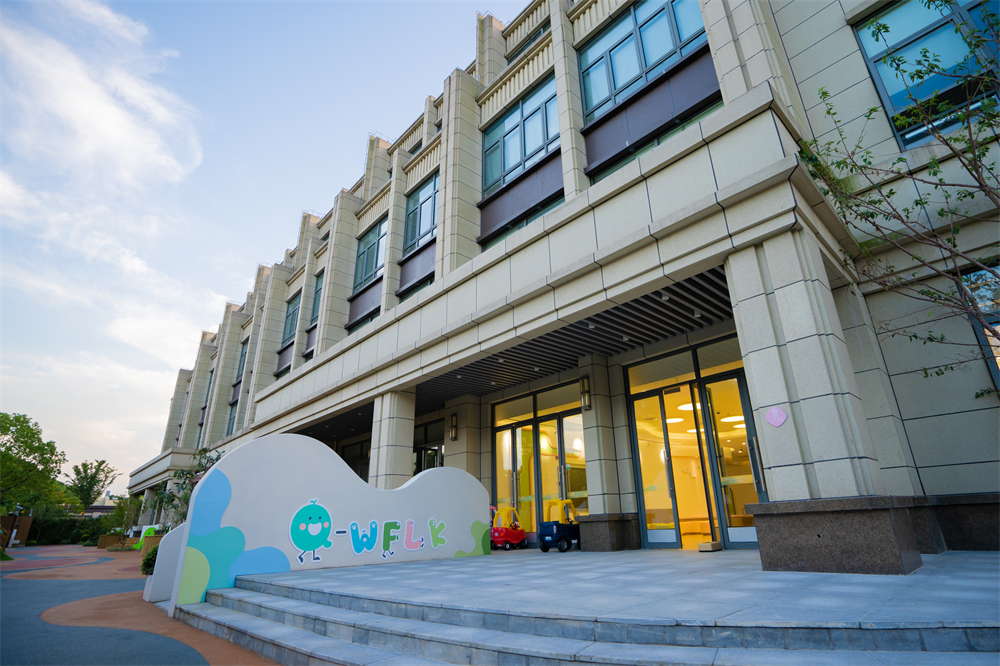 Lobby : A Welcoming Space Filled with Warmth and Childlike Fun
The lobby design focuses on a curved reception desk and a themed background wall. The overall wall and ceiling design use free curves and rounded corners as the design language, and different elements such as the themed background wall, display wall, seating, and washbasin have unique features yet appear harmonious in the same design language.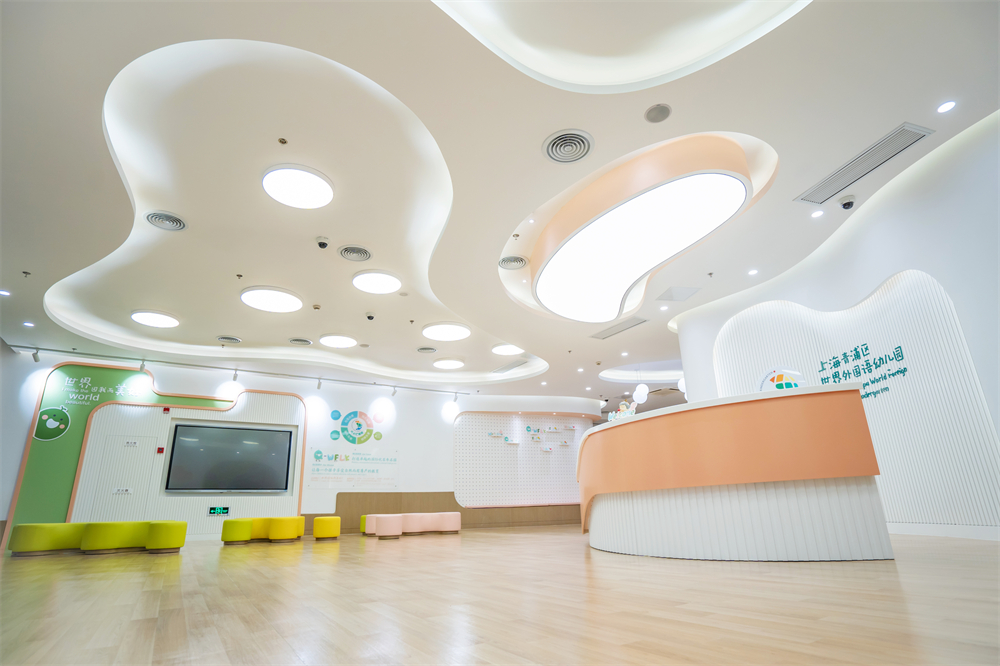 Before entering the teaching space, we set up a parent-child communication area, allowing parents and children to have a relaxed and comfortable space for farewell and waiting.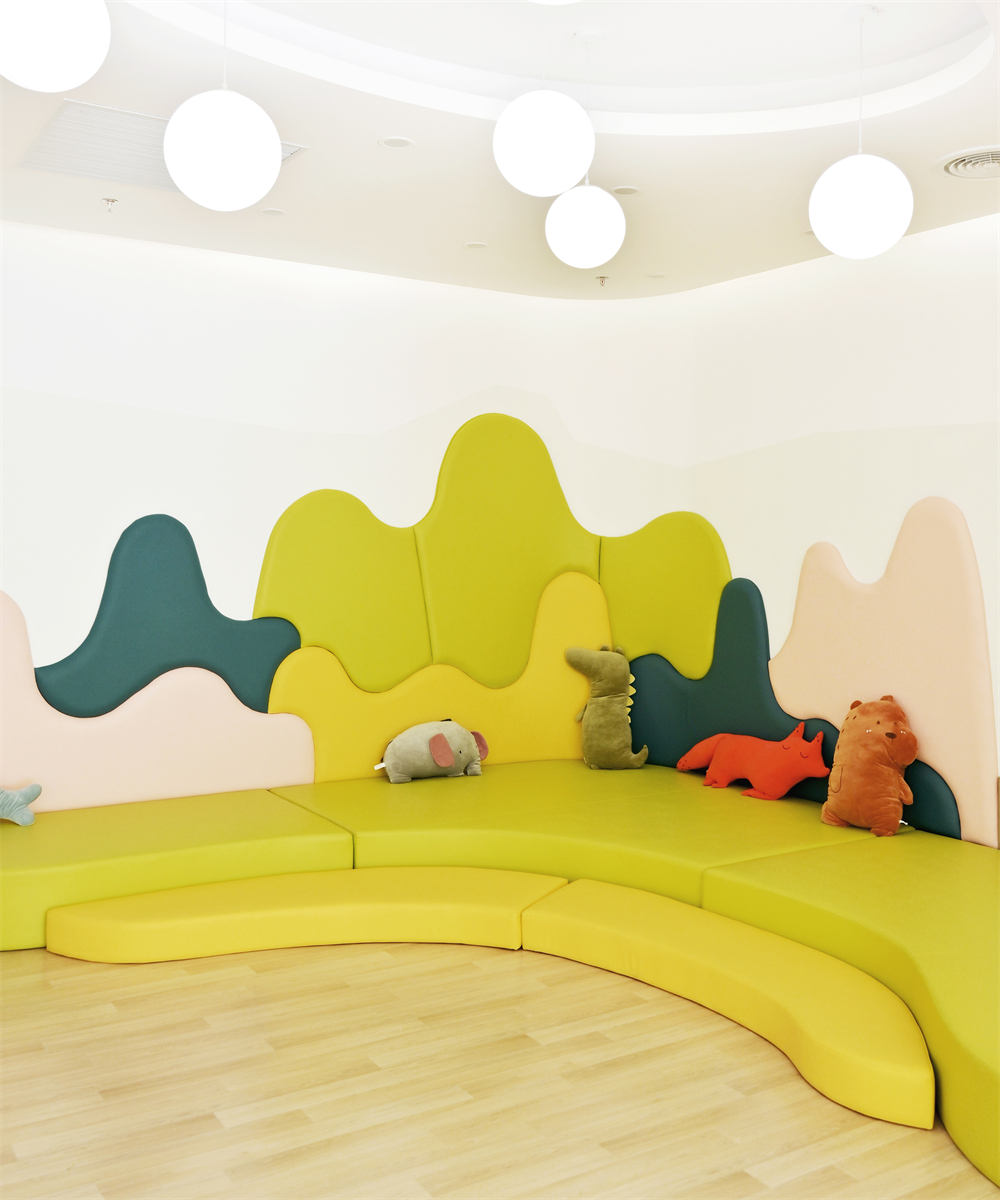 Sensory Classroom : Exploring and Learning in a Fairytale Playground
The sensory classroom is an open and playful learning space that we divided into two parts: the game activity area and the central functional area. The central functional area is mainly a spacious activity space, and we used the shapes of mushrooms and trees to cover the abrupt pillars, adding a fairy-tale sense of fun and increasing safety in the space.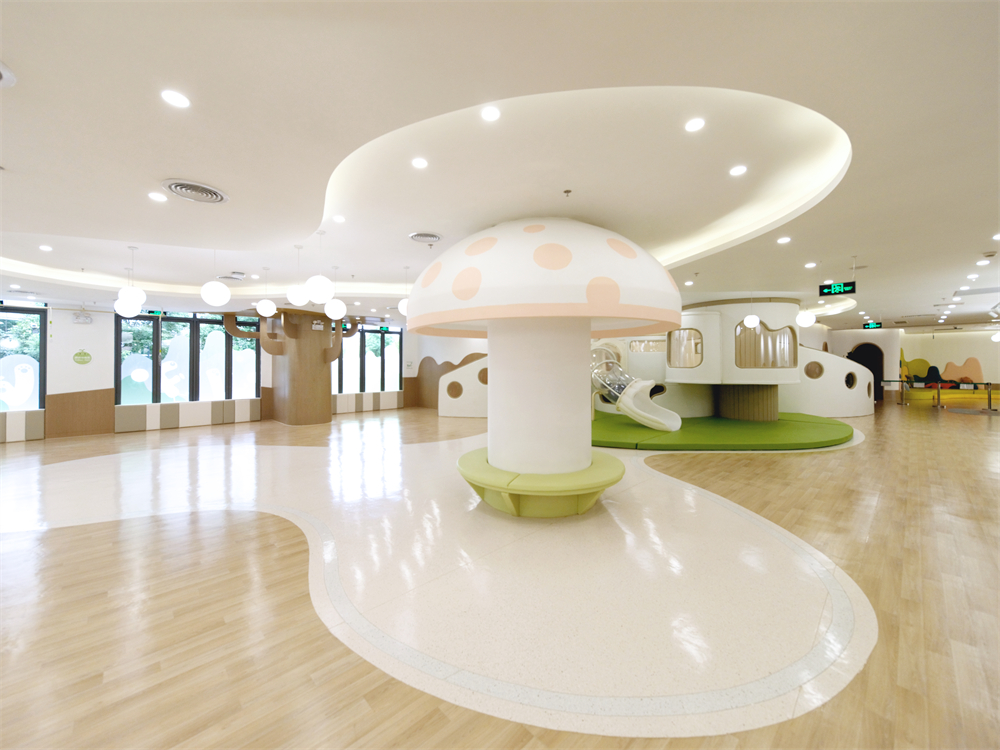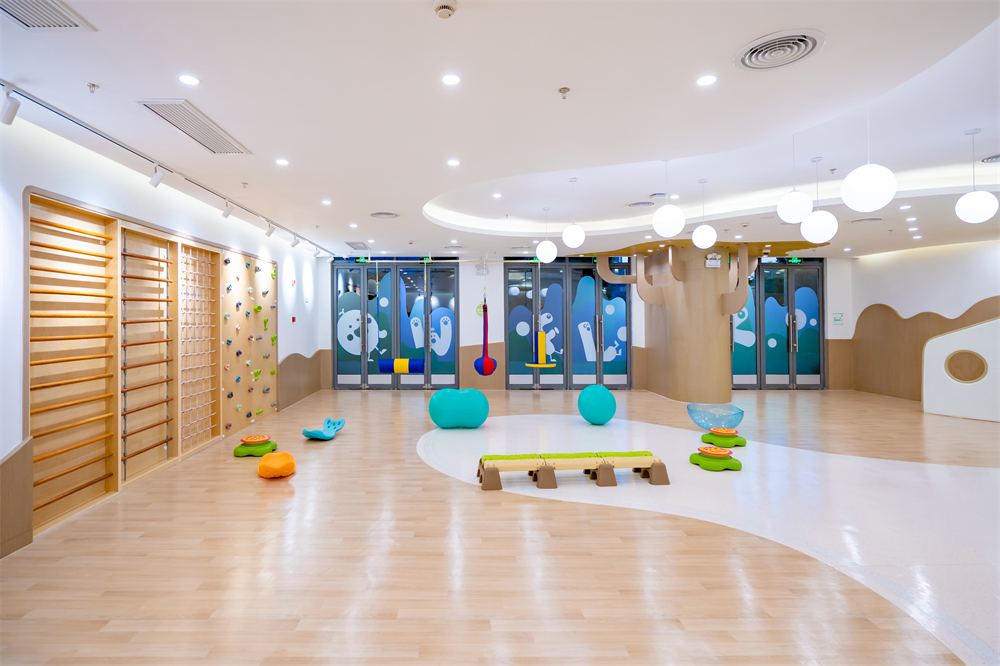 The game activity area is centered around a combination of slides, ramps, and stairs. The fun of the slides is not only endless, but also helps enhance children's physical coordination abilities. The column viewing platform beside the slide platform allows children to observe their surroundings from different perspectives, while a cork sandbox underneath the slide platform helps train their arm strength and coordination.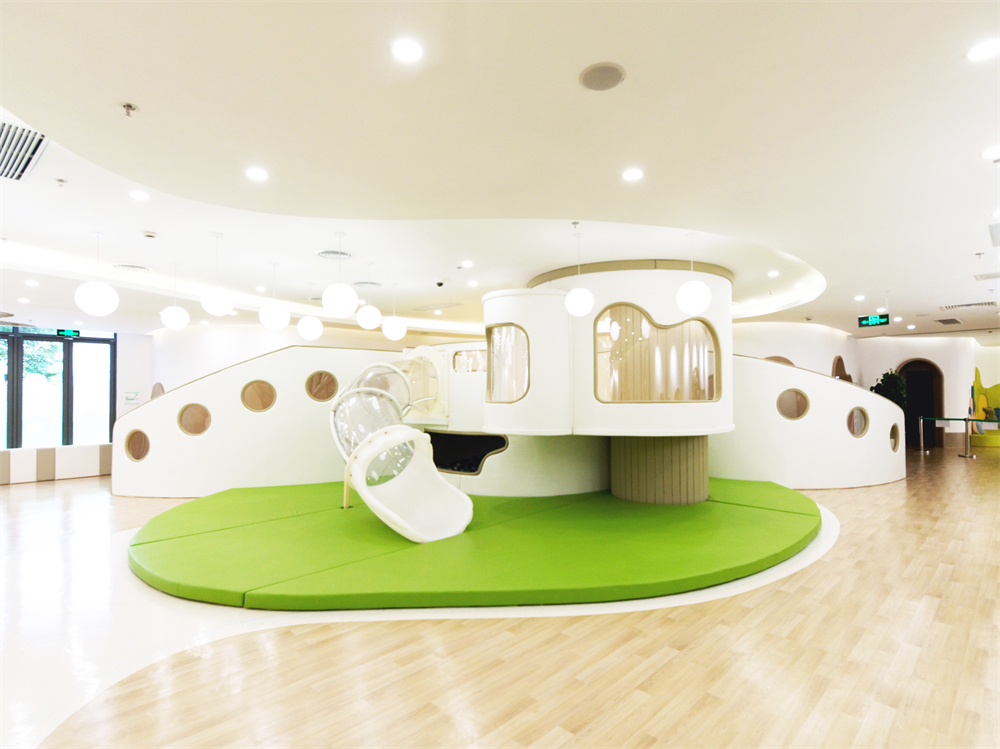 Living Units : A Free and Unrestricted Space for Learning and Play
The design of the living unit follows a free-form language, where the sculptural teaching wall, graffiti whiteboard, backpack cabinet, and bedding storage cabinet are integrated into a cohesive and playful space, maximizing the children's activity area. The once space-consuming bedding storage cabinet is now a charming and delightful feature in the living unit.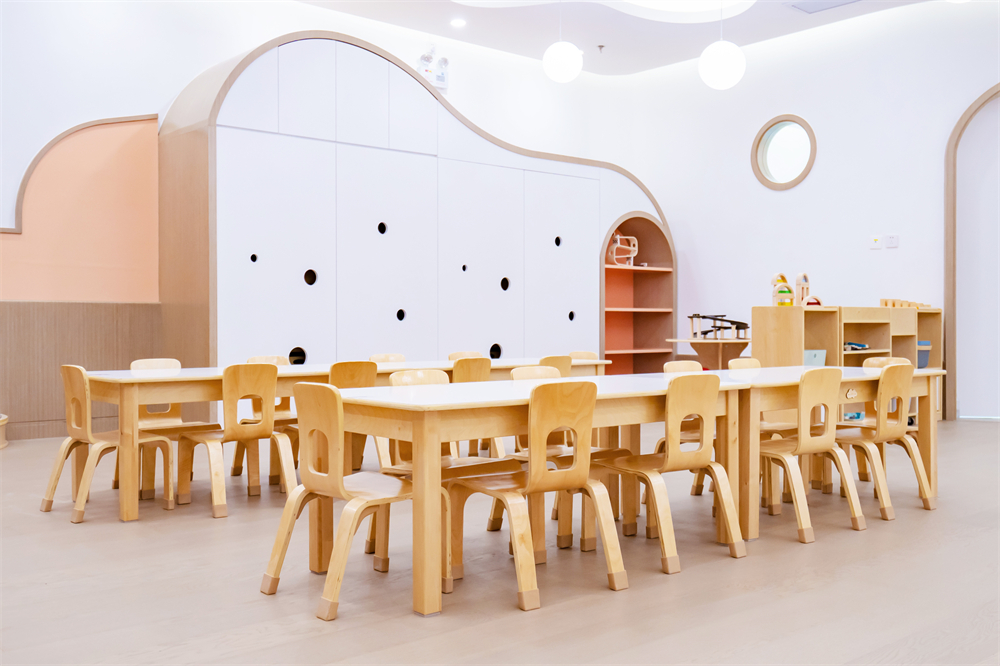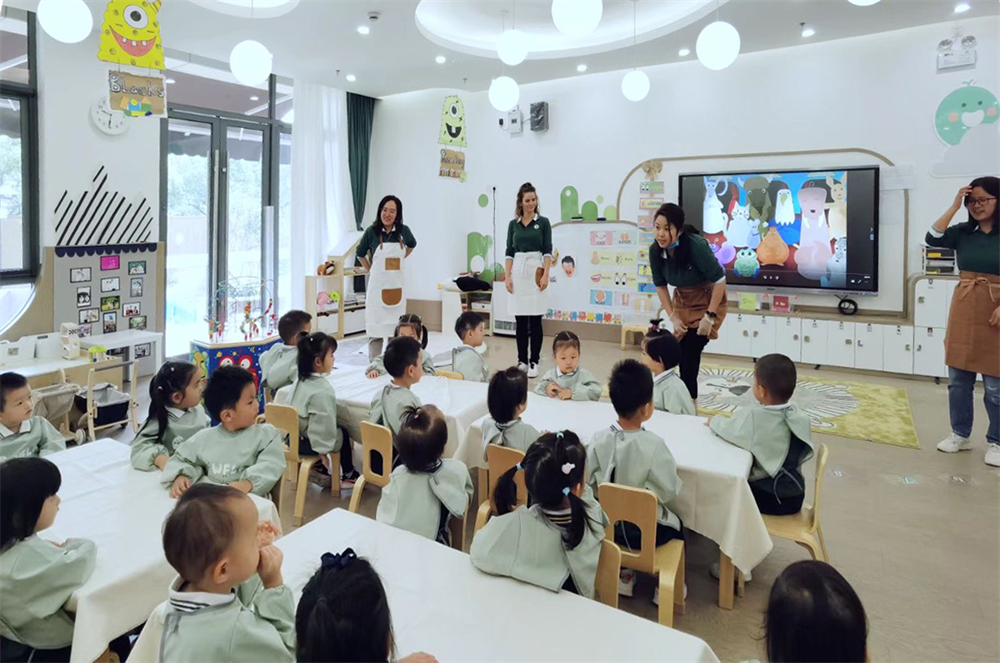 The design of the bathroom in the living unit maintains the overall style, emphasizing the fluidity of space and eliminating dead corners. The circular hand washing station encourages children to wash their hands together, and is also integrated into their daily life and learning. The multifunctional diaper changing station, designed with a toddler climbing ladder, helps to train children in autonomy.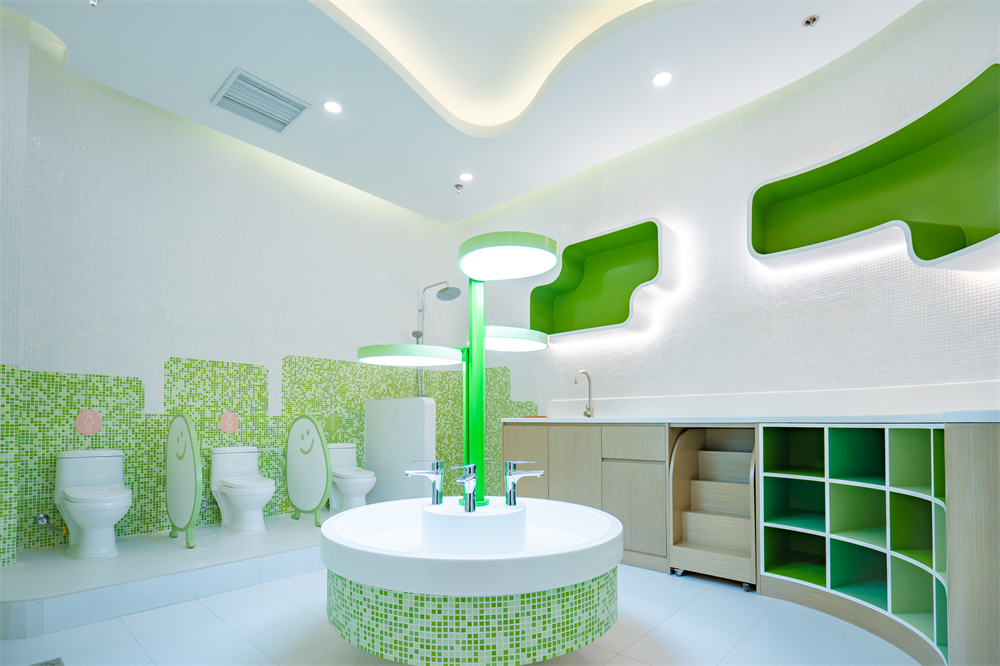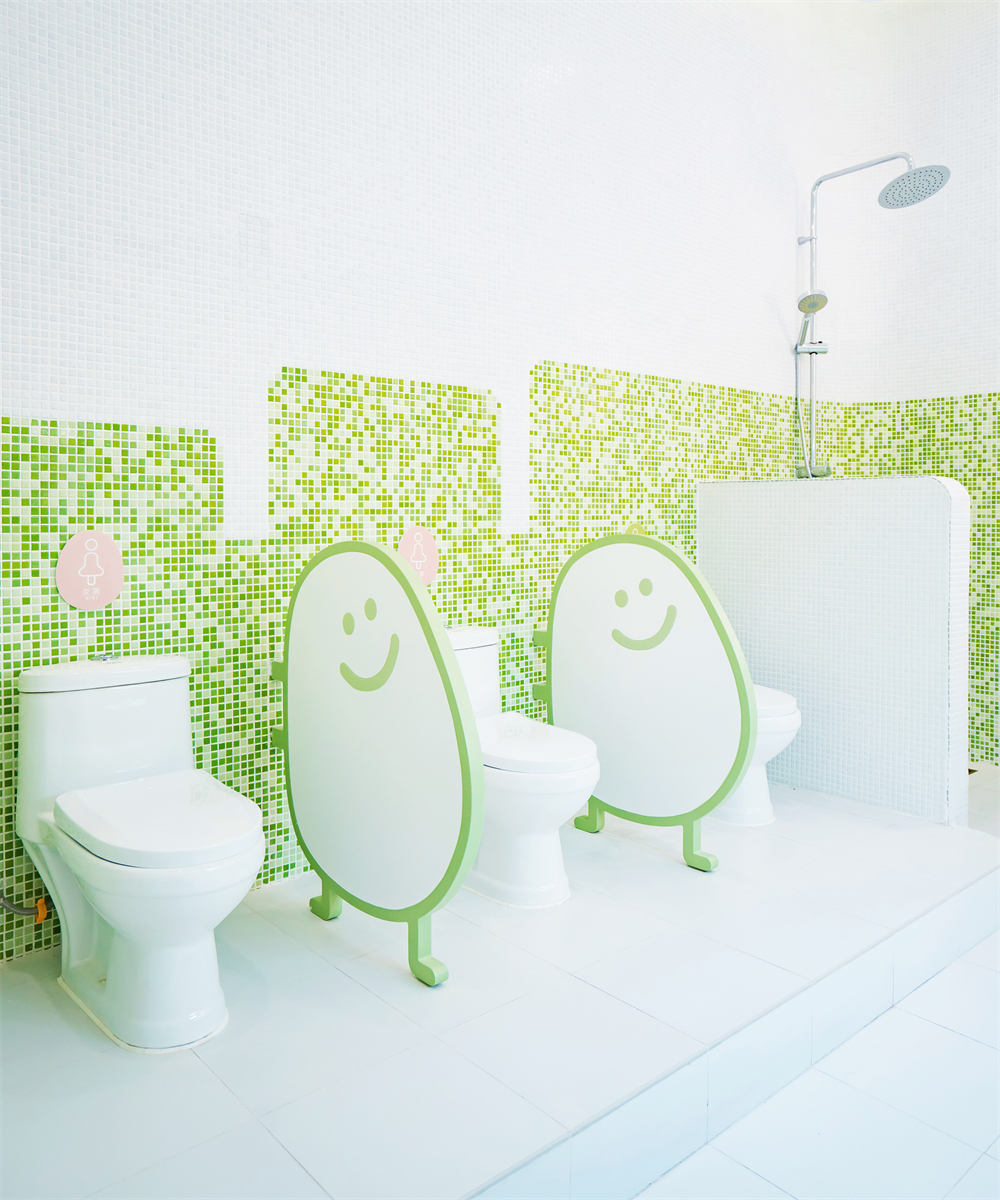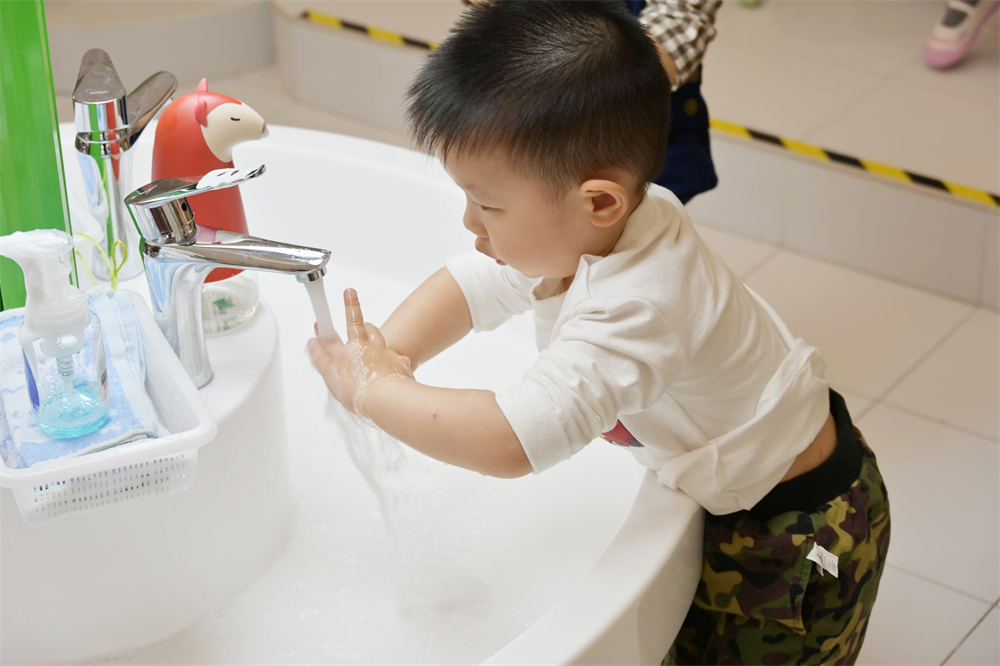 Exclusive Backyard : A Garden to Hear the Insects Chirping and Birds Singing
In each living unit, there are large doors and windows facing the garden, providing access to the class's exclusive game garden and play area. We've incorporated fun elephant stairs into each classroom's exterior, taking advantage of the height difference. On pleasant days, children can simply push the doors and enter the game garden to frolic and play amidst the sounds of birds and insects.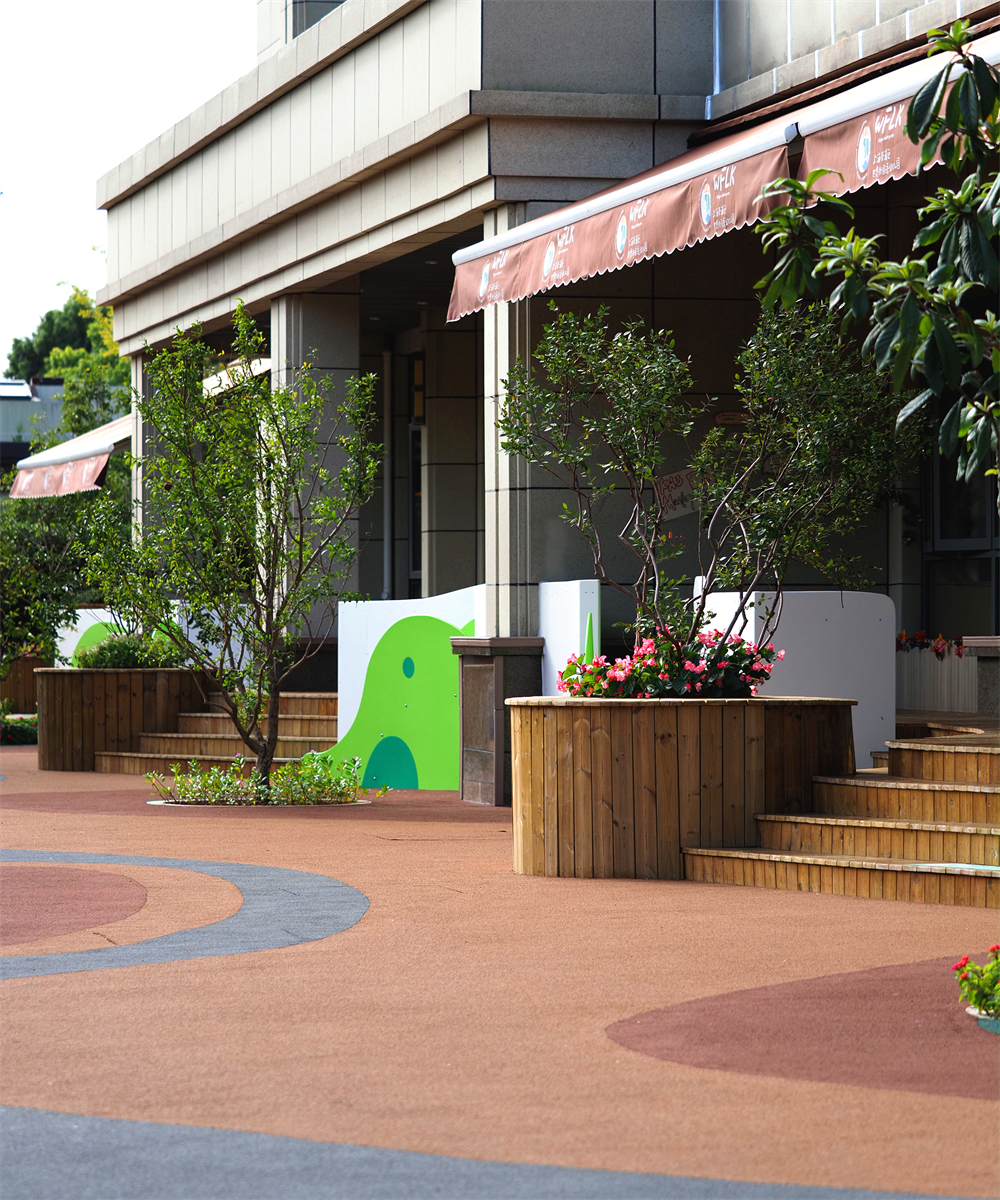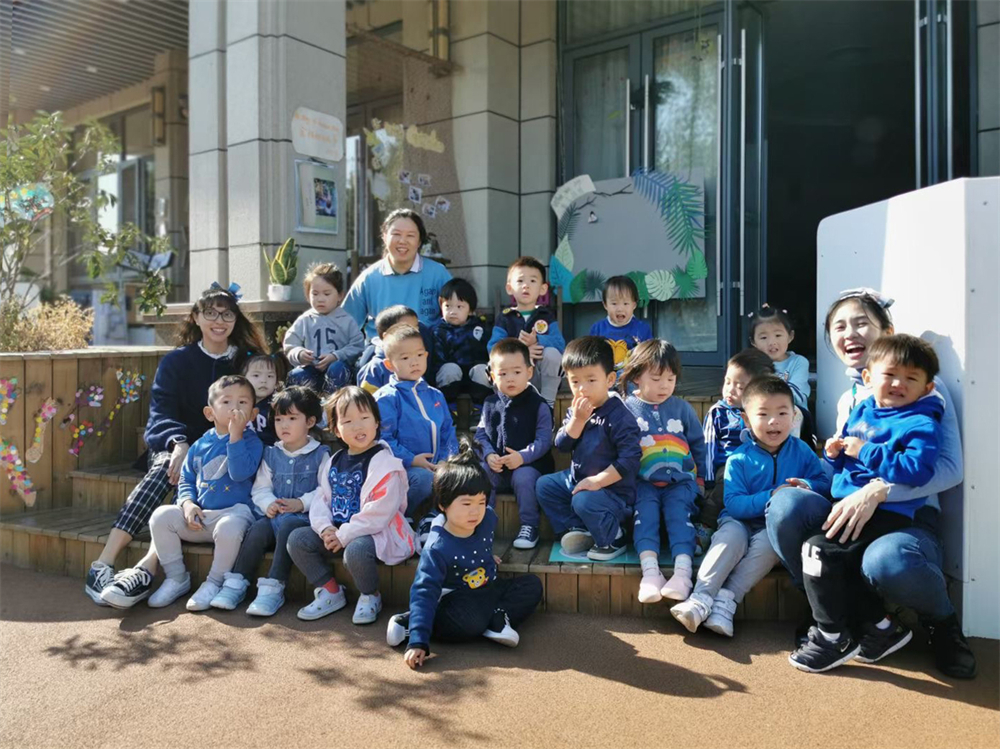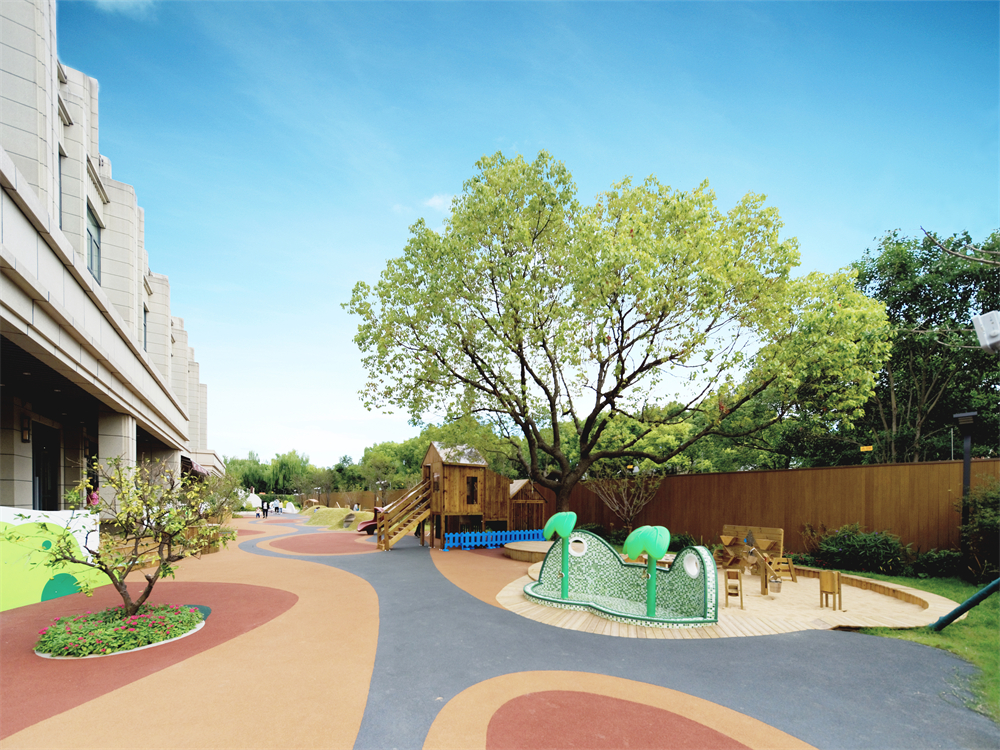 Activity Area : Let the Children Move and Run Freely
We've reserved over half of the courtyard as a physical activity area, so children can run and play freely. The floor design features lively, organic lines that harmonize with the natural surroundings.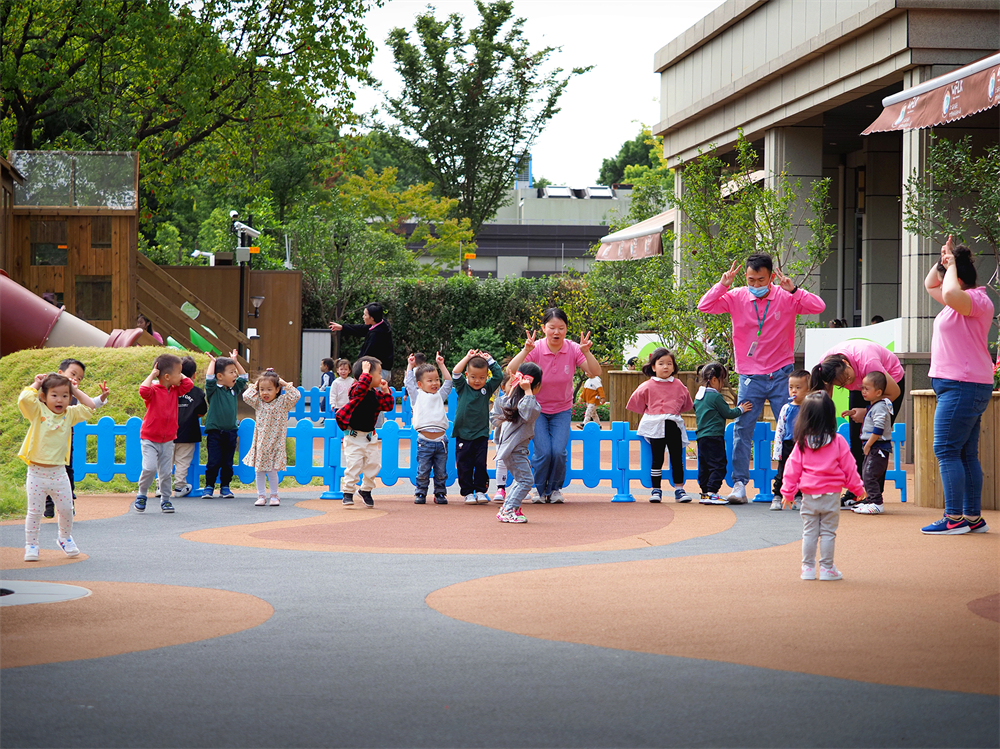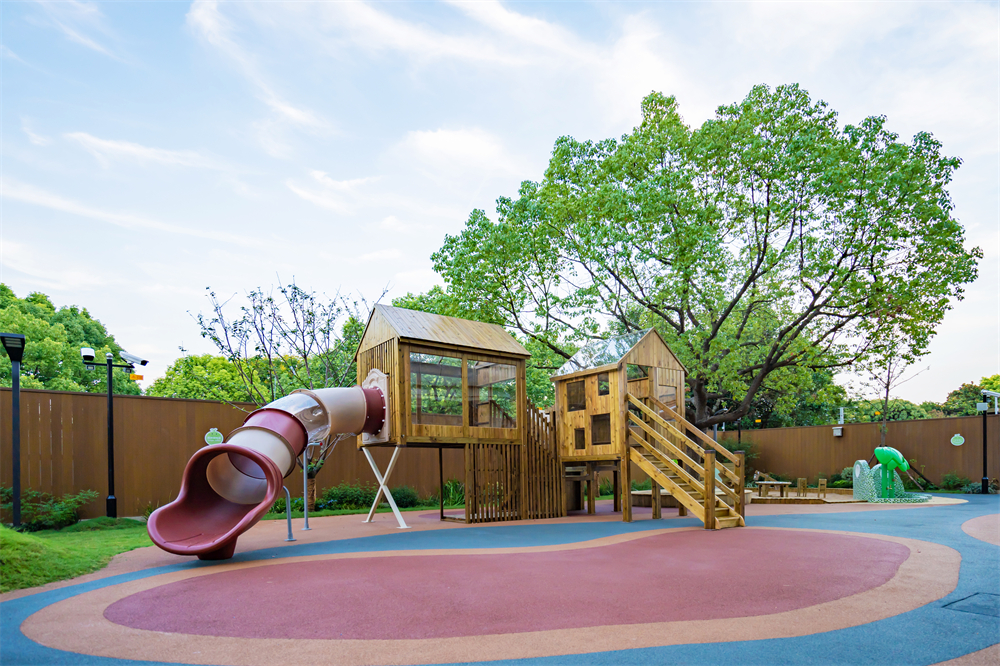 The Game Hill : Little Q's Favorite Forest Adventure
We used changes in terrain to create an engaging game hill, comprised of several grassy slopes and molehills. With varying heights and equipment like balance beams and suspension bridges, it provides an exciting area for children to explore and play mountain adventurers.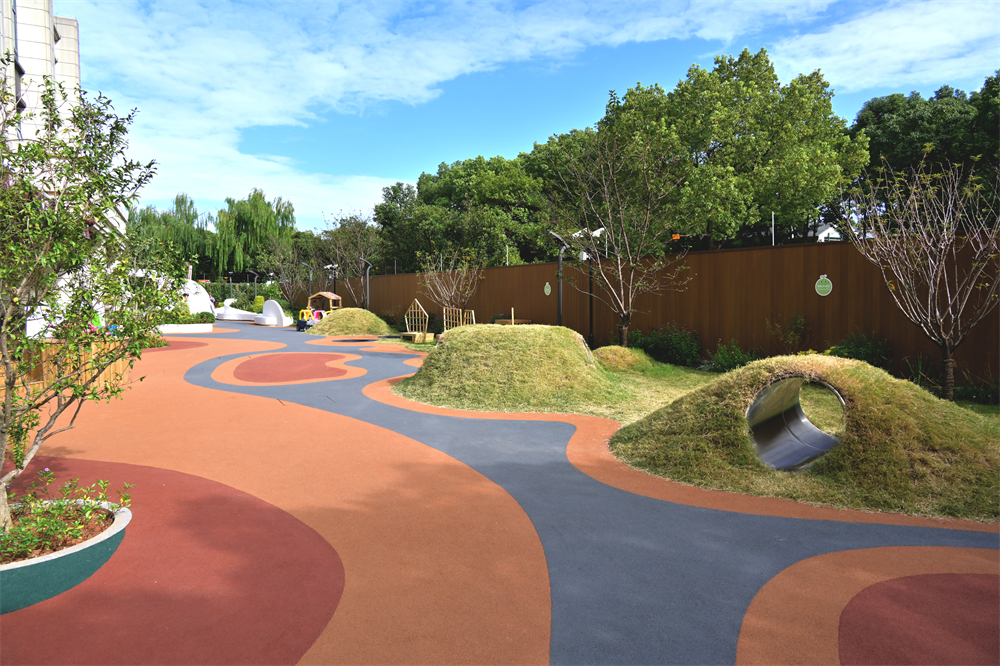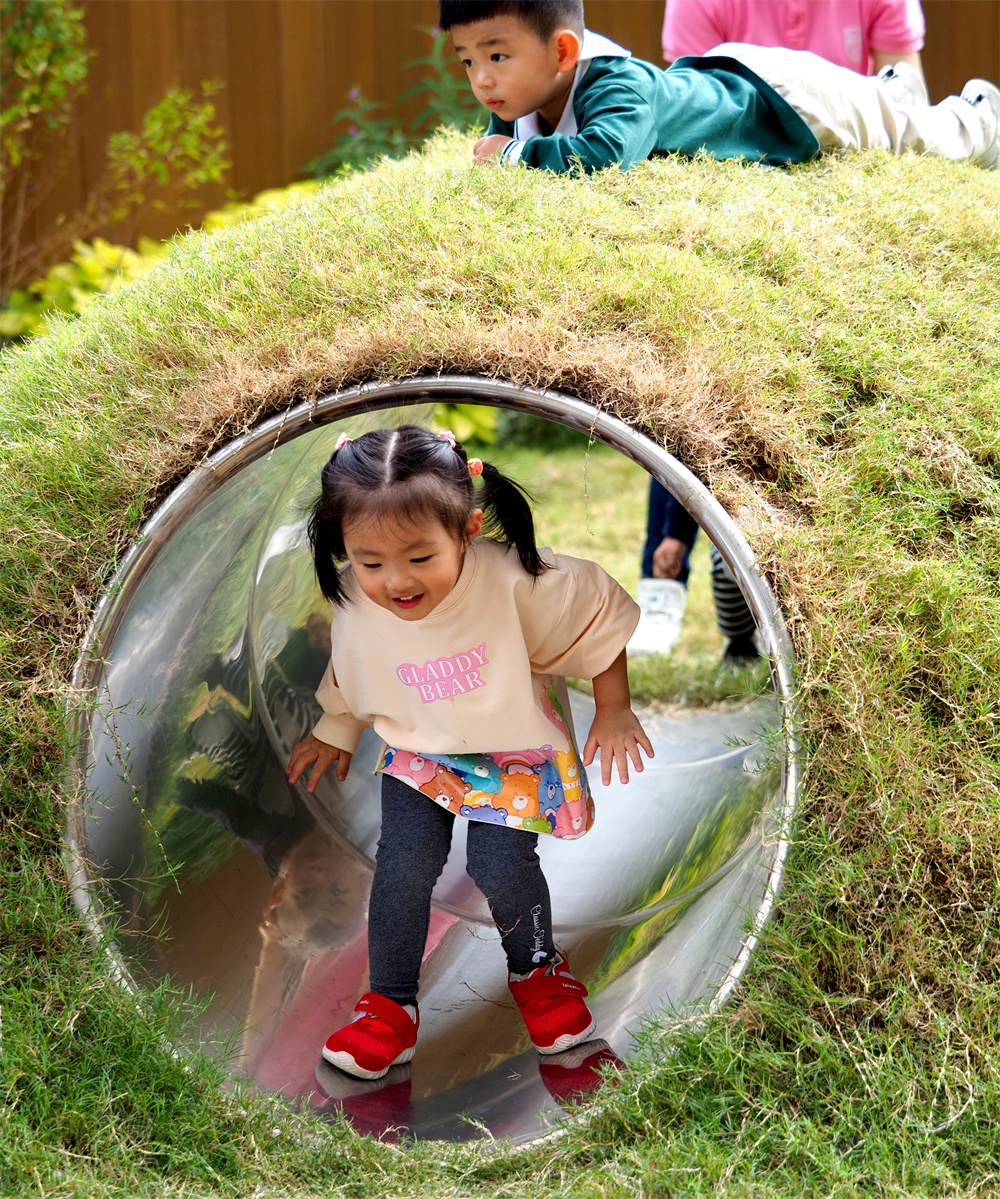 Sand and Water Area : Crazy party under the Big Tree
We preserved a tall camphor tree on the site and created a sand and water play area around it. Children of this age have a special affinity for sand and water, and playing with them is a good way to train their physical abilities and imagination. While playing in the sand under the tree, children can also experience the beauty of seasonal changes in nature through the fruits and leaves of the camphor tree.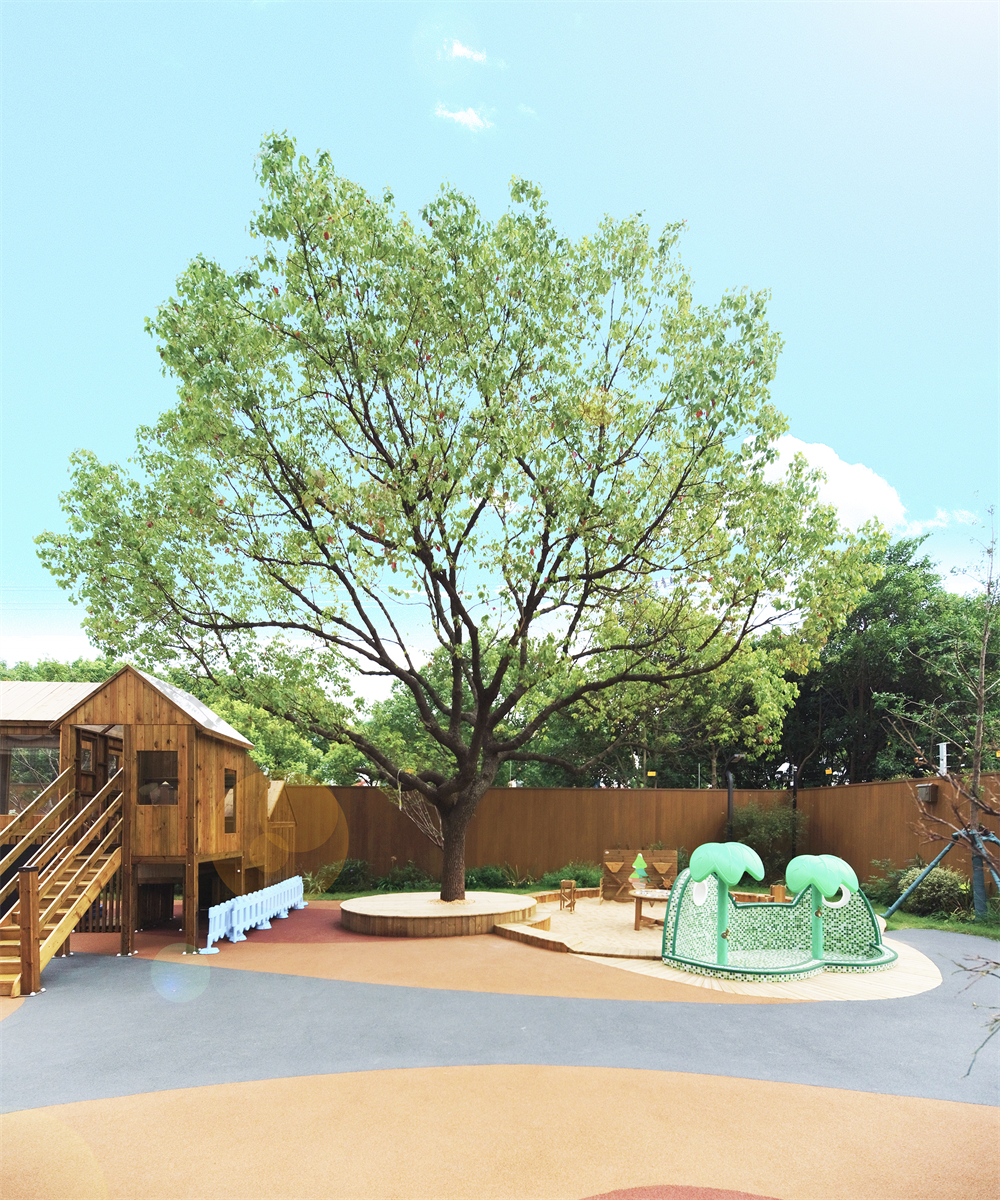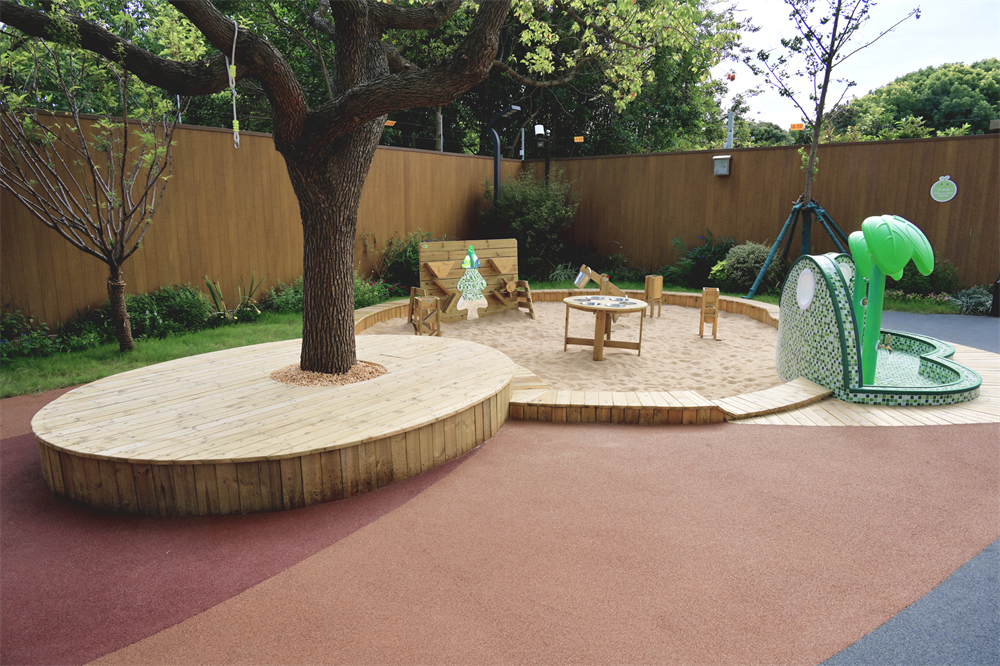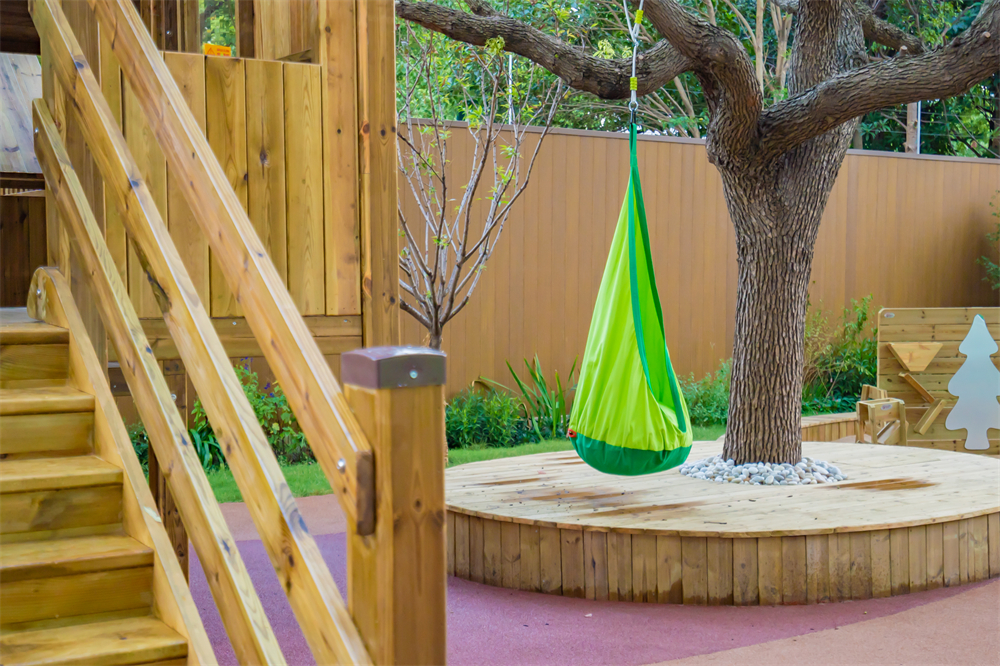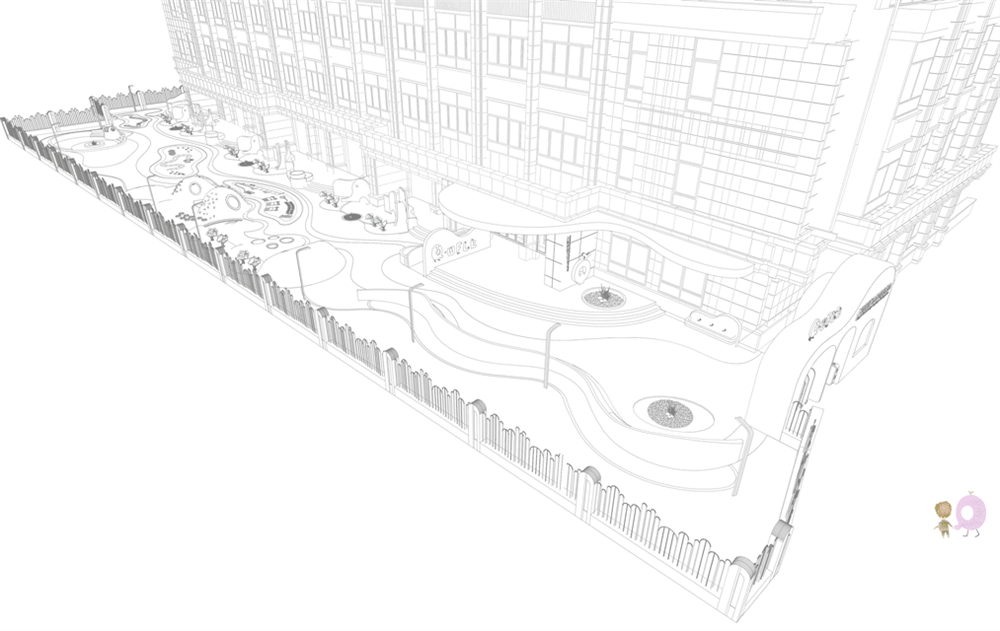 Location: Qingpu District, Shanghai, China
Interior Design Area:1412㎡
Landscape Design Area:1950㎡
Status: Construction Complete
Design Finish Year: 2020
Completion Year: 2020