This is a child's dream forest, where children can freely explore and discover in a lush green space, play with the "big trees," and befriend the "little animals." This dynamic and fun space provides children with the joy of creativity and learning, allowing them to fully experience the happiness and surprises of growing up in this forest!
Returning to Nature: A Playground for Young Learners
With the evolving changes in modern education, early childhood education spaces are moving towards more open, flexible, and fun design patterns. However, when it comes to addressing the adaptability of very young children to such spaces, can we find new ideas and more possibilities?
In our quest for design inspiration, we have focused on the unique charm of "nature," which naturally draws people in for exploration. This innate connection to nature is even more pronounced in children. Therefore, we have endeavored to create a seamless, fresh, friendly, and warm play and learning space exclusively for young children, using the "forest" as a cohesive design language that combines elements of nature with space characteristics.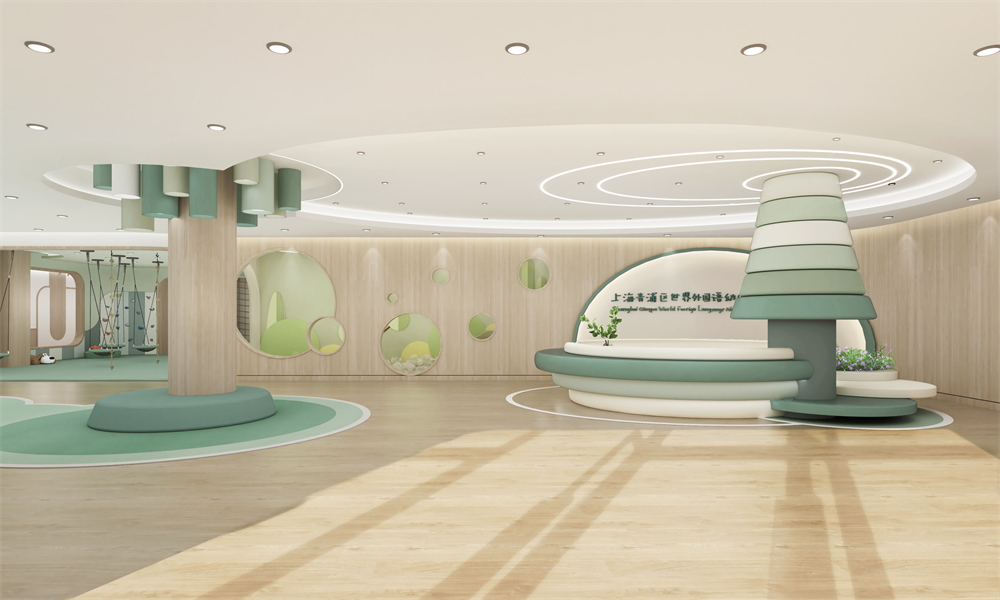 Entrance Public Area: Impressions of the Child's Dream Forest
To create an atmosphere of a forest for play, the entire space is designed with the use of treetops, logs, and greenery as its design language. By abstractly incorporating elements such as arches and circles, which symbolize treetops and the forest, it sparks the children's imagination about the natural world. The overall forest theme is conveyed through soft color tones, providing children with a sense of warmth and security within the space.
Entrance :
The entrance is a green archway covered in lush plants, serving as the starting point for guiding children into the "Child's Dream Forest." The arched curves soften the otherwise rigid architectural lines, while also presenting an inviting gesture with open arms to welcome the children into the park.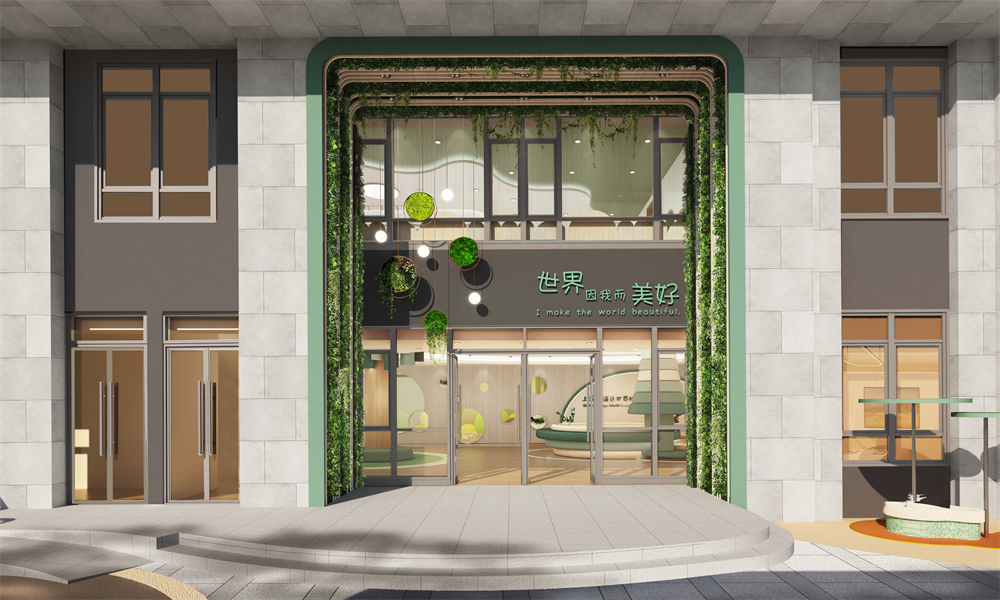 Lobby :
To create a more open and continuous space, the entire lobby design minimizes unnecessary partitions. The design employs tree-like structures to eliminate the abrupt presence of original architectural columns within the space. To the right of the entrance, a sink area is integrated with an ecological green wall and an eco-tank design, extending the visually lush path into the entrance area. The tree-shaped counter, ecological green walls, and green plant decorations on the overall wall collectively create a lively and vibrant atmosphere in the lobby, providing a sense of nature.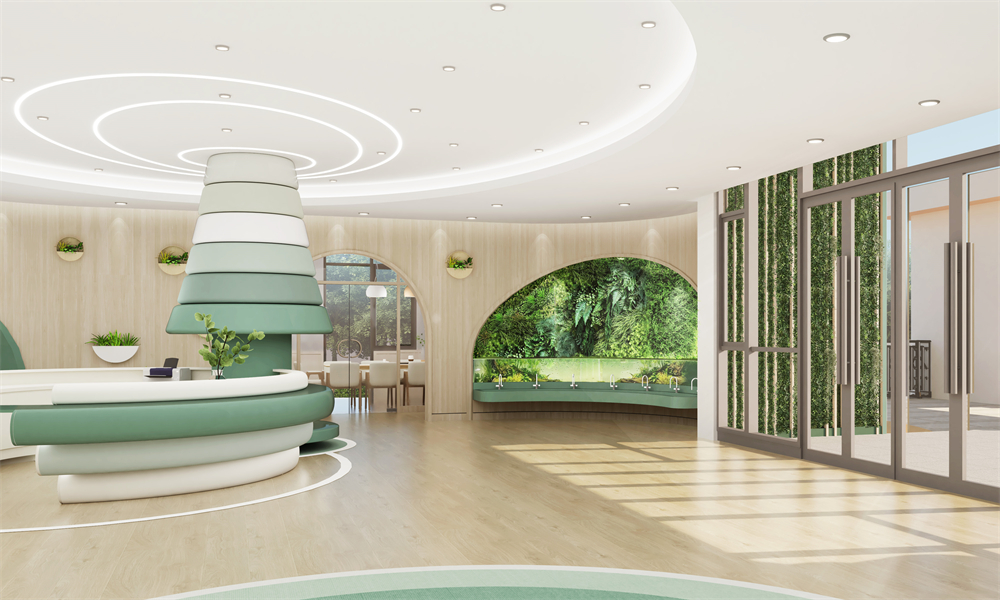 Parent Waiting Area :
The extended waiting space, acting as a transitional area between the entrance hall and the play area, offers an alternative interpretation of the "forest" concept through a series of staggered green cylindrical lights. Here, parents and children can wait, read, and relax in seating areas inspired by the design of "big trees.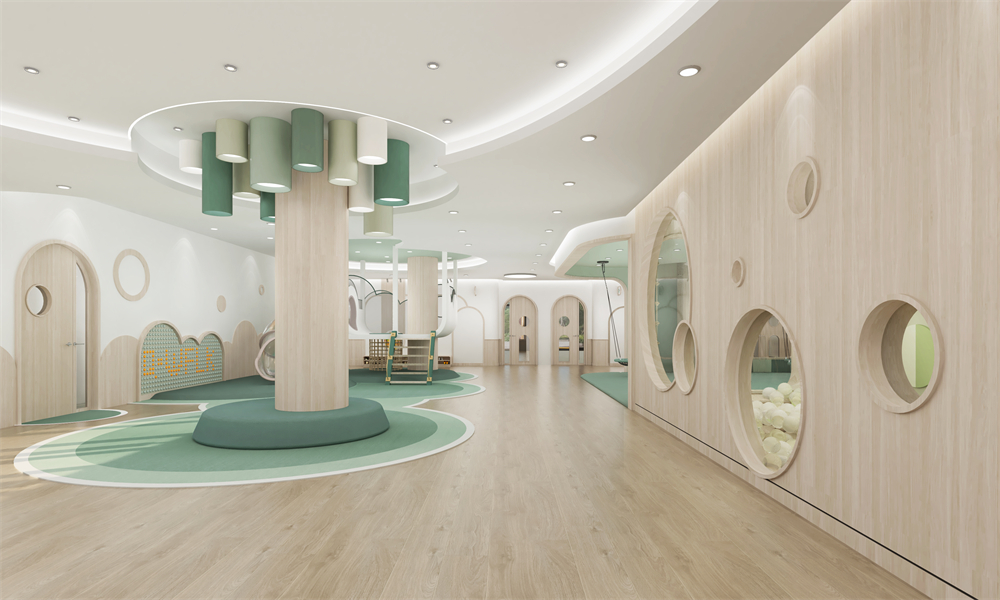 Play Area:
Adjacent to the parent waiting area is the play area, centered around a slide as the main feature. Within the constraints of limited ceiling height, variations in elevation are created to allow children to experience the joy of climbing up and down. Safety mats are placed on the ground to ensure the children's safety during play, and interactive gaming devices are installed on the walls to offer children a variety of game options.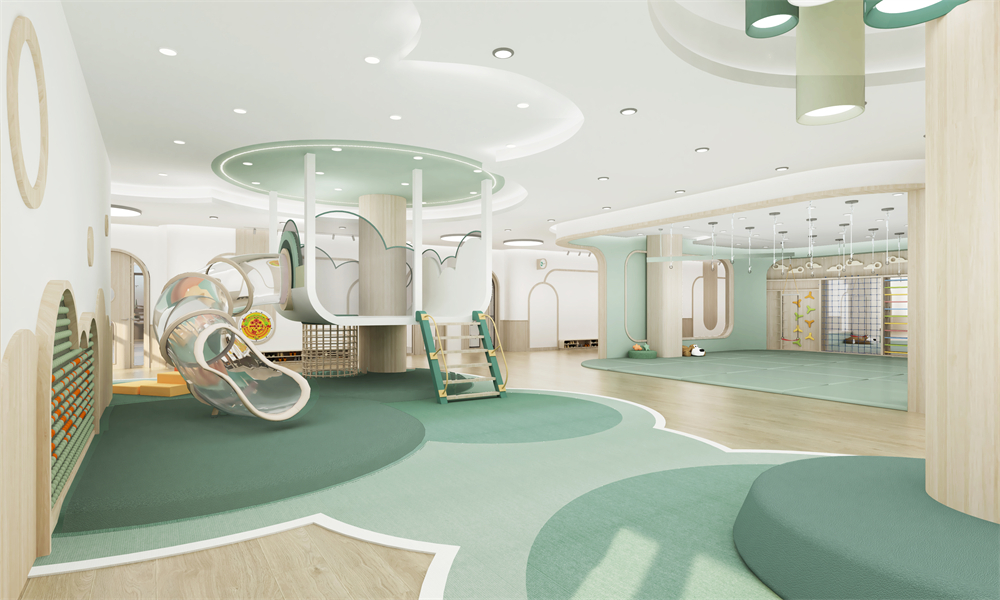 Physical Activity Room:
An open-concept physical activity room, appearing simple yet meeting various sensory training functions such as proprioception, tactile sensation, and balance for children. It offers exercises involving grasping, holding, crawling, and hanging, aiding in the physical development of children aged 1-3. This space allows children to freely express their lively and active nature while receiving guidance from teachers.
Hallway Space: Interactive Scenes of Everyday Life
During this stage, children primarily learn through environmental perception. Therefore, we aim to create corners within various levels of public space where children can explore, interact, and communicate.
Corridor :
The color scheme in the corridors primarily consists of natural wood tones and white, creating a transition from the fresh and lively atmosphere of the entrance hall to a more serene ambiance. At the entrance of each classroom living unit, there is a shoe-changing area and a display board where the moments of children's life in this space are recorded.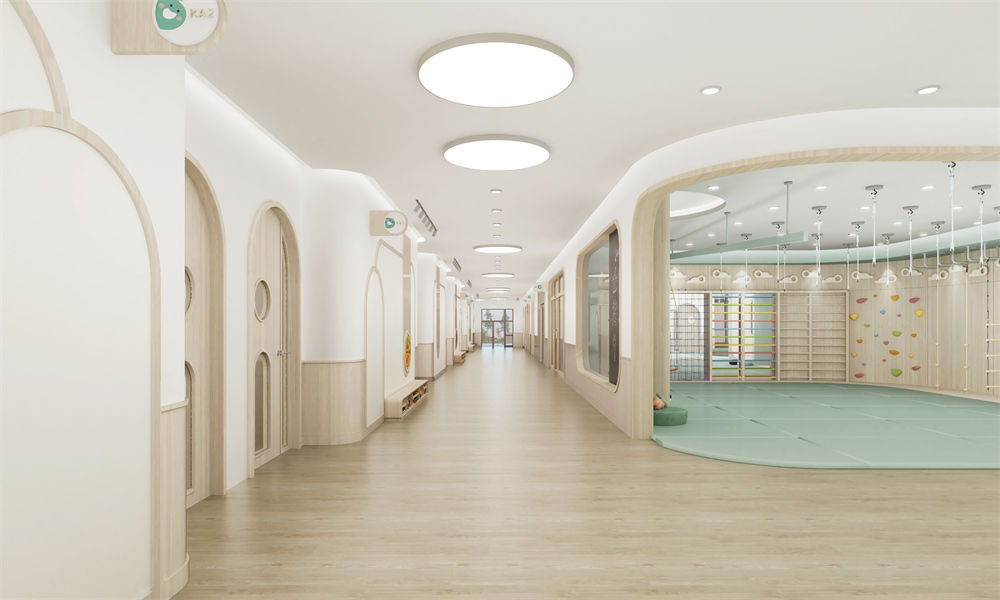 Teacher's Café:
Differing from the typical enclosed and isolated staff rest spaces, we have created a transparent and well-lit teacher's café on the opposite side of the classroom corridor. This allows for improved interaction between parents and teachers, among teachers themselves, and between teachers and students. Additionally, natural materials such as green soft seating cushions and woven pendant lamps have been used to create a relaxed and comfortable atmosphere for the teachers who visit here to unwind.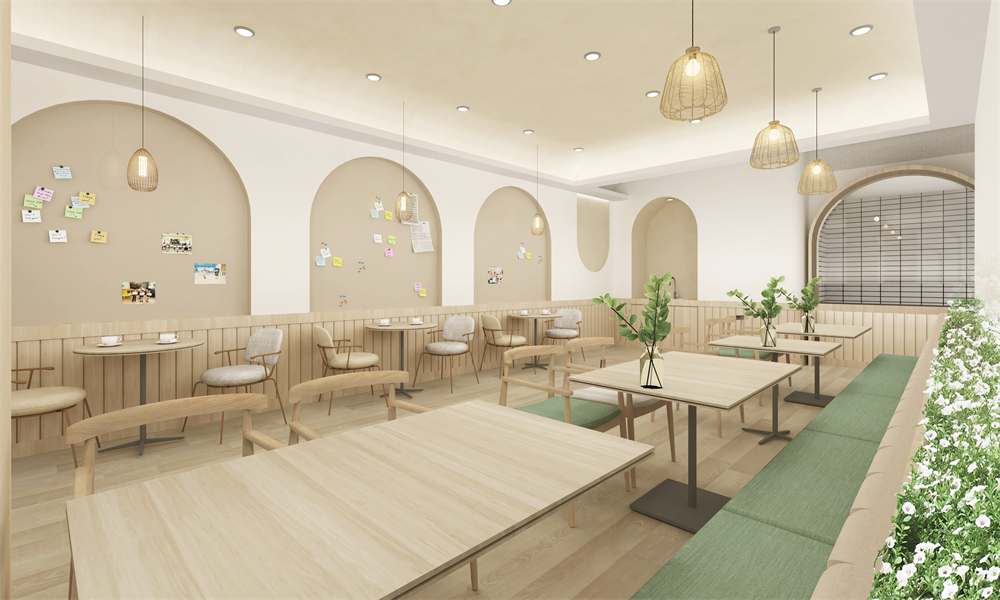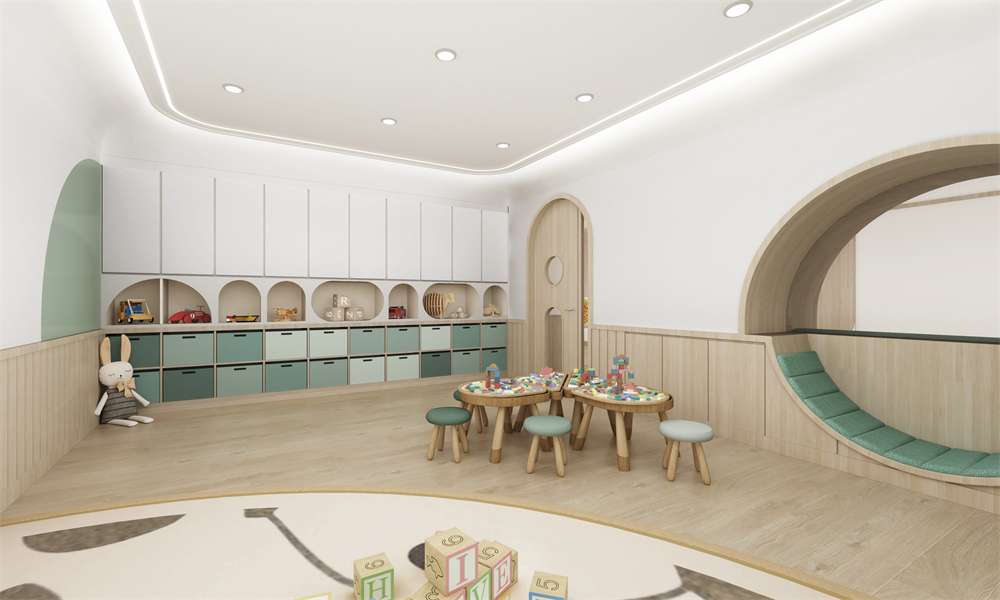 Second-Floor Reading Nook :
In the corner space on the second floor, we have created a tiered reading nook, allowing children to engage in reading at any time and in any place. The streamlined design of the steps promotes a lively atmosphere, while the staggered arches enhance the rhythmic quality of the space.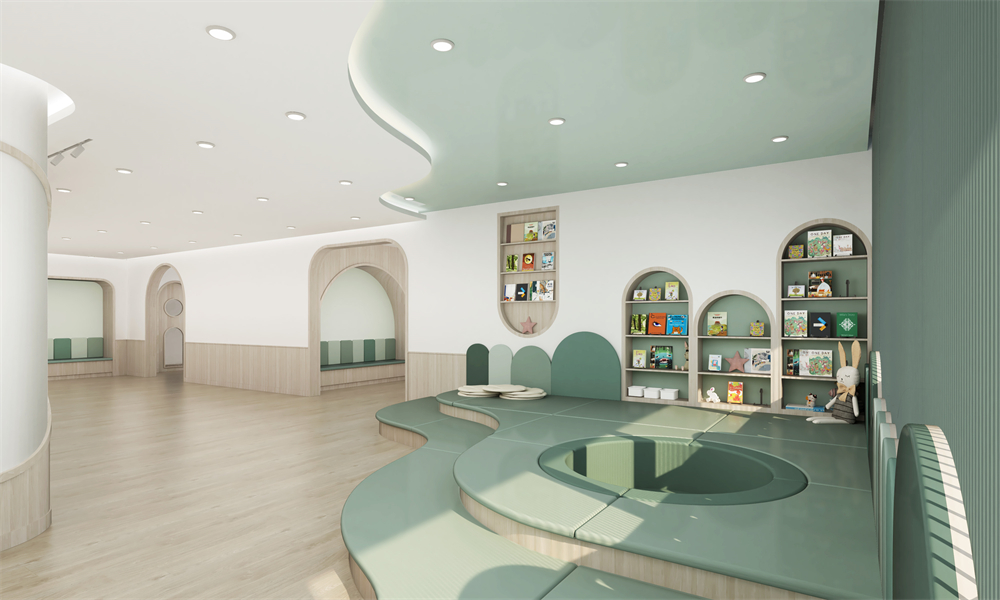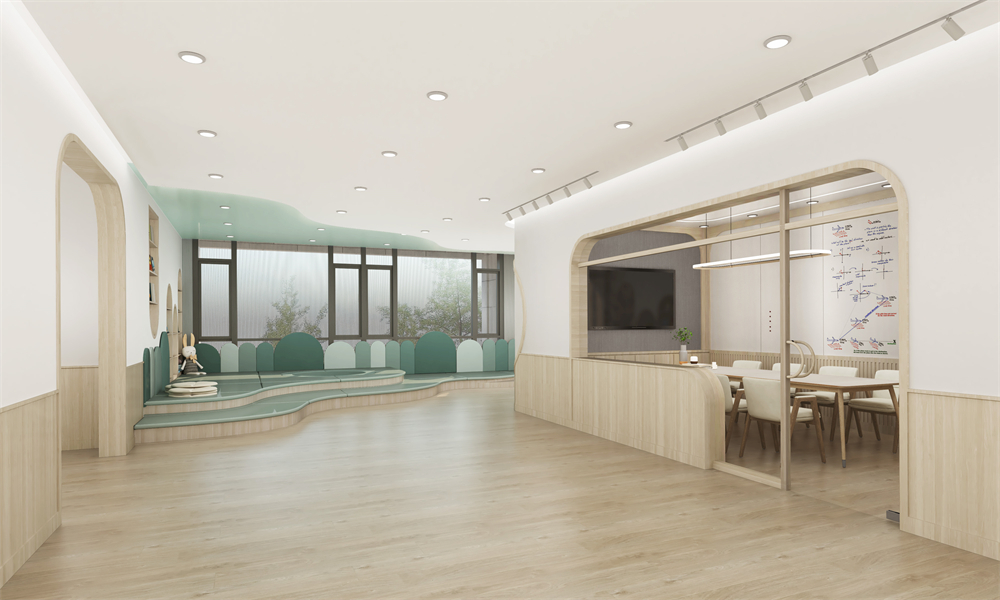 Meeting Room :
The transparent meeting room redefines the traditional concept of meeting spaces, providing convenience for impromptu meetings and discussions. Different display panels on the walls offer detailed presentations on the childcare center's philosophy, operational standards, as well as various courses and activities that children participate in here.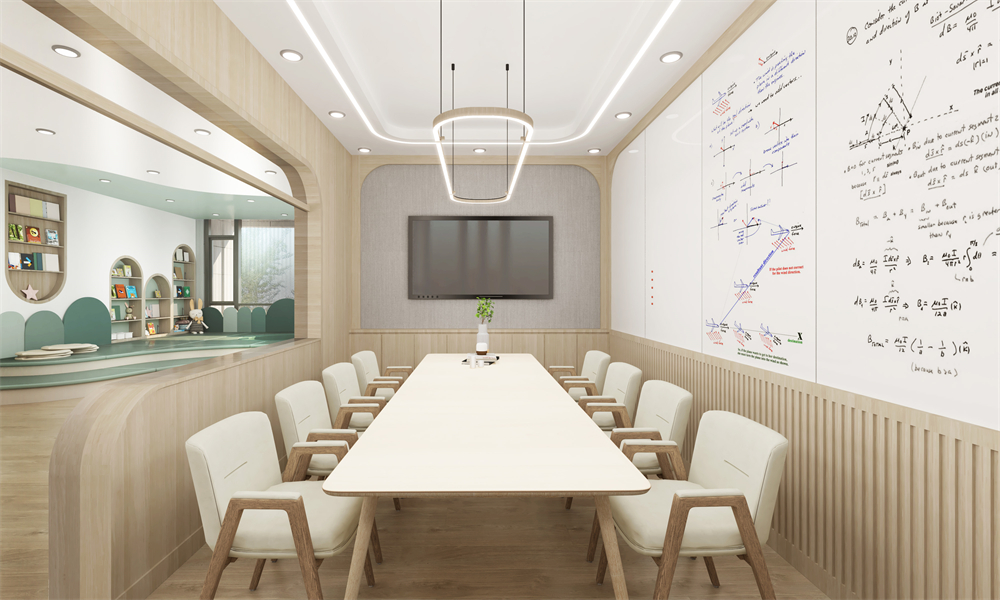 Classroom Unit: Multifaceted Exploration of Life and Learning
Baby Class (1-2 Years Old):
In this age group, toddlers are gradually transitioning from the infant stage to becoming toddlers who can walk and jump. Apart from providing ample space for free movement, we have conducted thorough research on auxiliary functional spaces such as the bathroom and diapering area. Transparent changing tables and toilets ensure that the children are constantly under the supervision of teachers and cleaning staff, allowing for a safe environment. Fenced doors to distinguish spaces prevent children from entering restricted areas. The overall fluid and curved design of the space adds an element of playfulness, and the use of natural wood materials combined with warm grassy green creates a natural, serene, and lively ambiance.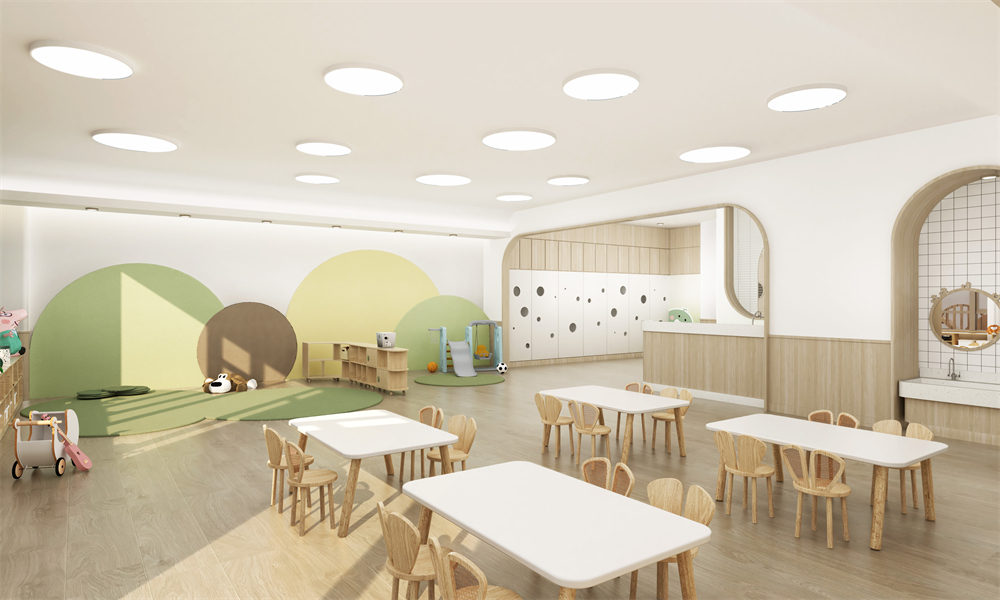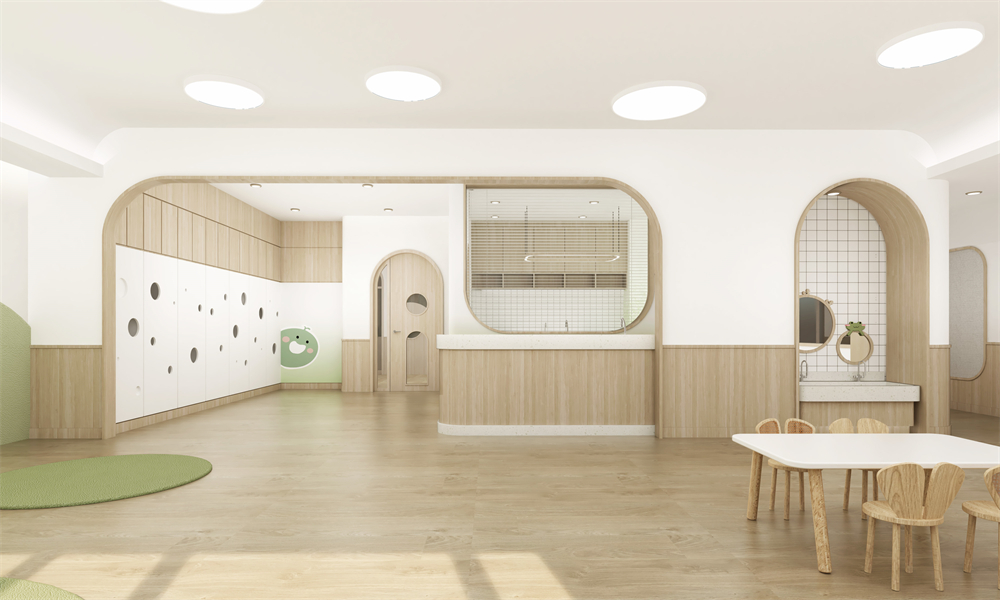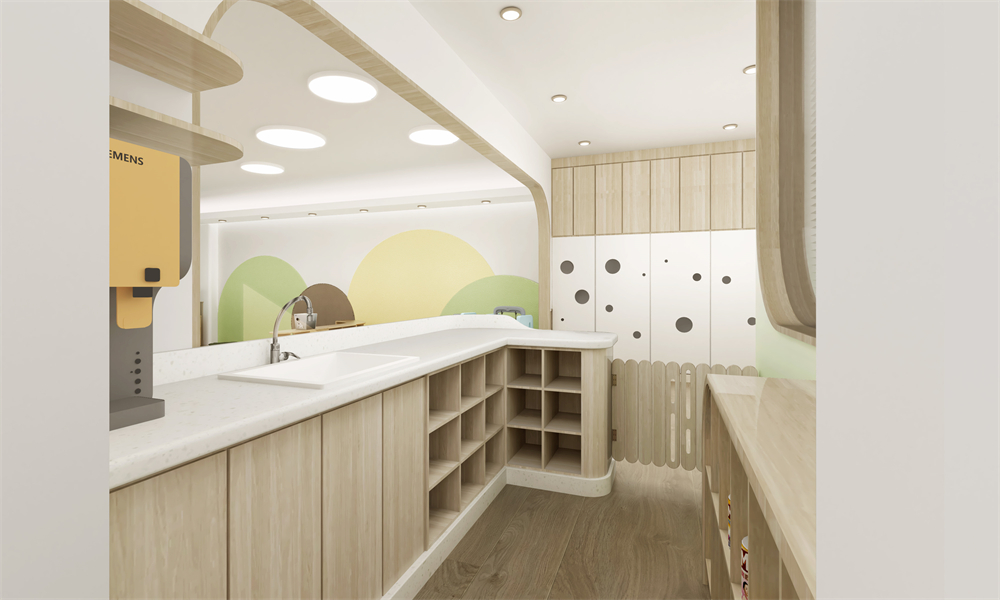 Toddler Class (2-3 Years Old) :
At this age, children are in the midst of a significant development of their multidimensional sensory abilities. To accommodate a rich curriculum of activities, we have incorporated versatile combination storage cabinets within the classroom unit, catering to various activity modes in this space. The overall spatial design maintains the fluid and playful personality of the toddler class, characterized by smooth curved lines. Soft pink and green hues paired with natural wood textures are chosen for the color scheme. This not only aligns with the natural theme but also adds a fresh and delightful atmosphere to the environment.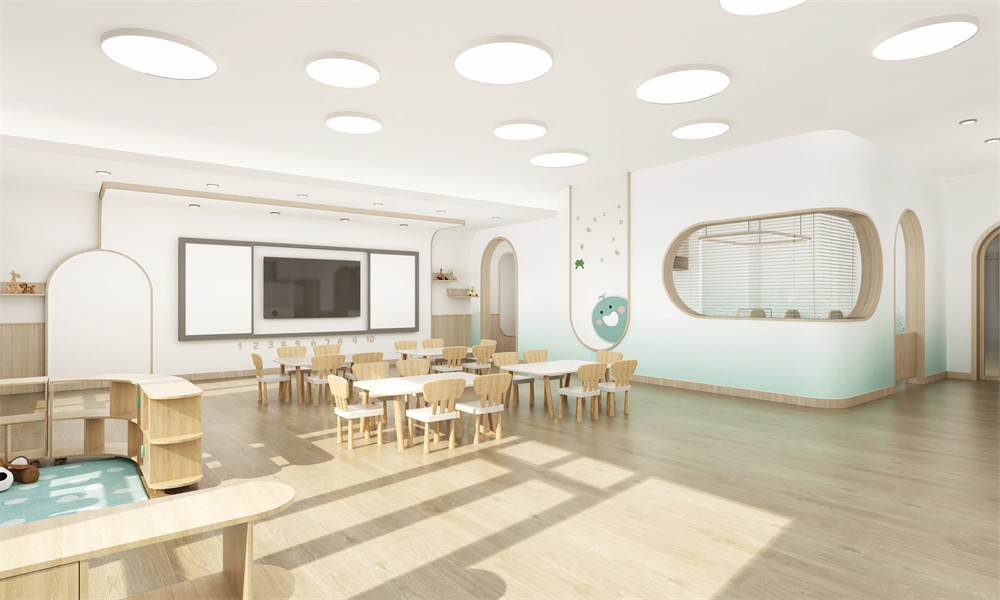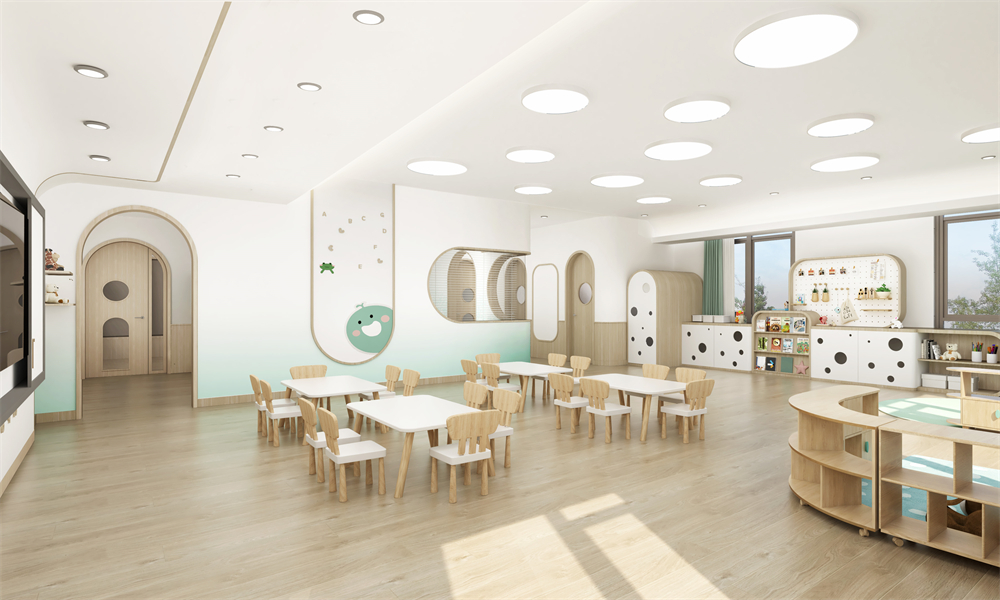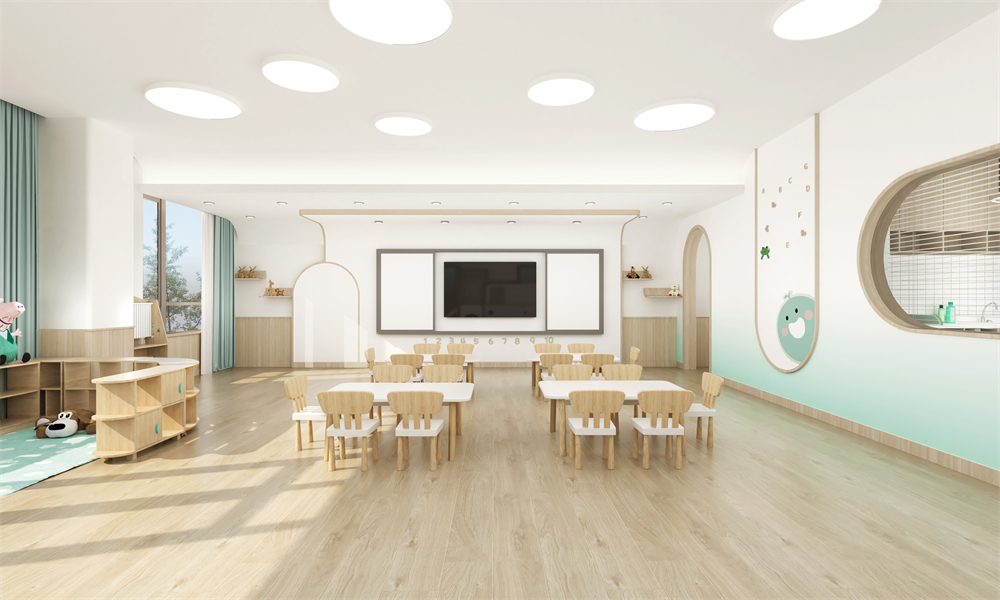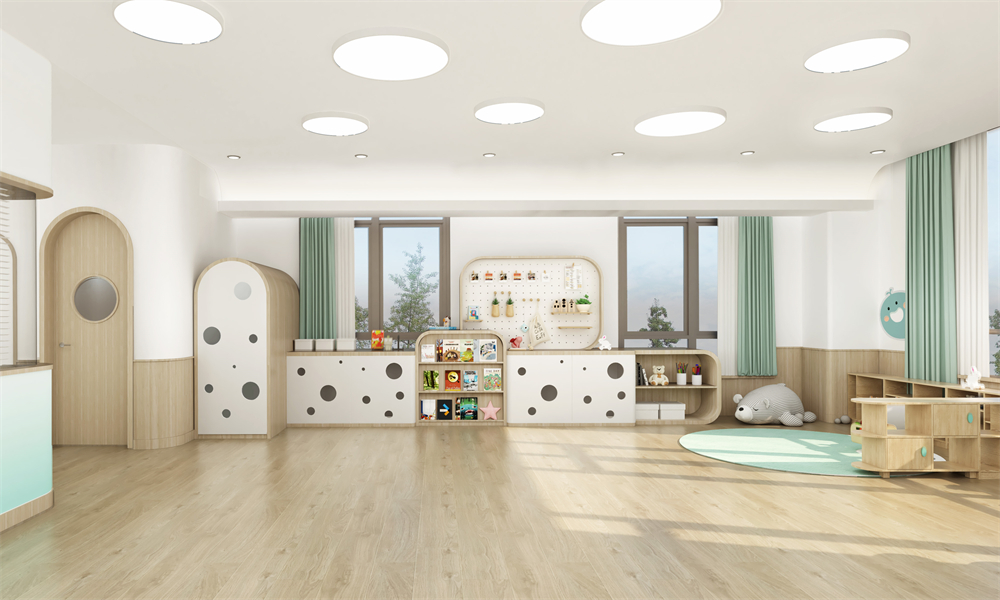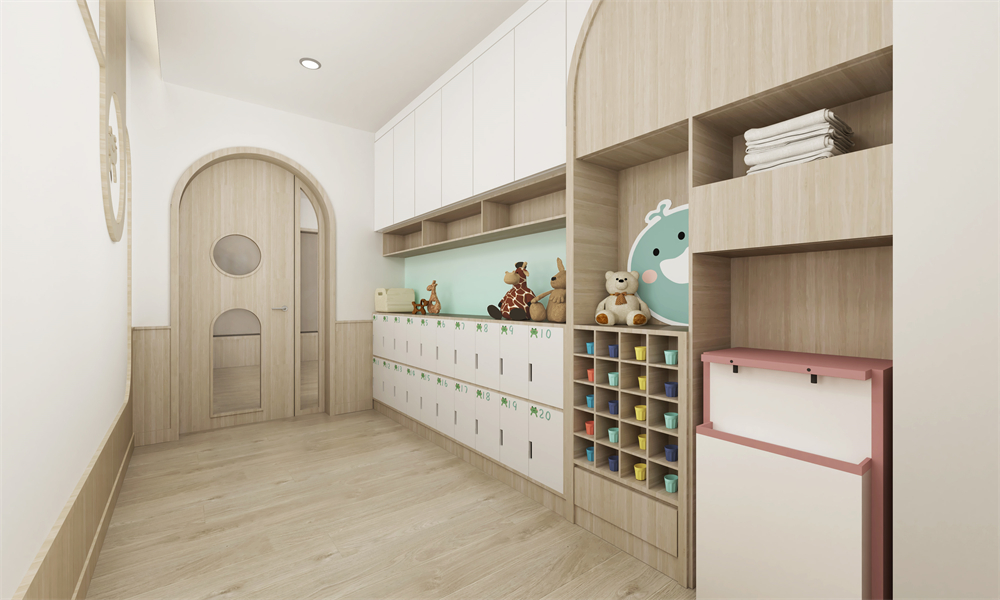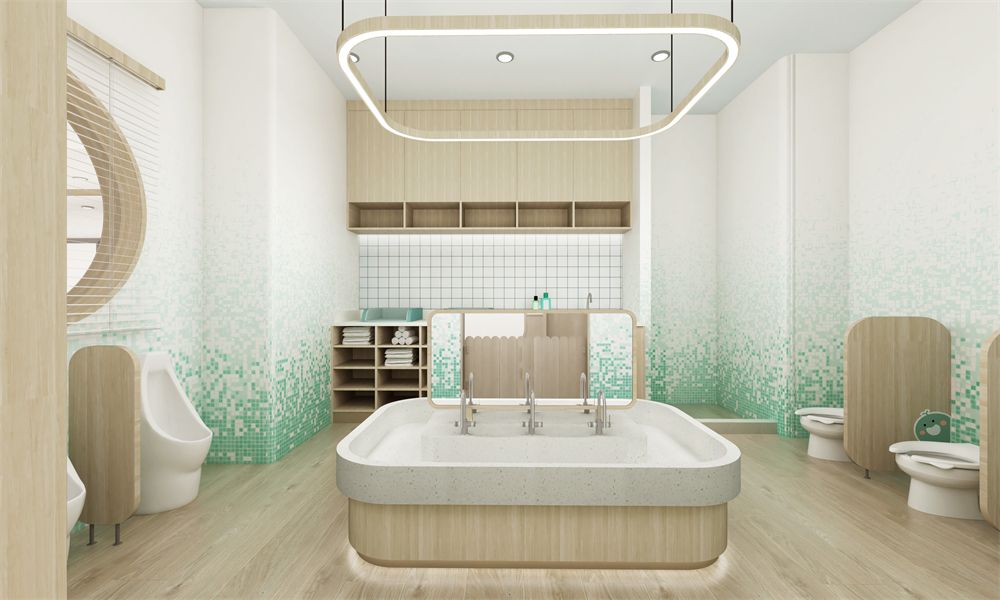 Specialized Classroom: Goal-Oriented Purposeful Learning
Multifunctional Classroom :
In addition to the eight classroom units, we have also designed a specialized classroom that combines music and art, allowing children to experience immersive learning in a more professional environment, offering a wider range of teaching possibilities. The large mirrored wall allows children to focus on music and physical training, while the spacious tabletops, handwashing and art supplies, and display walls provide a worry-free space for creative expression.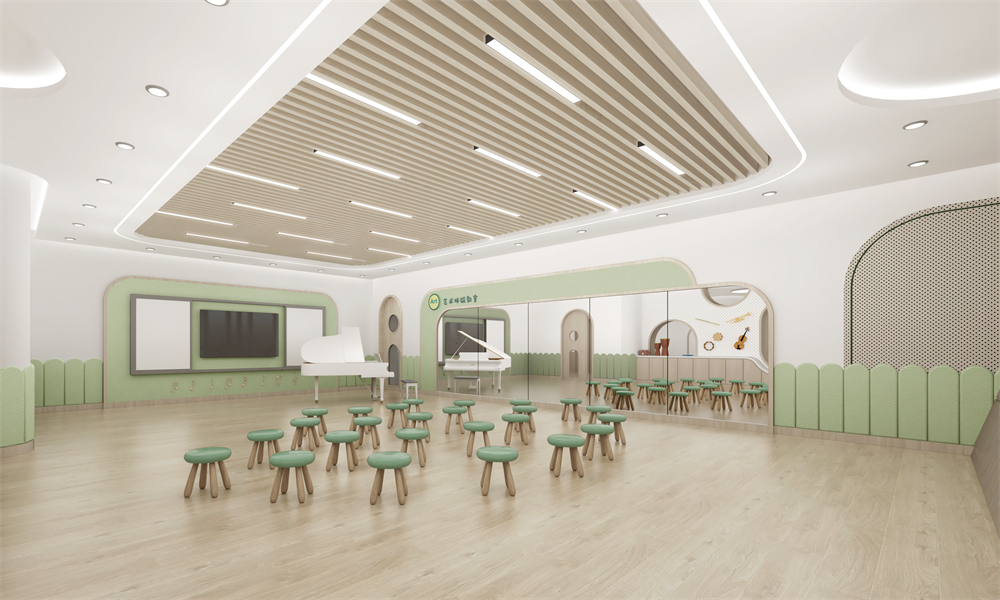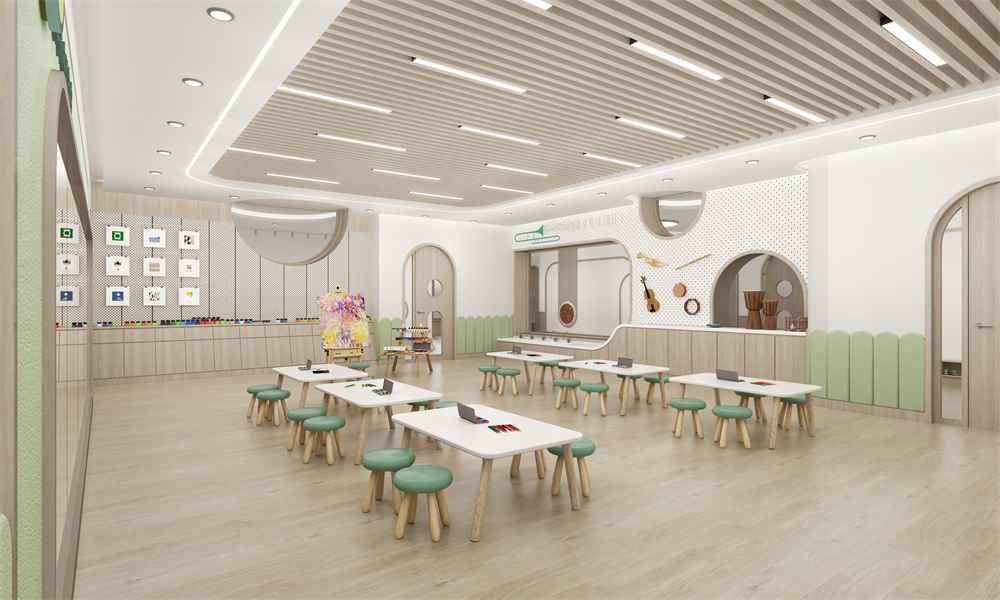 Block Room :
Wooden blocks are excellent for developing hand-eye coordination in children. The design of the block wall allows children to interact with their peers while playing games. The storage compartments of various shapes on the wall serve both display and storage functions.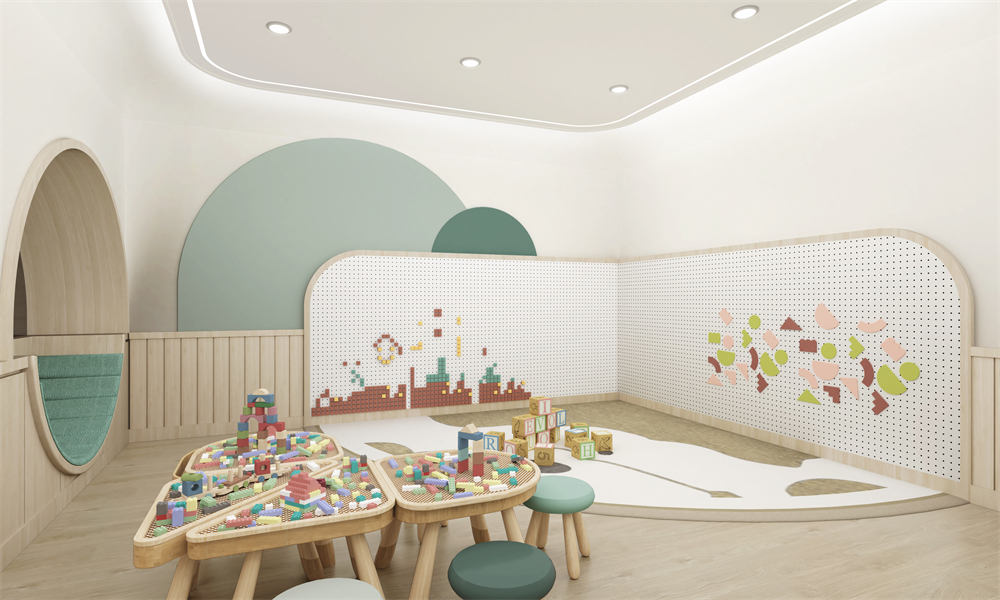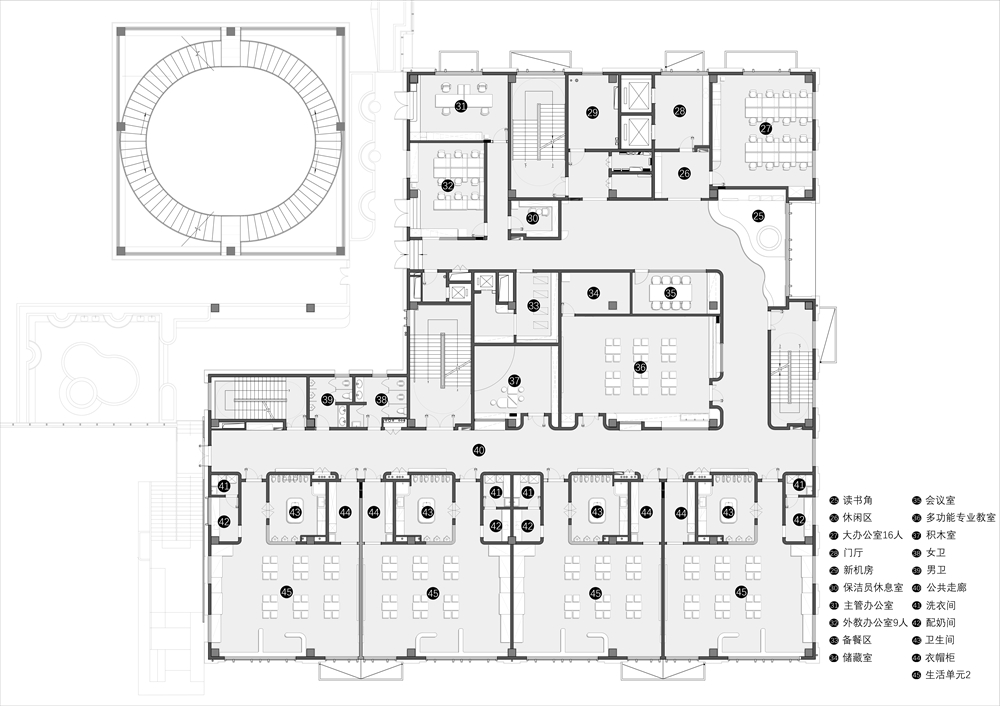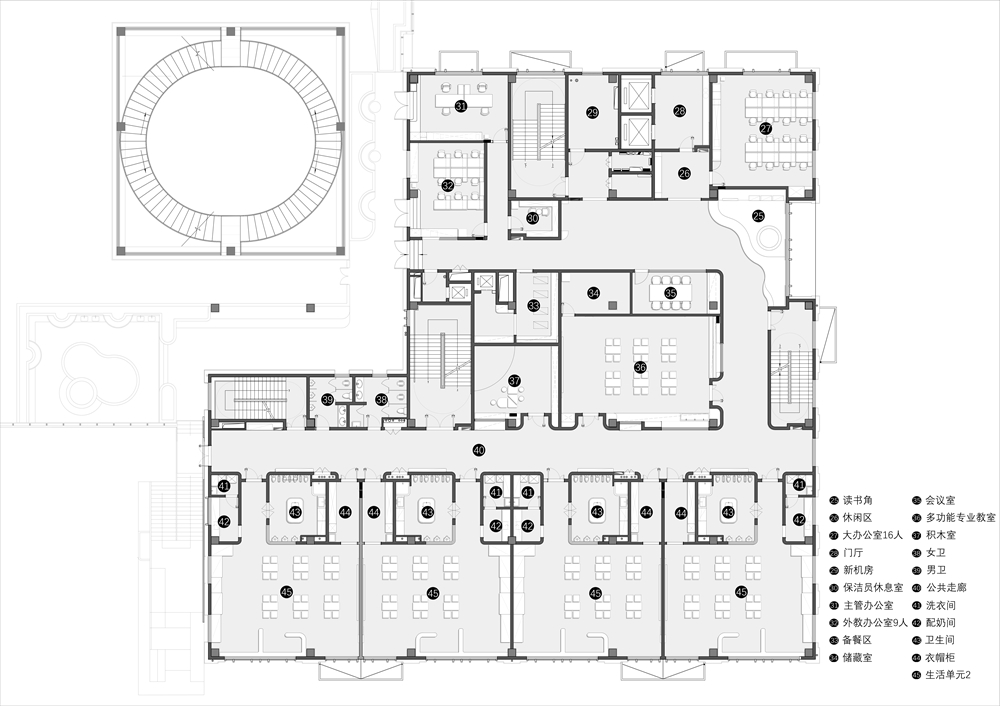 Project Location: Panlong Road, Qingpu District, Shanghai, China
Design Area: 3200㎡
Design Finish Year: 2023
Project Status: Under Construction