In the context of early childhood education spaces, compared to traditional daycare centers with fixed daily schedules, early education centers have a broader target audience. In addition to children, parents who actively participate in the programs, and even grandparents who drop off or pick up the children, are part of the equation. Therefore, the primary challenge is how to create a comfortable and relaxed environment where both children and parents can enjoy their time spent at the early education center during curriculum learning, post-class activities, and waiting for pick-up.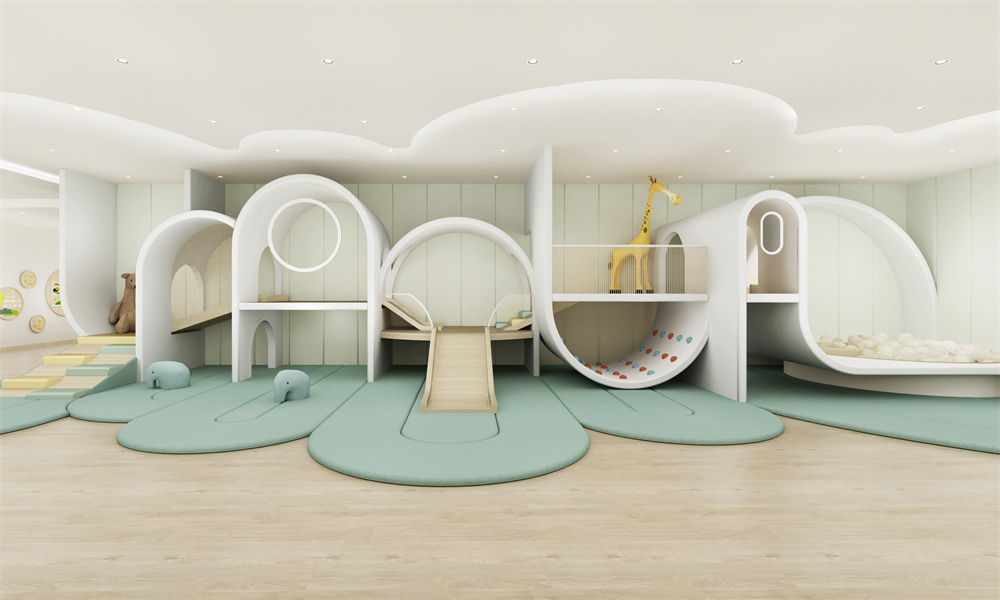 QWFLK Early Education Center is located on the third floor of the daycare center building. In terms of overall styling, our goal is to create a warm, natural, and soothing environment. Building on the overarching concept of the daycare center's "Forest Playground," we utilize natural wood and soft, muted green tones to represent nature as our foundation. We integrate semi-circular designs reminiscent of forest canopies and adorn the space with soft furnishings and toys shaped like trees and animals, all with the aim of crafting an atmosphere that is both relaxing and cheerful, infused with childlike wonder and delightful surprises.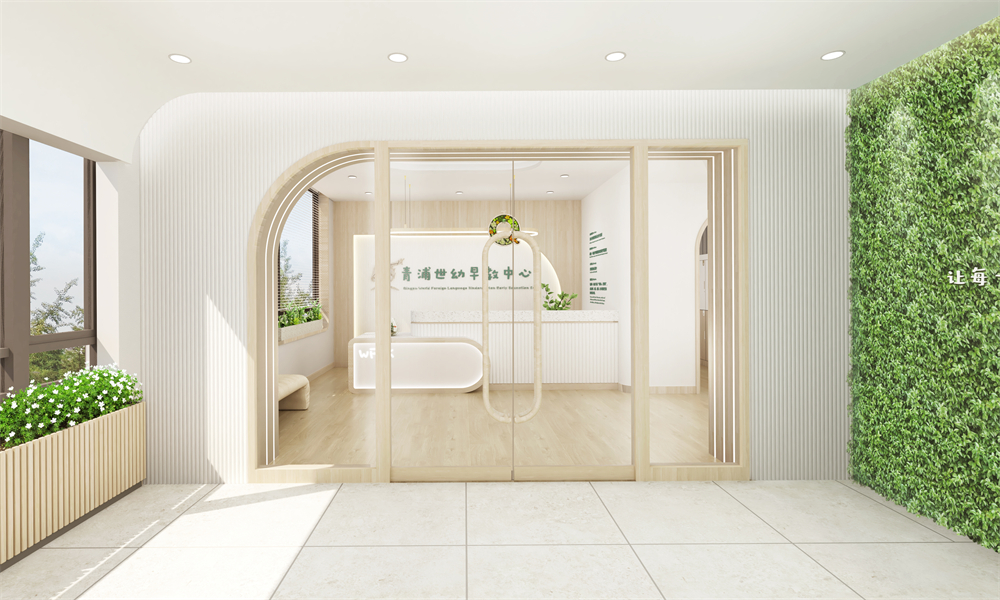 Entrance Area :
The front desk of the early education center faces the elevator lobby. At the entrance, we break away from the traditional rectangular glass partition style. We use an asymmetrical single-sided rounded corner frame as the primary entrance frame. The background wall at the front desk also employs this technique but in a mirrored arrangement. This staggered design visually creates a sense of layered space, suggesting encouragement for children's imaginative thinking and not being bound by rigid conventions. To enhance the perception of a forest concept in the space, we incorporate a significant amount of greenery in various parts of the walls, tabletops, lighting fixtures, and more, introducing a more natural and lush ambiance. In the sunlight, the overall space becomes even more vibrant.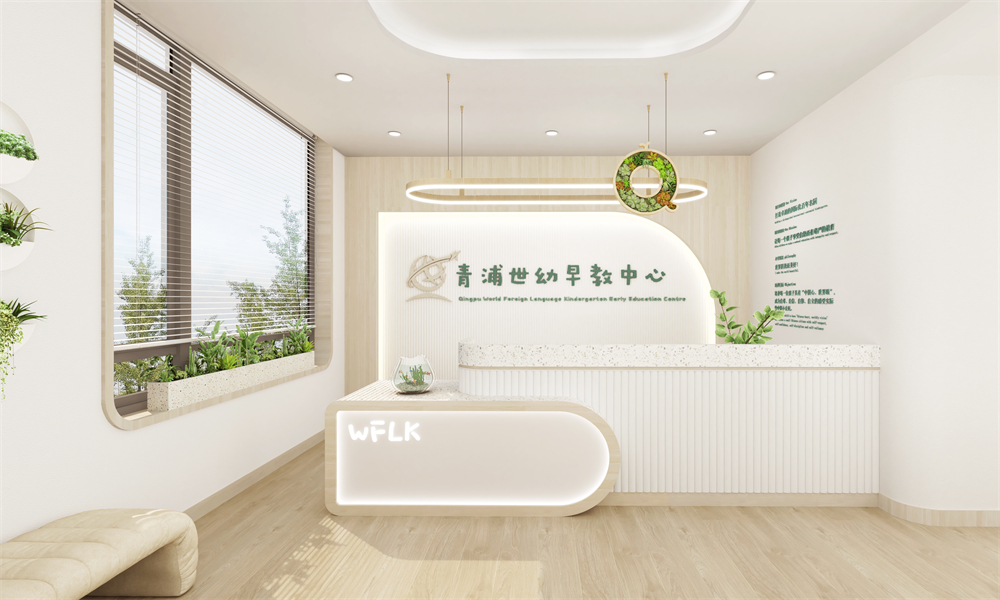 In order to maintain a healthy indoor environment and ensure that children can play freely inside, we have designed a shoe-changing and storage area at the entrance. Both children and parents change their shoes and store their belongings here. We have also provided a separate storage room for strollers, ensuring that strollers do not occupy public spaces. On the other side of the entrance, there is a consultation room, facilitating communication and discussions between parents and the early education center's staff.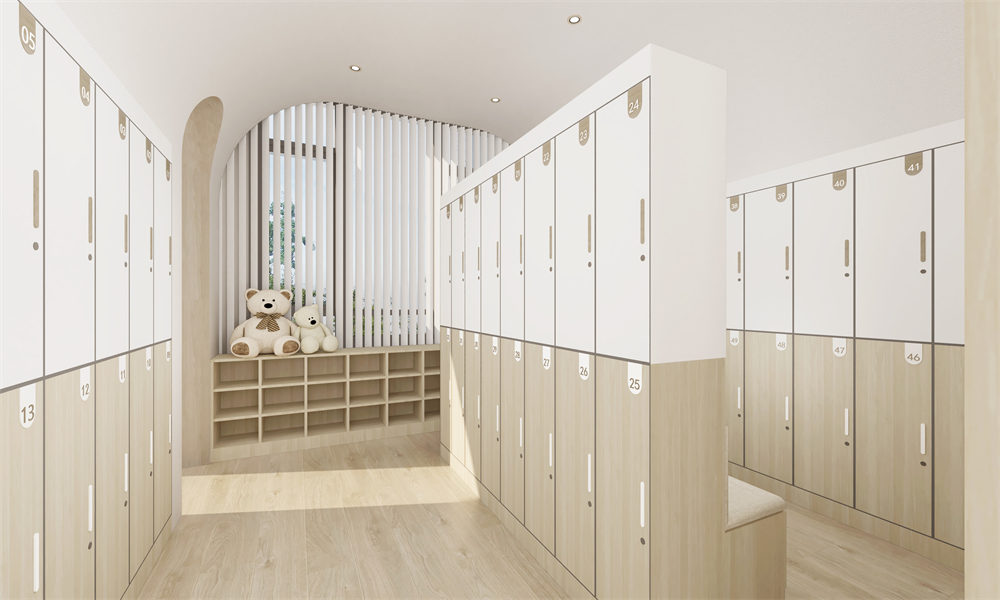 Parent-Child Rest Area :
As the early education center focuses on parent-child courses, we aim to create more interaction between children and parents. Therefore, we have set up an engaging parent-child rest area next to the entrance. Utilizing staggered soft platforms of varying heights and distinctive tree-shaped soft furnishings, we've crafted a space suitable for interaction between young children and parents.
Baby Play Area :
Children have a natural inclination for active play and exploration. The setup of the baby play area not only enhances children's interest in participating in courses but also allows them to release their physical energy and enthusiasm. The various platform heights, tunnels, and slopes in the play area enable children to freely explore and navigate. Interactive game walls also provide babies with opportunities for developing hand-eye coordination and motor skills while enjoying the games.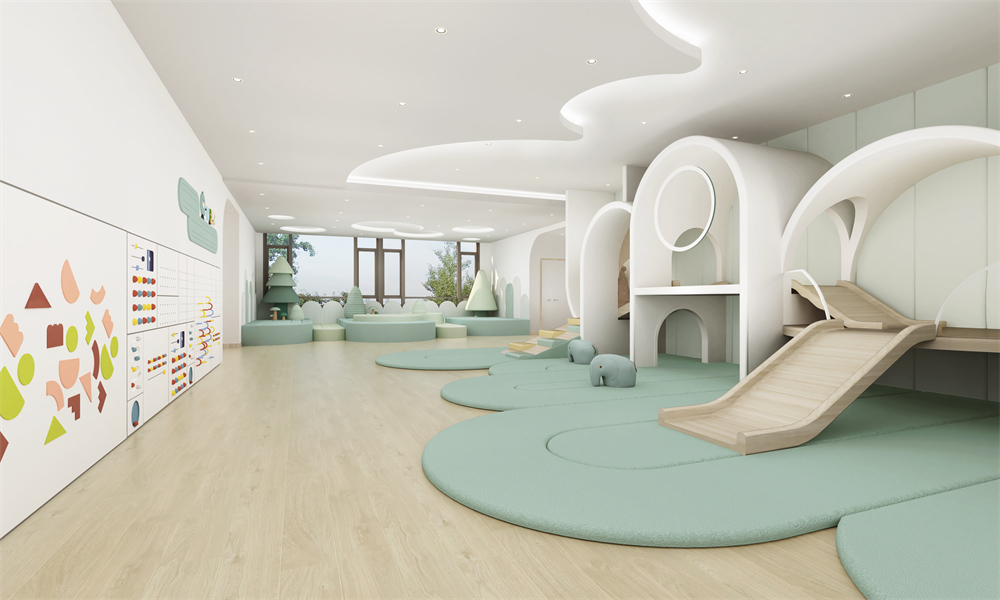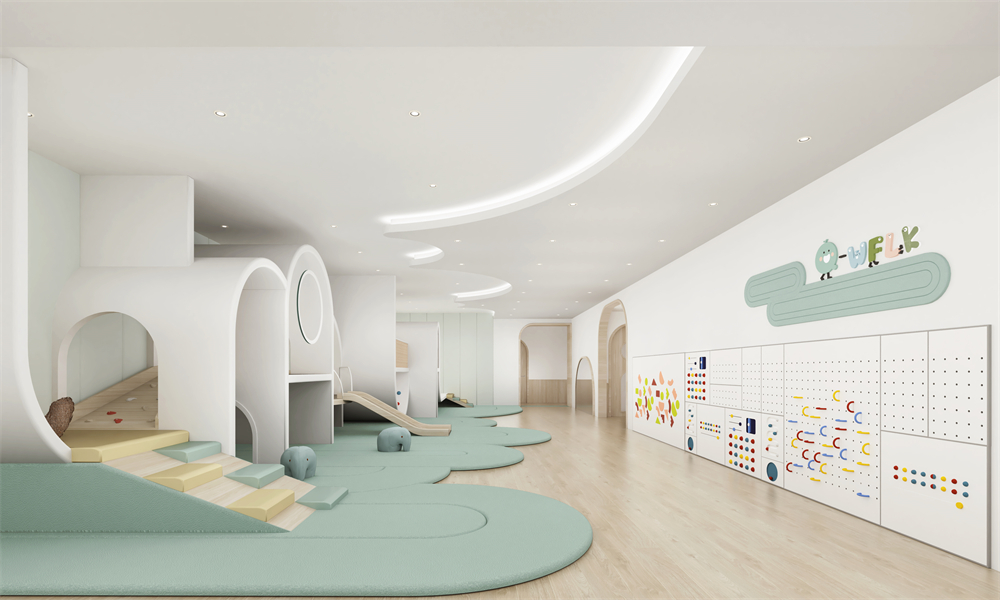 Private Consultation Rooms :
To foster a better home-school interaction, the early education center has several private consultation rooms that offer parents more opportunities for discussions and inquiries. These rooms help build a friendly and cooperative relationship between families and the educational institution. Across from the consultation rooms, there is a display wall showcasing early education materials, books, and various learning supplies, making it more convenient for parents to make purchases related to these educational resources.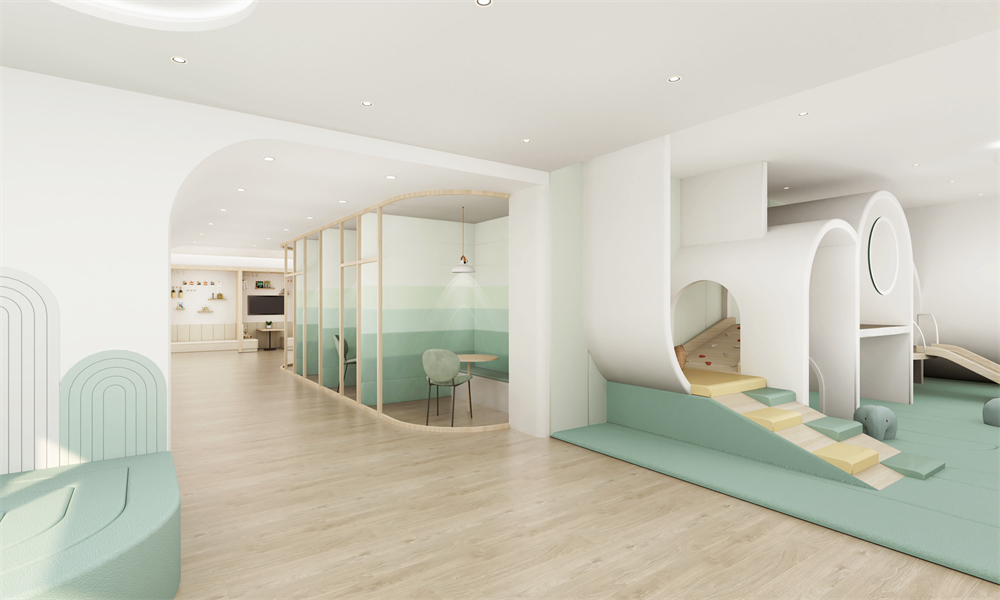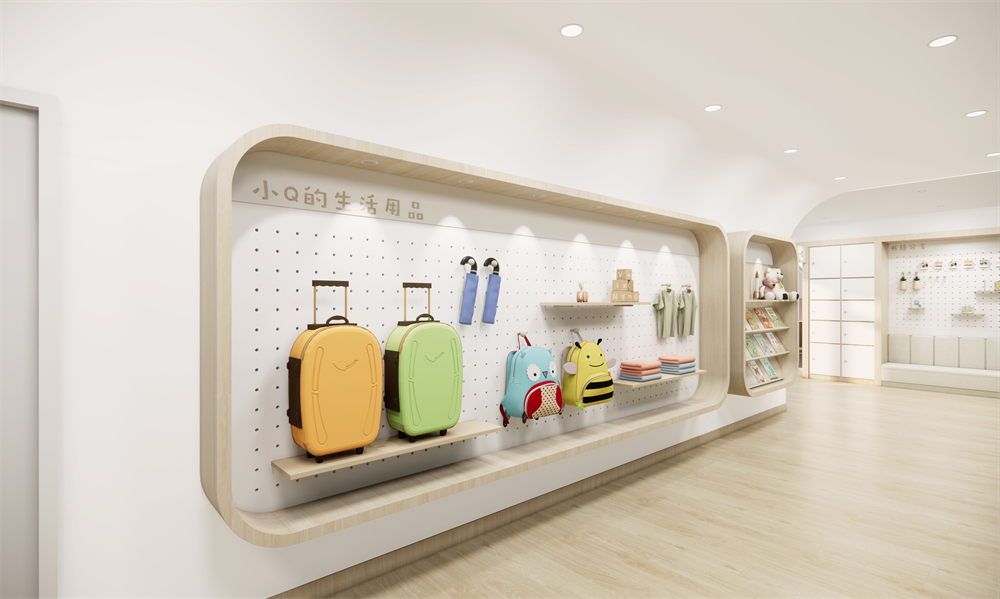 Public Corridor :
The public corridor located in front of the early education classrooms serves as a vital pathway for the entire floor and is also a space where parents can rest and wait. In this area, we have incorporated several practical features, including an interactive game wall, display walls, storage lockers, and seating areas, providing parents with a comfortable waiting environment. During breaks, babies can also engage in simple games here. The display wall and screens above the seating areas can showcase educational concepts and course content, making it easy for parents to stay updated on the latest curriculum information and acquire various parenting philosophies and knowledge.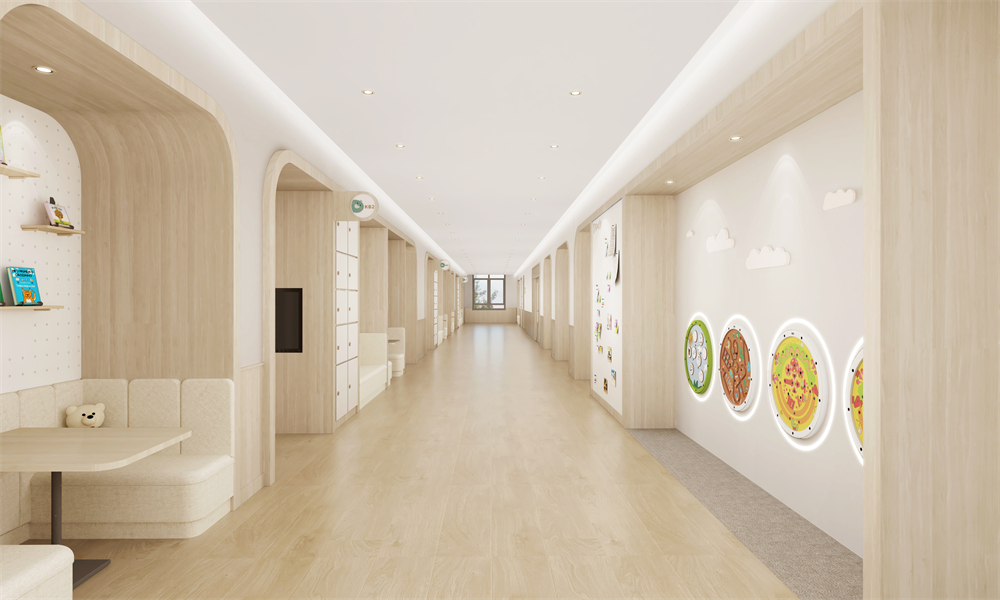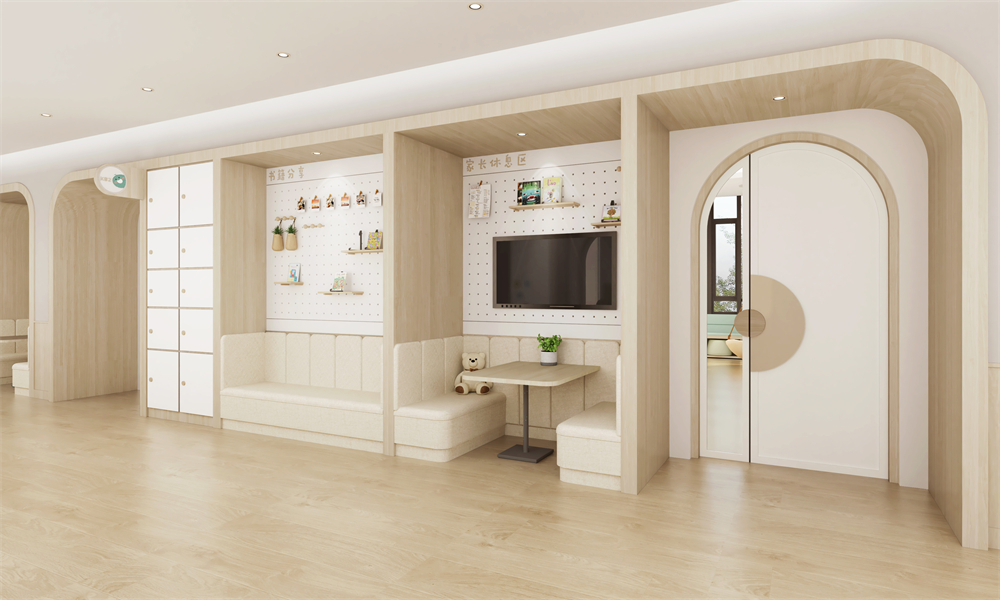 Early Education Classrooms :
The design focus of the early education training rooms is primarily on preserving flexible space. The wall design emphasizes storage functionality, ensuring that large teaching materials can be stored in cabinets, thus allowing the entire classroom to provide more space for parent-child course activities.
To increase the versatility of the classroom space, we have replaced the partition between the two classrooms with a movable door. When closed, it can serve as two separate classroom spaces, and when open, it can create a spacious indoor activity area, providing greater flexibility for future parent-child activities with young children.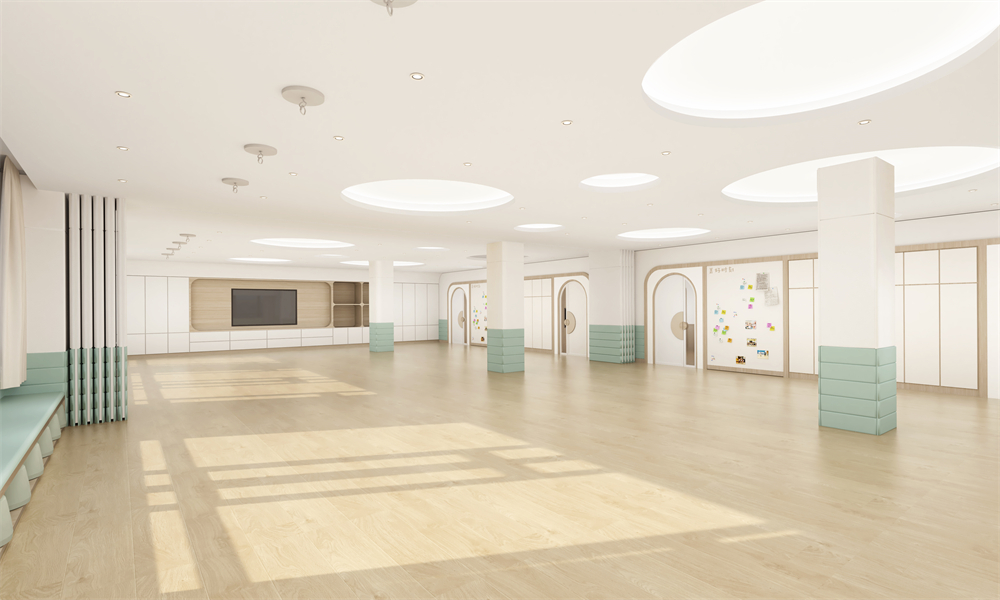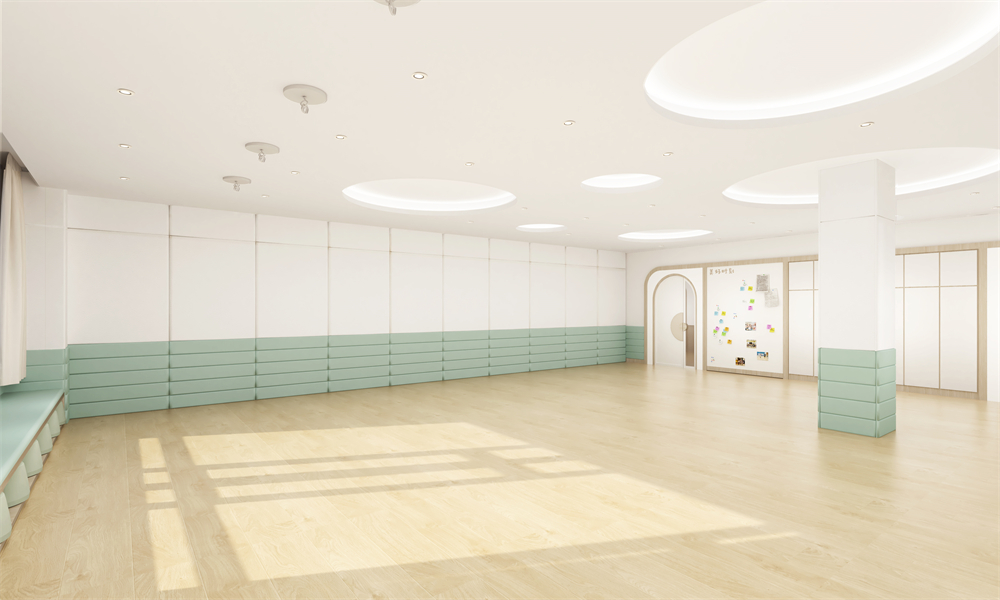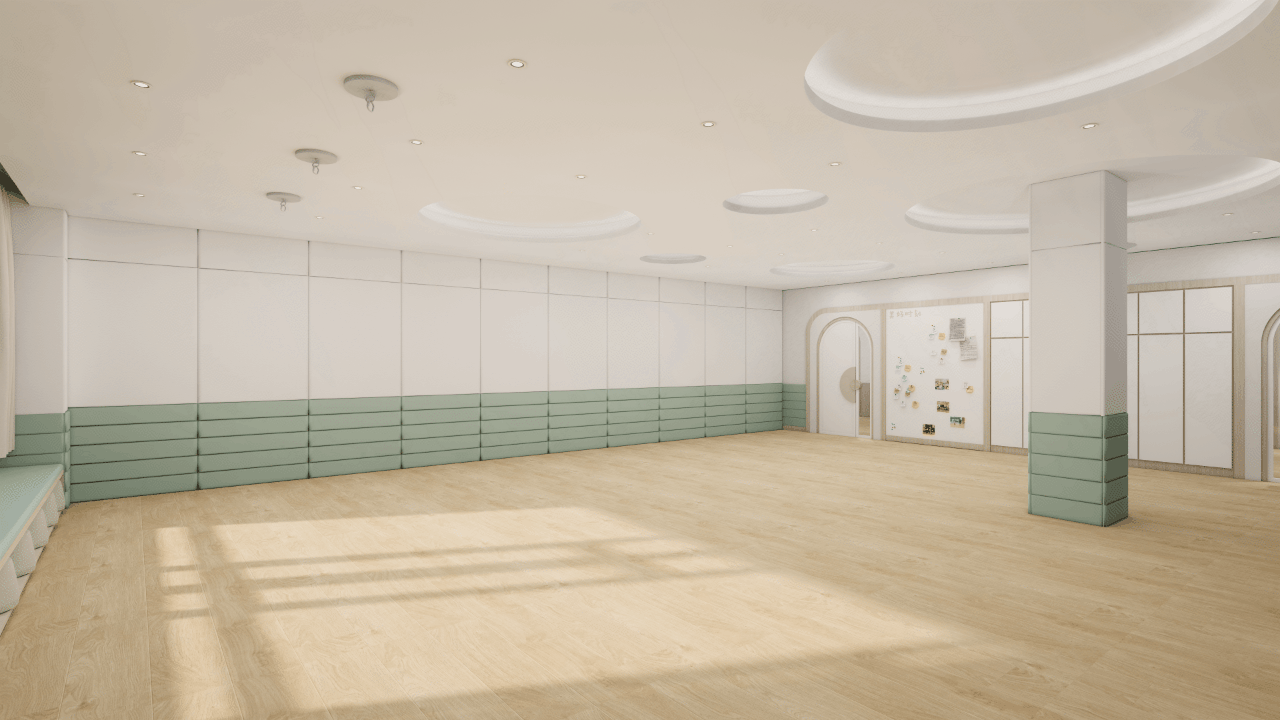 Multi-Functional Art Classroom :
To offer parents an opportunity for personal development and cultivating interests while waiting for their children, the multi-functional art classroom not only provides space for baby painting but also allows for the possibility of adult calligraphy and art courses. In terms of color, the design is based on white and natural wood tones, allowing the displayed artworks to take center stage in the space.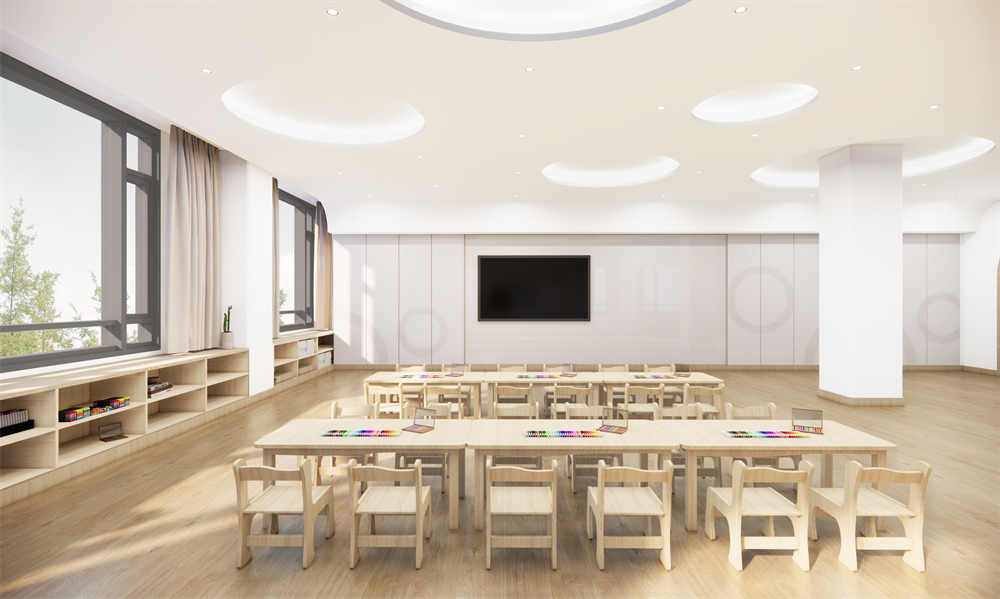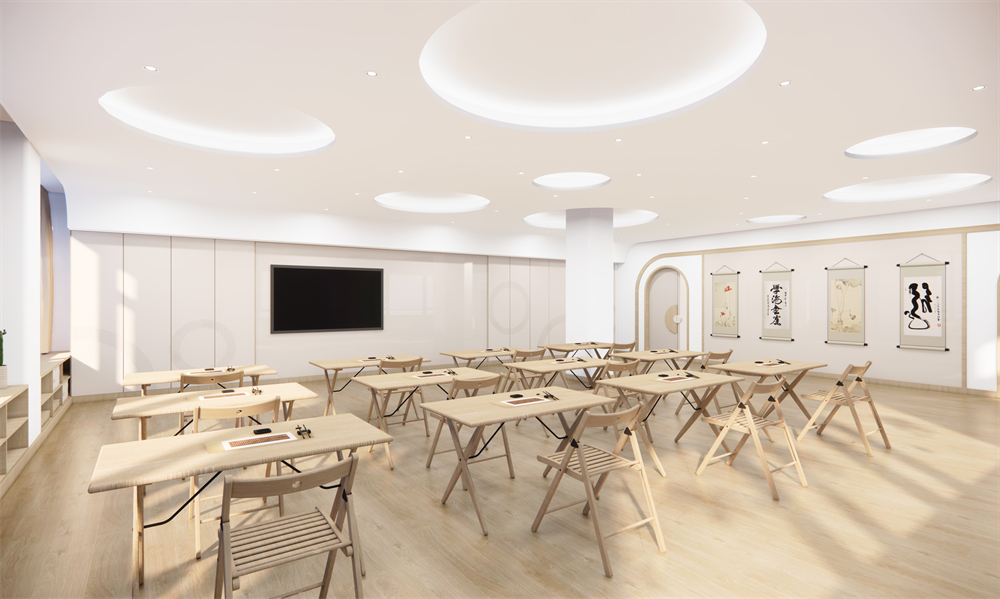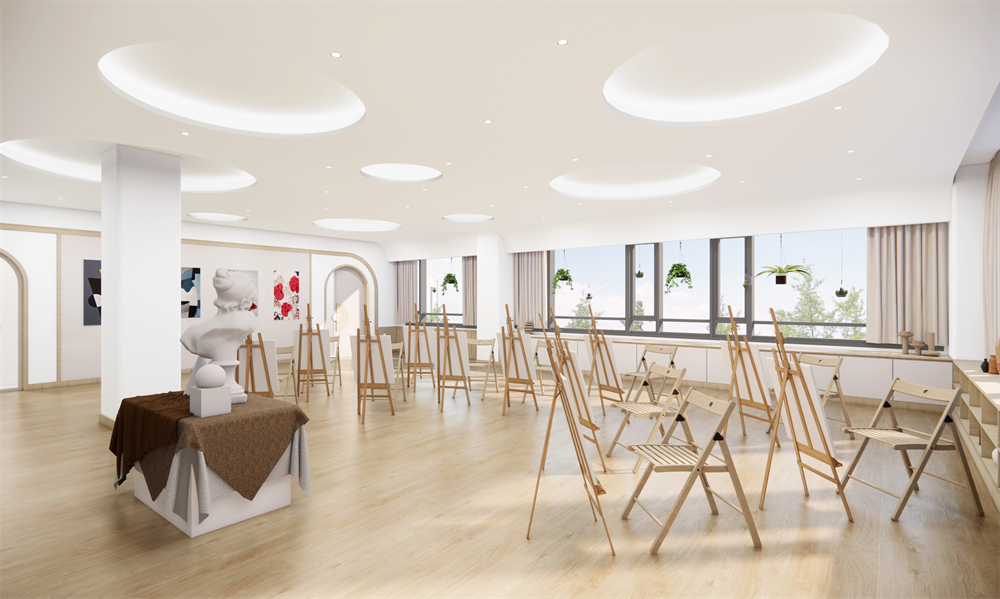 Nursery Room :
In order to provide a more comfortable experience for mothers and their babies, a dedicated mother and baby rest area has been designed here, offering a space for breastfeeding and changing diapers. Since most babies aged 0-2 still use diapers, multiple changing stations have been set up. Additionally, a water dispenser and microwave are available for parents to easily prepare formula and heat baby food. An independent nursing room has been created to provide privacy for mothers who need to breastfeed.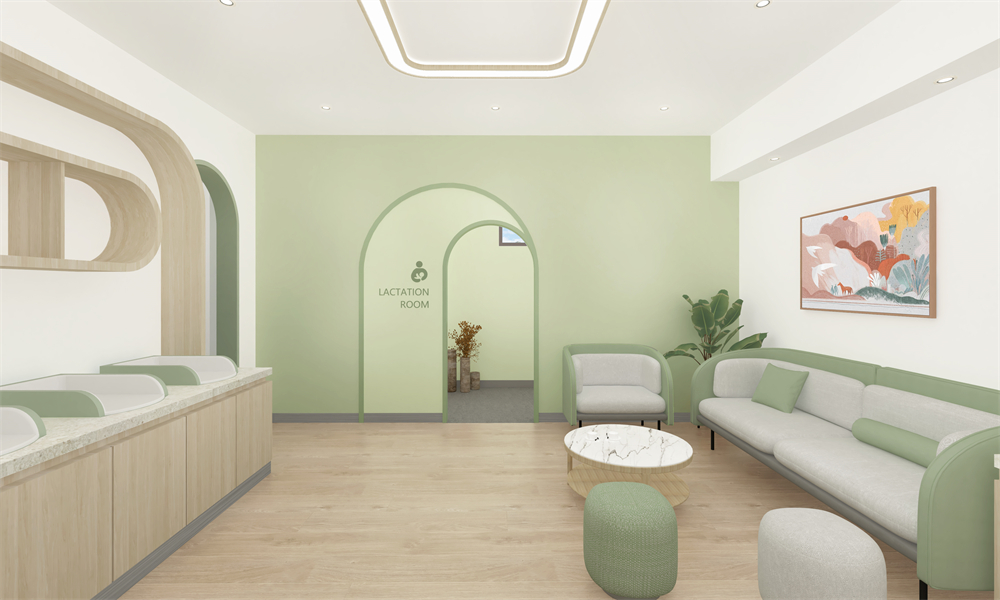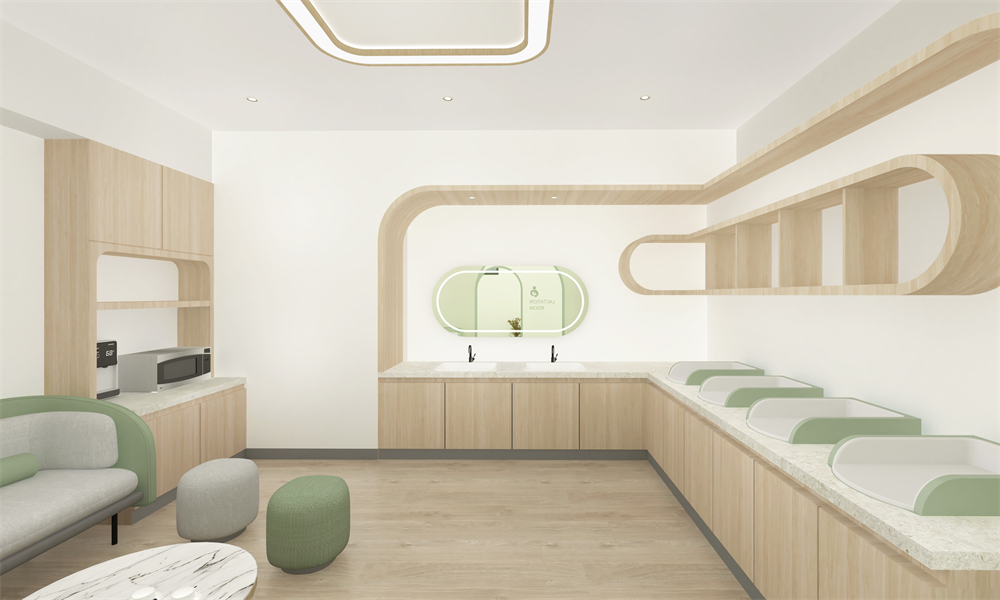 Toddler Restroom :
Some babies around 2 years old are already capable of using the restroom independently. Hence, we've established a dedicated toddler restroom in the public area for toilet training purposes. The arched ceiling and cloud-shaped decorations bring an element of fun to the space, creating an educational and enjoyable experience for the little ones during toilet training.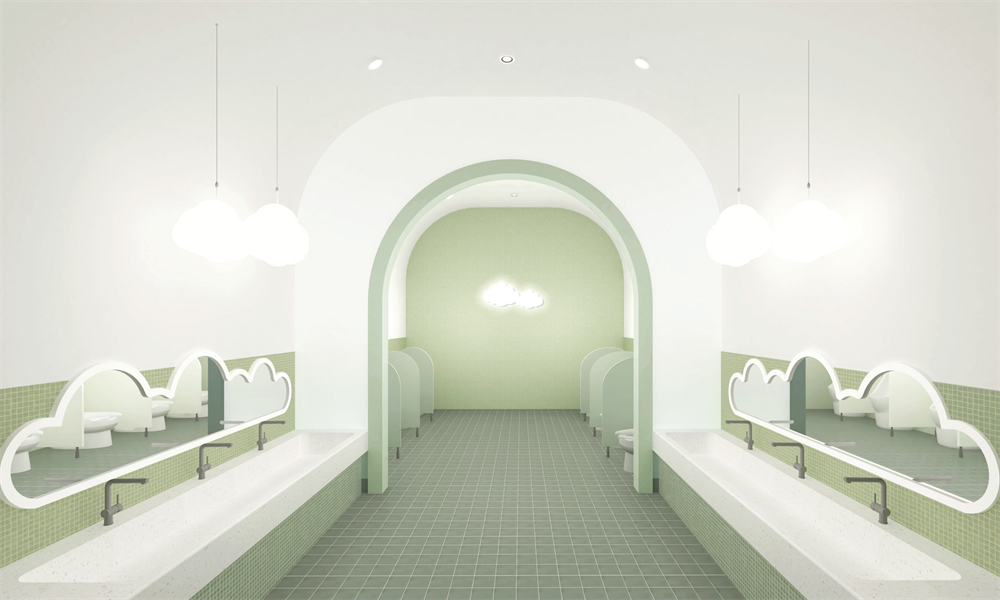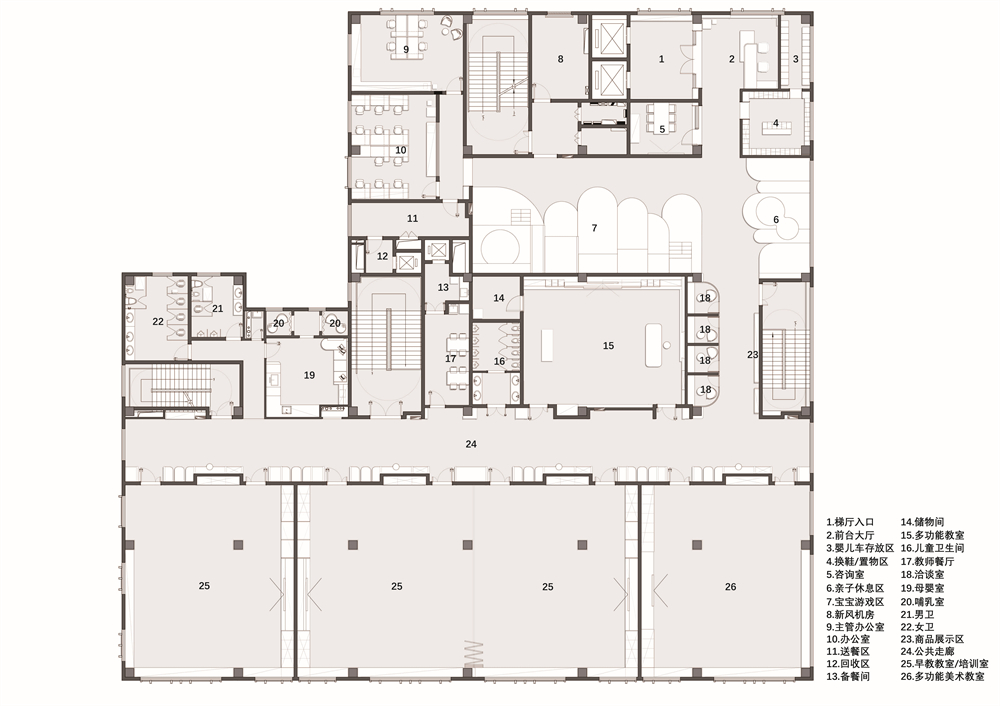 Project Location: Panlong Road, Qingpu District, Shanghai, China
Design Area: 1600㎡
Design Finish Year: 2023
Project Status: Under Construction